Juste pour rire
Humour geek. Top 10 Sports (Rémi GAILLARD) Dare To Fight ? - Montreal. Winning Every Day. Was It Luck Or Skill Video. Jenny vs. Spencer. Poland's Mysterious Crooked Forest. Magic Chair. The End. The 15 Best Staged Splash Mountain Photos. Pictures Can Be Misleading. How to make your friends like you. 27 Indisputable Facts That Everyone Knows Are True.
HOW TO TICK PEOPLE OFF. Incredibly Offensive Jokes. Incredibly Offensive Jokes Just... don't read these, okay?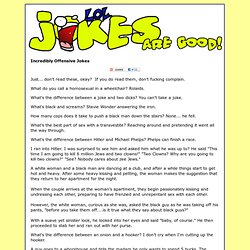 If you do read them, don't fucking complain. What do you call a homosexual in a wheelchair? Rolaids. TOP 52 logos en Francais. Ces marques sont partout, tout le temps, et sont presque devenues des noms communs.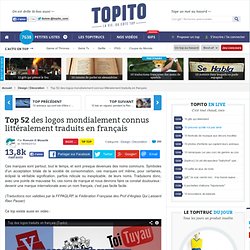 Symboles d'un acceptation totale de la société de consommation, ces marques ont même, pour certaines, éclipsé la véritable signification, parfois ridicule ou inexplicable, de leurs noms. Traduisons donc, avec une pointe de mauvaise foi, ces noms de marque et nous devrons faire ce constat douloureux : devenir une marque internationale avec un nom français, c'est pas facile facile. TOP 30 logos foirés. Fermer X Merci pour le partage !
Abonne-toi pour ne plus rien rater ! Je suis déjà fan, ne plus me montrer cette fenêtre L'actu en top. Top 12 Secret des logos. Les logos des marques sont partout, tout le temps, et on ne prend que rarement le temps de mesurer la somme de travail que leur conception a exigée.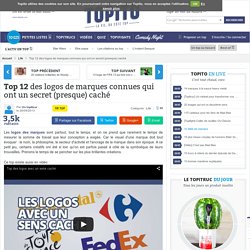 Car le visuel d'une marque doit tout évoquer : le nom, la philosophie, le secteur d'activité et l'ancrage de la marque dans son époque. A ce petit jeu, certains créatifs ont été si loin qu'on est parfois passé à côté de la symbolique de leurs trouvailles. Apple Water. Funny Notice. Cash4Gold Answer. The Ultimate Rejection Letter. Herbert A.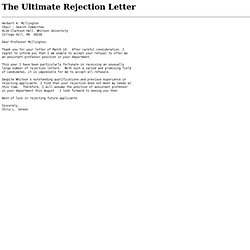 Millington Chair - Search Committee 412A Clarkson Hall, Whitson University College Hill, MA 34109 Dear Professor Millington, Thank you for your letter of March 16. After careful consideration, I regret to inform you that I am unable to accept your refusal to offer me an assistant professor position in your department. This year I have been particularly fortunate in receiving an unusually large number of rejection letters.
WHAT I LEARNED FROM LEFT 4 DEAD.
---