Outils / toolbox
Screen Recorder
Quality Expiring Domains - ValueDrops.com
Business Name Ideas - Crowdsourcing, Get a Freelancer
BackType
Sprouter
Pour tout savoir du Community Management, ce « nouveau métier » de l'internet dont on a encore tant parlé cette année, voici le dossier complet de la rédaction de FrenchWeb Les 4 règles de base du Community Management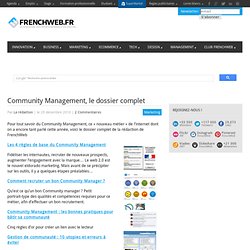 Community Management, le dossier complet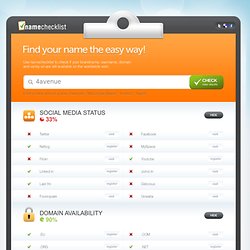 Find your name the easy way!
Find your name the easy way!
This post originally appeared on the American Express OPEN Forum, where Mashable regularly contributes articles about leveraging social media and technology in small business. Specific, contextual feedback is crucial for teams collaborating online, which is why it's so important to make receiving it as fast, efficient and easy as possible.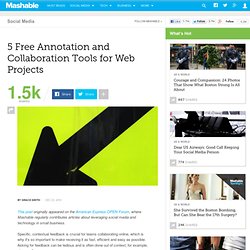 5 Free Annotation and Collaboration Tools for Web Projects
Startup Tips From Startup Founders
SimpleGeo
jMockups | Create & Share Website Mockups
Model Legal Documents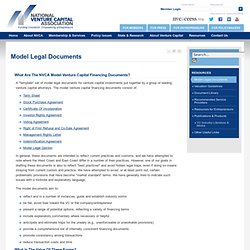 What Are The NVCA Model Venture Capital Financing Documents? A "template" set of model legal documents for venture capital investments put together by a group of leading venture capital attorneys. The model venture capital financing documents consist of:
go4out alpha version - Pivotal Tracker
Founder's Workbench | Free legal documents, information, best practices, and resources to launch a start-up
:: myelefant ::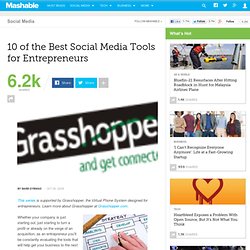 This series is supported by Grasshopper, the Virtual Phone System designed for entrepreneurs. Learn more about Grasshopper at Grasshopper.com. Whether your company is just starting out, just starting to turn a profit or already on the verge of an acquisition, as an entrepreneur you'll be constantly evaluating the tools that will help get your business to the next stage. Even if the ink on the business plan isn't dry yet, you want to be armed with the social media tools that will play an important role in company communication, product and brand promotions, and business development for your startup. Some of the tools in this list will be familiar, but it's worth taking a moment to reframe how they might become power tools in a business context. 10.
10 of the Best Social Media Tools for Entrepreneurs
User feedback and concept testing with Verify
Vyew
Home - Quora
Scribble - stickies on steroids
20+ Free Press Release Distribution Sites
Following up on the advertising toolbox, you also need to let the media (oh if only there was a site about web 2.0 and social networking where you could get covered...) know about your new venture. We've gathered 20+ sites that will help you with getting your press release out in the world for free.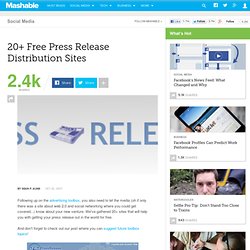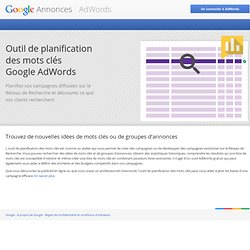 Les mots clés correspondent aux termes que les internautes recherchent sur Google. Votre annonce s'affiche à côté des résultats de recherche pertinents. Vous créez vos annonces
AdWords : Générateur de mots clés
*** Veuillez noter que depuis le mois de mars 2011, les pages Fan Facebook ne supportent plus l'application Static FBML.
Page fan Facebook - 10 trucs et astuces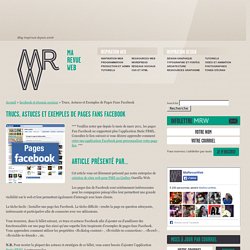 Free Screen Sharing
Makes it easy to work in groups.
270+ Tools for Running a Business Online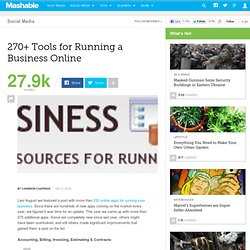 Last August we featured a post with more than 230 online apps for running your business. Since there are hundreds of new apps coming on the market every year, we figured it was time for an update. This year we came up with more than 270 additional apps. Some are completely new since last year, others might have been overlooked, and still others made significant improvements that gained them a spot on the list. Accounting, Billing, Invoicing, Estimating & Contracts