Matheus
Matheus S Costa
Collaborative Initiatives
LOVE KNOWLEDGE, LIVE TO LEARN..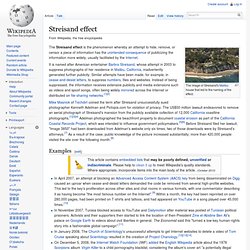 The image of Streisand's Malibu house that led to the naming of the effect. The Streisand effect is the phenomenon whereby an attempt to hide or remove a piece of information has the unintended consequence of publicizing the information more widely, usually facilitated by the Internet . The term is a modern expression of the older phenomenon that banning or censoring something often makes that item or information more desirable, and leads to its being actively sought out to a greater extent than it would have otherwise been. It is named after American entertainer Barbra Streisand , whose attempt in 2003 to suppress photographs of her residence inadvertently generated further publicity. Similar attempts have been made, for example, in cease-and-desist letters , to suppress numbers , files and websites.
Screenshot of a tetromino game. People who play video puzzle games like this for a long time may see moving images like this at the edges of their visual fields, when they close their eyes, or when they are drifting off to sleep. The Tetris effect (also known as Tetris Syndrome ) occurs when people devote sufficient time and attention to an activity that it begins to overshadow their thoughts , mental images , and dreams . It is named after the video game Tetris . People who play Tetris for a prolonged amount of time may then find themselves thinking about ways different shapes in the real world can fit together, such as the boxes on a supermarket shelf or the buildings on a street. [ 1 ] In this sense, the Tetris effect is a form of habit .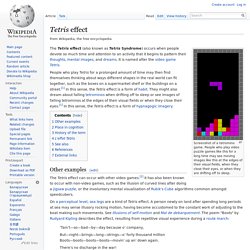 Tumblr - o blog preguiçoso
Dicas de livros – Educar para Crescer