Nät och lärande
Digipedagogen - För pedagoger som vill vidare i de digitala möjligheterna. 10 Internet Technologies Educators Should Be Informed About – 2011 Update. These Technologies Are Changing Education.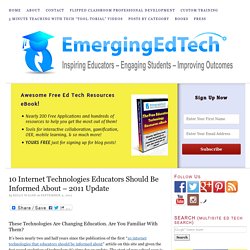 Are You Familiar With Them? It's been nearly two and half years since the publication of the first "10 internet technologies that educators should be informed about" article on this site and given the fast paced evolution of technology it's time for an update. The start of new school year is the perfect time to refresh this list! Below you will find updated information for 5 of the technologies from the original posting, and 5 new technologies that have earned their rightful place in the list (displacing 5 other types of tech, that while still worthy, are not quite as relevant today, IMHO). This is not intended to be a definitive listing, but rather an informed resource that provides insights and raises awareness.
Samarbeta online. Det fanns en tid, för inte alls så länge sedan, då Internet främst sågs som en arena för att söka information.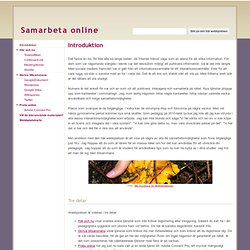 För dem som var någorlunda slängda i teknik var det dessutom möjligt att publicera information. Så är det inte längre. Collaborative writing software online with Writeboard. Write, share, revise, compare. Hello, We launched Writeboard back in October of 2005 as a stand-alone service.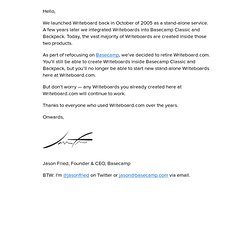 A few years later we integrated Writeboards into Basecamp Classic and Backpack. Today, the vast majority of Writeboards are created inside those two products. As part of refocusing on Basecamp, we've decided to retire Writeboard.com. Google. Folkbildningens öppna lärresurser 2010. Learning Net. I debatten brukar andelen distansstudenter lyftas fram som en faktor som drar ner högskolans effektivitet.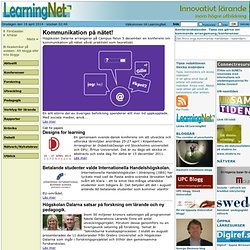 Men distansstudenter vid Karlstads universitet presterar över rikssnittet. Lena E Johansson, utbildnings- och forskningssamordnare, och Lars Haglund, professor i ekonomi, har undersökt hur distansstudenterna upplever sina studier och vilka resultat de gör. Undersökningen visar att programstudenter på distans hade 85 procents genomströmning och att siffran för fristående kurser på distans var 55 procent 2009. Digidel 2013 - En kampanj för digital delaktighet i Sverige. AR - through the looking glass. Startsida. Re:flex » Nättidning för folkbildningens flexibla lärande. Re:flexbloggen. Reflexfbrs kanal. iPad-appar i skolans värld.
---