Barefoot running
Christopher McDougall — Born to Run
UPDATE!! TIME CHANGE!!Due to pressure from The Man (and the weather), we're changing the run from before the talk to AFTER. Personally, that suits me fine — I've never been at peace with anything that takes place in a parking lot at 7 in the morning. I hope it doesn't disrupt anyone else's plans. So, to recap: the Gretna trail run is now scheduled for Aug 2 at approximately 12 noon, directly after Brendan Koerner's book talk.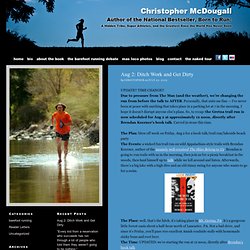 As this site is called "Hundred-Up" (or "100-up" if you prefer) and wouldn't exist but for this article, it's only fitting to post first on Christopher McDougall's (Author of Born to Run) N.Y.Times article The Once and Future Way to Run, which introduced me (and a lot of us) to a century old running drill invented by Walter (W.) G. George called the 100-Up exercise. How did McDougall get to talking about an old running drill from the 19th century? Well, it was in trying to find a "one best way" to re-learn how to run. I emphasize "re-" because children seem to learn how to run with excellent form naturally, that is until something (What could that be?)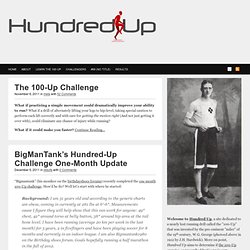 Hundred Up | Re-Learning How to Run
Vi har valv på undersidan av foten för valv är en av naturens starkaste konstruktioner och vi bygger ju också broar som valv. De blir starkare ju hårdare påfrestning som de utsätts för. Våra fyra ben springer i takt Som löpare vill man att armar och ben ska driva kroppen framåt. Knäna ska dra kroppen framåt, inte hoppa upp och ner. Armarna - som är koordinerade med benen alltsedan vi var fyrfotadjur - svänger åt motsatt håll i förhållande till benen. Det sker för det mesta automatiskt (försök svänga armarna i samma riktning som motsvarande ben eller försök att springa med armarna stelt längs sidorna).
Om framfotalöpning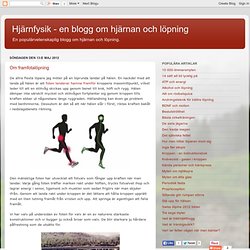 The 50 best songs for running ever made!
Åtta ton blandgodis För att kort återkoppla till gårdagens inlägg kommer här lite snabb statistik från LRF konsult. Man menar att bara var fjärde lantbrukare kommer att nå lönsamhet under 2013. Framförallt är det växtodlingsföretagen som gått dåligt och redovisar därför det sämsta resultatet på flera år men även mjölkgårdar och grisköttsföretag har haft det svårt under en längre tid. Dock verkar det som trenden inom dessa två näringar börjar vända. Låga spannmålspriser och det ökade importtrycket uppges vara orsaken till att många bönder går back.
<<pulstagning>> - Löpning och kost på rätt sätt
runbare.se - barfota med glädje
Running Barefoot: Home
Caballoblanco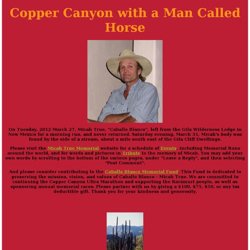 Copper Canyon with a Man Called Horse On Tuesday, 2012 March 27, Micah True, "Caballo Blanco", left from the Gila Wilderness Lodge in New Mexico for a morning run, and never returned. Saturday evening, March 31, Micah's body was found by the side of a stream, about a mile south east of the Gila Cliff Dwellings. Please visit the Micah True Memorial website for a schedule of Events , including Memorial Runs around the world, and for words and pictures in Tribute to the memory of Micah. You may add your own words by scrolling to the bottom of the various pages, under "Leave a Reply", and then selecting "Post Comment".
Barefoot Inc - Distributing Vibram FiveFingers across Australia and New Zealand
Today for a homeschool session, The Superhero, the teen, and I, sat down and watched old commercials from the late 50s-70s. The focus was for a mix of subjects including social studies, history, and just to discuss what we watched and have the teen listen to us discus and hear our perspectives. We watched several but the ones that were obviously geared towards women are the ones that spoke to me and subsequently it bothered me. The stupid commercials got to me in a sneaky way and although I did admit that I, like everyone, am susceptible to such advertising and marketing ploys it was also irritating that they were from freakin 30+ years ago! I think the subject that got to me most was that even though you are not beautiful if you use Ivory soap you will look healthy and that's good enough. It was blatantly obvious to me that they were targeting women who think they are unattractive and insecure and yet at the same time I questioned myself.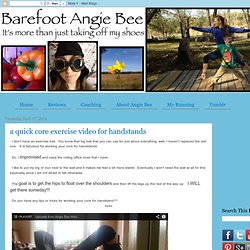 Barefoot Angie Bee
Society for Barefoot Living Home Page
The original barefoot shoe | Barefoot Running | Barefoot Shoes | Home
Merrell Hiking Boots, Shoes, Sandals, & Clothing - Official Merrell Site
FiveFingers info and reviews, Minimalist Shoes, Toe Shoes, and more!
Runner´s Worlds Sofia Hedström och några av våra bloggare tipsar om sina bästa löparlåtar! Här hittar du Spotifylistorna! [Läs mer]
Förstasidan | Runner's World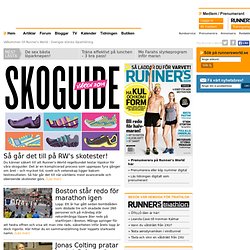 Motionsspår.se • Anläggning
Welcome | Sockwa | Tread Earth Lightly
Fivefingers Barefoot Shoes | Vibram
foot-fitness.jpg (JPEG-bild, 600x680 pixlar) - Skalad (87
Christopher McDougall | Born to Run | National Bestseller
FINALLY IN PAPERBACKThe True Adventure Story That Sparked A Revolution NATIONAL BESTSELLER A Forbes and Washington PostBest Book of the Year "McDougall's book reminded me ofwhy I love to run."
Home - The Primalfoot Alliance - Barefoot & Minimalist Footwear Lifestyle Advocates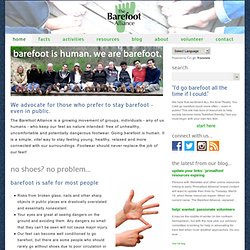 We advocate for those who prefer to stay barefoot - even in public. The Barefoot Alliance is a growing movement of groups, individuals - any of us humans - who keep our feet as nature intended: free of unhealthy, uncomfortable and potentially dangerous footwear. Going barefoot is innate.
Projekt Barfota | En blogg om att springa barfota
Dagens andra lopp (läs om förmiddagens lopp) var Malmö Halvmarathon. Jag premiärsprang detta loppet förra året - då helt barfota. Jag minns att det var rejält drygt fram mot slutet och eftersom jag dessutom hade en mil i benen redan fick det bli mina favoritsandaler.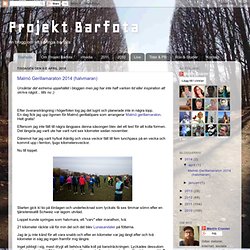 Find den naturlige løbestil - løb uden skader med posemanden
Fotkultur - Barfotaskobutiken
80% av alla motionslöpare skadas varje år. Egentligen helt i onödan, för vi är alla skapta för att löpa - vi har bara glömt bort hur. Klumpiga joggingskor, ortopediska inlägg, tabletter á la Voltaren, tigerbalsam, kinesiotape...är sällan den rätta kuren mot trista löpskador. Utveckla istället din löpteknik!
The Running Barefoot
Barfotalöpning - minimalistisk löpning. Vibram Fivefingers, Lizard X-Toes, Newline, Inov8 och mycket mer
Barefoot Running
Earlier this week, I received a pair of Vibram EL-X LS and I wanted to share my thoughts on this highly-anticipated shoe. Why is it highly anticipated? Because the "EL-X LS" that's available in youth sizes right now is what will be available in all sizes come 2014 as the KSO EVO. If you recall for the post about them earlier this year, the KSO EVO will be replacing Vibram's most popular shoe, the very versatile KSO. It features a speed lace system that is similar to the Bikila, Spyridon, and KMD LS, which allows for easy entry and a snug fit and the KSO EVO's thin sole provides excellent flexibility and ground feel. Like I said, the "KSO EVO" is scheduled to be released in Spring 2014 and isn't officially available yet.
Toe Shoes, Barefoot Running Shoes, and Vibram FiveFingers News, Resources, and Fan Forums - Birthday Shoes
Barefoot Ted's Adventures