Por Ver
A Árvore da Vida (2011. Top 10 Philosophical Movies Of All Time - Top 10 - - Top 10 List - Memento Quote - Blade Runner Quote - Waking Life Quote - Seconds Quote - La Dolce Vita Quote - Matrix Quote - Being There Quote - A Clockwork Orange Quote - My Dinner with Andre. Top 10 Philosophical Movies Of All Time "I have to believe in a world outside my own mind.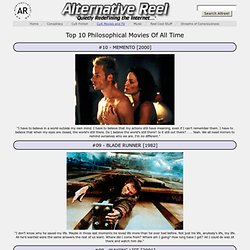 I have to believe that my actions still have meaning, even if I can't remember them. Top 10 Cinematic Mind Benders | Jinni Blog. Some filmmakers just don't want to (or can't) tell a straightforward story.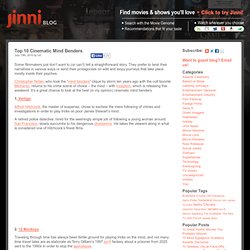 They prefer to twist their narratives in various ways or send their protagonists on wild and loopy journeys that take place mostly inside their psyches. Christopher Nolan, who took the "mind benders" clique by storm ten years ago with the cult favorite Memento, returns to his crime scene of choice – the mind – with Inception, which is releasing this weekend. 10 Best Cinematic Mindfucks. 15 of the Most Disturbing Films Ever Made. In Hollywood, it's not hard to find a borderline snuff film that turns the stomach and loosens the sphincter.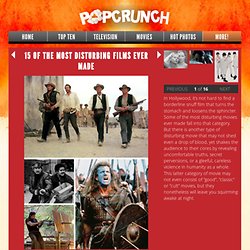 Some of the most disturbing movies ever made fall into that category. But there is another type of disturbing movie that may not shed even a drop of blood, yet shakes the audience to their cores by revealing uncomfortable truths, secret perversions, or a gleeful, careless violence in humanity as a whole. This latter category of movie may not even consist of "good", "classic" or "cult" movies, but they nonetheless will leave you squirming awake at night. Pina (2011.
---