Makeup
Make Up Effect for the Face | PhotoshopStar. Welcome to PhotoshopStar.com!
If you find this site useful, you might want to subscribe to our free newsletter for updates on our new Photoshop Tutorials and Articles. In this Photoshop tutorial I will be walking you through the creating new make up for the face. Open up the stock photo you've chosen to be working with for this tutorial. Tutorial: Ultimate Makeup. Every photographer who makes portraits or takes photographs of people, be it a wedding or event photographer, at some point in time encounters a need to retouch the photograph - to make people look better.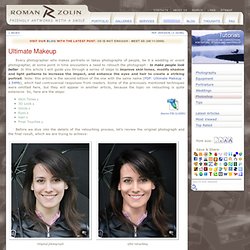 In this article I will guide you through a series of steps to improve skin tones, modify shadow and light patterns to increase the impact, and enhance the eyes and hair to create a striking portrait. Note: this article is the second edition of the one with the same name (PDF: Ultimate Makeup - 2.54Mb), which had controversial responses from readers. Some of the previously mentioned techniques were omitted here, but they will appear in another article, because the topic on retouching is quite extensive.
So, here are the steps: Before we dive into the details of the retouching process, let's review the original photograph and the final result, which we are trying to achieve: Really Cool Digital Make up in Photoshop in 10 min. Why use real make up if you can do a digital make up and make the skin look pretty and smooth.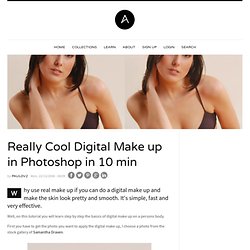 It's simple, fast and very effective. Well, on this tutorial you will learn step by step the basics of digital make up on a persons body.
---