Иллюстраторы
Miu-mau.org. Gallery | Tatiana Vetrova Portfolio. Alexandr Grigorev. OXOTHUK on deviantART. Lounging with Neutrino by *CUBiKO on deviantART. CUBiKO on deviantART. Cat Rackham by Steve Wolfhard. CGS Tutorial: Wage Slave. CGSociety :: Tutorial Michael Dashow, 16 January 2006 It should come as no surprise that when I started on this piece, I was not having a great time at my job.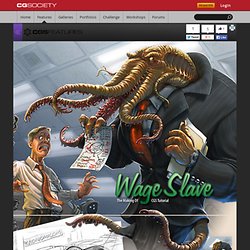 None of my managers looked or acted like the boss depicted here. Nonetheless, the CGTalk Master and Servant Challenge proved to be a great place to channel my workplace frustration, and the collaborative environment of the Challenge was a refreshing change from the day job. RU.Artists' Journal. Lipatov on deviantART. Cookie. Portfolio – Design Disease – Blog Design. Over the years we've designed many popular WordPress themes.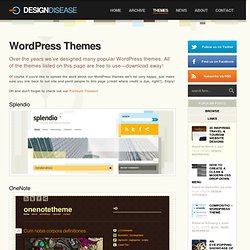 All of the themes listed on this page are free to use—download away! Of course if you'd like to spread the word about our WordPress themes we'll be very happy, just make sure you link back to our site and point people to this page (credit where credit is due, right?). Enjoy! Denis Zilber « Whitezine | inspire Create and Share. Illustrator from Tel Aviv, Denis Zilber has an amazing talent.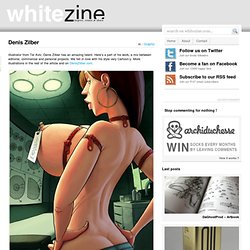 Here's a part of his work, a mix between editorial, commercial and personal projects. We fell in love with his style very Cartoon-y. More illustrations in the rest of the article and on DenisZilber.com. Concept art. IMAGINARY FRIENDS STUDIOS. Yigit Koroglu - Gallery. Feng Zhu Design. A r t o f g r e g m a r t i n . c o m. Imaginism Studios - art, independent artists, character designers, illustration. Home | Artcore Illustrations Blog. MichaelO - Digital Artist. Joe Rubinstein Home. Massive Black, Inc. Ujean&Glazyrin. CG artists' portfolio. GIGER. Lumbricus « Ракушка на Берегу Улитки. DevilHS's deviantART Gallery. BramLeech on deviantART. Resenhista on deviantART. Gureiduson on deviantART. Chase-SC2 on deviantART. Neisbeis on deviantART. Ragaru on deviantART. Tjkdys on deviantART.
---