Illustrator
Just because you can usually get a similar effect in Photoshop doesn't mean the end result will be as good as using Illustrator (depending on the project).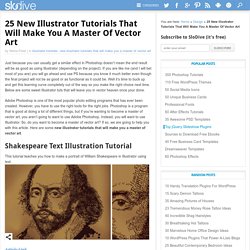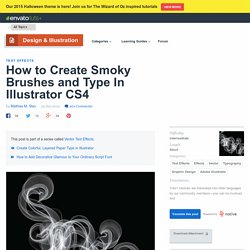 How to Create Smoky Brushes and Type In Illustrator CS4
« Previous Next »
Add depth to your art with expert shading techniques - Illustrator Tutorial
With all the tools and effects that Adobe Illustrator has to offer, it can sometimes be hard to achieve a sense of depth and atmosphere within your images. Often they can come out looking flat and very two-dimensional. In this tutorial, Bristol-based artist Ben Steers will show you how he uses gradient effects and opacity masks to overcome this, as he takes you through how he created his piece, Gone Karting. Ben has used these techniques to great effect in this artwork, which is based around a lonely bear character who enjoys playing amongst the woods in his time off from fishing and felling trees. When compared to the original flat artwork the gradients not only add a zing to the visuals, they also help draw the eye to the central character. Step 1 I wanted to take my rather flat 2D illustration and give it some real depth.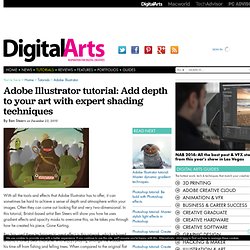 Adobe Illustrator tutorials | Dream Infinity Studios / Chris Takakura | Art Direction + Design
These are some unique tutorials for Illustrator that can help you understand the core system of Illustrator and how it works. There are many tedious things that are posted on these tutorials so please read them carefully. This page also features video tutorials from the official Dream Infinity Studios YouTube Channel.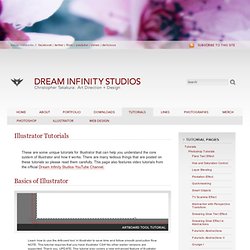 Уроки Adobe Illustrator
Tutorial for Professionals
Graphic Corner - 15 Jun, 2010 Illustrator Portrait - Möglichkeiten ein Portrait mittels eines Grafikprogramms wie bspw. Adobe Illustrator zu vektorisieren gibt es viele.