ICT Strategy
Raspberry Pi: Primary school children get coding. Tel.ac.uk. A teacher's guide to IT terminology. What do you know about Phishing, Cookies, Worms and Trojans in a technological world?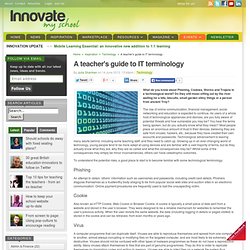 Do they still mean sitting out by the river waiting for a bite, biscuits, small garden slimy things or a person from ancient Troy? The rise of online communication, financial management, social networking and education is expected to continue. What is the appropriate form of address in email? Here is the text of a note from the Post Office, quoted in "Berry and Co", which was written by Dornford Yates and published in 1920: SirI beg leave to inform you that your telegram handed in at the Grosvenor Street Post Office at 10.2 am on the 26th June addressed to Reply paid Hamilton Smythe Fair Lawns Torquay has not been delivered for the reason indicated below.ADDRESS NOT KNOWNI am, Sir, Your obedient servant,WBPostmaster Should letter-writing conventions be used in emails?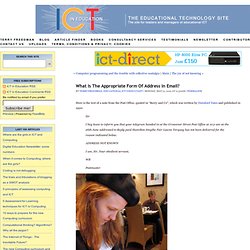 Photo (c) Henri Burgius those forms of politeness at the start and end of the note seem quaint and odd to us. They are clearly symptomatic of a less frenetic age. However, at least the correct forms of address were known (or at least could have been known) by all. ICT Equipment Replacement Strategy: Lasa knowledgebase. ICT Management.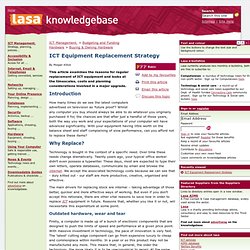 > Budgeting and FundingHardware > Buying & Owning Hardware By Morgan Killick This article examines the reasons for regular replacement of ICT equipment and looks at the timescales, costs and planning considerations involved in a major upgrade. Encouraging words at Policy Exchange on Technology. Michael Gove delivered a keynote presentation on Monday 28 November, at Policy Exchange, and responded to a question on the use of technology in schools as follows: 'ICT has a huge role to play.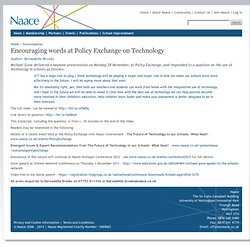 I think technology will be playing a larger and larger role in how we make our schools work more effectively in the future. I will be saying more about that soon.But it's absolutely right, yes, that both our teachers and students can work from home with the imaginative use of technology and I hope in the future we will be able to make it clear how with the best use of technology we can help parents become more involved in their children's education, help children learn faster and make sure assessment is better designed to be in their interests.'
The full video can be viewed at. ICT Self Assessment booklet. A few weeks ago, I stumbled across ICT Teaching & Learning Framework 2011, which was written by Matt Lovegrove and included contributions from Steve Greenfield, David Sheppard & Claire Waite.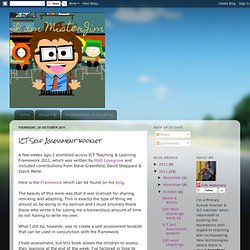 Here is the Framework which can be found on his blog. The beauty of this work was that it was licensed for sharing, remixing and adapting. This is exactly the type of thing we should all be doing in my opinion and I must sincerely thank those who wrote it for saving me a tremendous amount of time by not having to write my own. What I did do, however, was to create a self-assessment booklet that can be used in conjunction with the framework. JISC Legal Cloud Computing and the Law Toolkit (31/08/2011) > JISC Legal > ManageContent. We're pleased to present our free Cloud Computing and the Law toolkit for FE and HE professionals.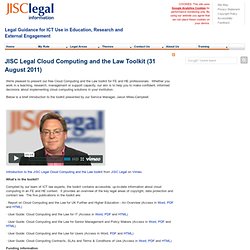 Whether you work in a teaching, research, management or support capacity, our aim is to help you to make confident, informed decisions about implementing cloud computing solutions in your institution. Below is a brief introduction to the toolkit presented by our Service Manager, Jason Miles-Campbell. Introduction to the JISC Legal Cloud Computing and the Law toolkit from JISC Legal on Vimeo.
What's in the toolkit? Global Internet Expansion: Who Will Lead the Way? [INFOGRAPHIC] According to recent Cisco research, global Internet traffic will grow nearly four-fold from 2010 -- 2015.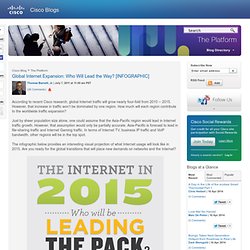 However, that increase in traffic won't be dominated by one region. How much will each region contribute to the worldwide traffic expansion? Just by sheer population size alone, one could assume that the Asia-Pacific region would lead in Internet traffic growth. ICT Planning. Save Our Inboxes! Adopt the Email Charter! Smarter systems for smarter education. Wednesday, 13 April 2011 20:36 There has never been a better time to make our education technology systems smarter.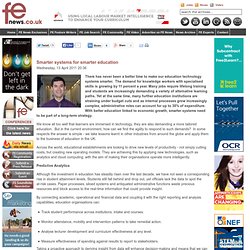 The demand for knowledge workers with specialised skills is growing by 11 percent a year. Many jobs require lifelong training and students are increasingly demanding a variety of alternative learning paths. Yet at the same time, many further education institutions are straining under budget cuts and as internal processes grow increasingly complex, administrative roles can account for up to 30% of expenditure. Home - Capability Matrix: Fully customisable online skill assessment system. 3icttoolkit.pdf (application/pdf Object)
---