Training etc
Protocol
Ausbildung der Sklavin - Die Lektionen | SMasu. Humiliation - PeterMastersWiki. Humiliation is a BDSM psychological activity which exploits the identity structures of the bottom or submissive.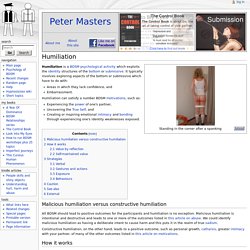 It typically involves exploring aspects of the bottom or submissive which have to do with: Areas in which they lack confidence, and Embarrassment. Humiliation can satisfy a number BDSM motivations, such as: Experiencing the power of one's partner, Uncovering the True Self, and Creating or inspiring emotional intimacy and bonding through experiencing one's identity weaknesses exposed. Malicious humiliation versus constructive humiliation. Slave Positions. For purposes of expedience, not exclusion, this page is written from a Master / female slave perspective.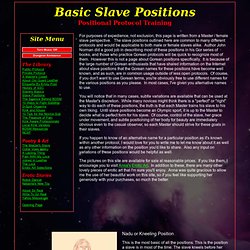 The slave positions outlined here are common to many different protocols and would be applicable to both male or female slaves alike. Author John Norman did a good job in describing most of these positions in his Gor series of books, and those who practice Gorean protocols will be quick to recognize most of them. However this is not a page about Gorean positions specifically. What Is Slave Training? By lunaKM on February 24, 2009 In this week's video tip I talk about what training is to a submissive and the value it has to a D/s relationship.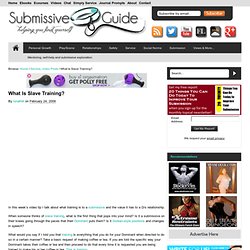 When someone thinks of slave training, what is the first thing that pops into your mind? Is it a submissive on their knees going through the paces that their Dominant puts them?
---