Checklists
bdsm_checklist_francais.pdf (application/pdf Object)
BDSM Fetish Kink Checklist
Finding out more about yourself... The questions below will help you identify your main interests and will probably point out a few things you're uncomfortable with and one or two of your off-limits areas. If you have a partner this can be a great tool for both of you - as well as for current and future conversations.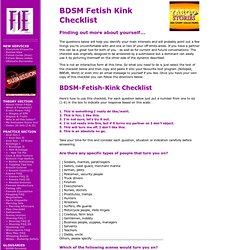 The BRC BDSM Check List
Links Back to the main checklist page Turn off descriptions Domination And Submission List (51) Fetish List (55) Full List (200) Quick List (20) Roleplay List (23) Sadism And Masochism List (41) Printable Version This is a printable version of the Soul's Haven BDSM Checklist.
Soul's Haven - Printable BDSM Checklist
Sexmap: Create Your Map of Human Sexuality