CAREER ADVICE
Get flash to fully experience Pearltrees
Unless you're unemployed, job-hunting eight hours per day is unrealistic. Even if you do have all day to look for work, it can be demoralizing and tiring. Luckily, two hours may be all you need.
Want to be in the 1% of all job seekers?! Use these tips to get a leg up on the job search competition. Make a Website Google some of your Facebook friends and see what you can find.
In answer to the question above, approximately 18,400,000 Americans say yes, they got their current job through Facebook . Though Zuck's platform ranks #1, Twitter and LinkedIn don't have shabby numbers either — 8 million and 10.2 million Americans, respectively, have gotten their jobs through social platforms. Judging from our Job Search Series , it should come as no surprise that being socially savvy pays off in the job hunt for two reasons — it helps you network, and it's a highly marketable strength in your skill set, given all the openings in the digital space.
Networking is not just presenting your business name for people to find out about you, but it's also getting to know the people who will spread the word about you and your products or services and then will support you in your activities. Networking means getting to know many people in your life, as many as you can, and showcasing your business to those people, so that they then carry forward your name, your service or business, and share their knowledge about you with others. It may be that your business needs you to travel quite often or you may travel to arrange for supplies of raw material, visit relatives or just for the fun of it.
I have strange and peculiar thoughts: Yes or No. I am worried about getting germs from doorknobs: Yes or No. Those were two of the hundreds of questions I had to answer back in 1977 as part of a psychological test designed to see if I was suitable for the junior magazine-editing job I was applying for at a big Canadian publishing company. I guess I answered the right way, because I got the job – my first full-time position. Thirty-five years later, I'm trying the modern version of the pre-employment psychological test. From the comfort of my desk, I'm surveying a computer screen full of more than 80 adjectives, checking off the ones that describe the way other people usually expect me to act.
"They just don't understand me!" This is one of the most popular excuses from employees that are having trouble creating impact and influence in the workplace. In fact, most employees who say that are just tired of a workplace culture that does not encourage them to share their individuality.
Resources to help with your job search including career advice, career change information, job descriptions, career education, career choices, career tests and quizzes, and career information. A career aptitude test can give you an indication of which jobs match your personality and which careers you may have an aptitude for. There are a variety of online career aptitude tests and assessments that can help you determine what type of job matches your career interests and aptitudes. Need help with your job search? Here's how job seekers can find free, or inexpensive, resources in their geographic areas to help with job searching and career counseling. Interested in knowing what career opportunities are available?
Job search techniques change, the labour market changes and job descriptions change. But what more or less stays the same is the job interview. It's your chance to sell yourself. The first 30 seconds of a job interview are the most important – so if you want to be a cut above the rest you need to be on the ball. Rob Yeung, a business psychologist, maintains that an interview is all about the three Ps. "You need to prepare, you need to practise, and then, on the day, you need to perform."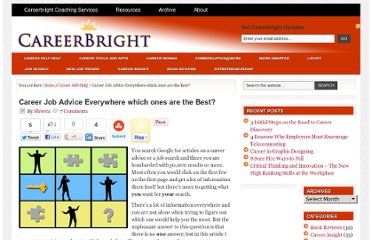 digg You search Google for articles on a career advice or a job search and there you are bombarded with 50,000 results or more. Most often you would click on the first few on the first page and get a lot of information there itself but there's more to getting what you want for your search. There's a lot of information everywhere and you are not alone when trying to figure out which one would help you the most.
Does the sound of 'group interview' make you cringe? Does it immediately bring to mind Will Smith in 'Men in Black' and the weird egg shaped chair? Did you think, 'Uh-uh.
in Share 95 As a young professional, there are so many directions you could go in. So many people to meet! So many skills to learn! With all of those choices, what's the best way to invest in your career? If you make an effort to set yourself up for success early on, you will reap the benefits for years to come.