Words
清水哲男『新・増殖する俳句歳時記』
佐々木貴子 春月の背中汚れたままがよし 春の月が大きい。少し潤んで見えるこの頃の月の美しさ。厳しくさえ返っていた冬月とは明らかに違う。掲載句の「背中」の主体は春月だろうか。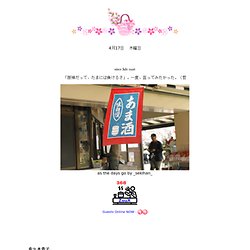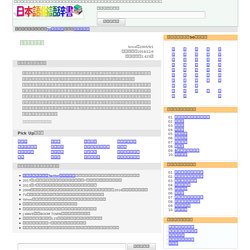 Since:2005/9/1 最終更新:2014/3/29 掲載語数:2,120語 日本語俗語辞書とは 日本語俗語辞書は俗語(ぞくご)の意味を辞書形式で解説し、更に用法や関連情報がある語句に対しては辞典形式で細かく解説している辞書サイトです。 よく「最近の若者の言葉(主に新語・流行語)がわからん」という中高年の声や「親父やお袋が面白そうに使ってる言葉(主に死語)の意味がわかんない」という若者の声を耳にします。それらを知らなくても生活に支障をきたすことはないでしょう。しかし、それらを知ることで世代を超えた人との会話にも幅ができ、一歩踏み込んだ交流が世界を広げるはずです。
日本語俗語辞書 - 若者言葉・新語・死語・流行語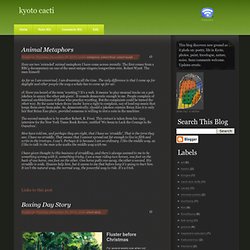 kyoto cacti
Fluster before Christmas For several weeks now when not teaching I have spent my time lying around either consciously dreaming or unconsciously waking and in both cases irresponsibly irritable to the last degree. Robert Frost, Selected Letters I had not been to see a dentist for some half-dozen years. If it weren't for K., who would occasionally complain about my wafer-thin, shark-jagged central incisors, it would most likely be a further six years.
Perhaps you're wondering what you're doing here. At this site, that is, not on the planet. As to the latter, we have no idea. Nor, most likely, do you. Be that as it may, you've likely stumbled into this particular poetry site because you are consumed by a passionate, burning, undeniable, or simply casual interest in or general curiosity about... In that case, I am pleased to inform you that you have just discovered what may well be the best of all possible worlds.
Week of 08/27/2012: Include the word of the day in one of the following prompts. All 140+ entries are welcome. Post them under 'comments' and let your friends know on Twitter. ACROSTIC FLICK: Make the first letter of each word or sentence of your post spell out today's #lqw word. LOONY LETTERS: Write a silly letter to the person of your choice, real or fictional, dead or alive.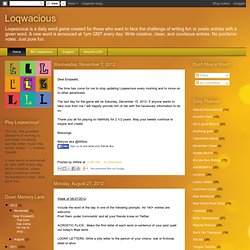 Loqwacious