Business strategy
All good teams find a way to do this. Brad Bird, the Pixar director who brought The Incredibles and Ratatouille to life, was famous for creating constructive conflict. So much so that he was fired by both Disney and The Simpsons. But Pixar wanted to shake things up, so they gave him a chance and his own team. When recruiting, Sutton says Bird asked for all the black sheep. "Give me all the people who are ready to leave — the ones who hate what Pixar is doing," he said.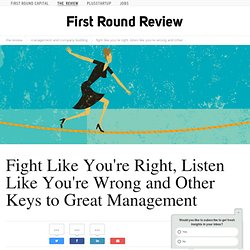 Fight Like You're Right, Listen Like You're Wrong and Other Keys to Great Management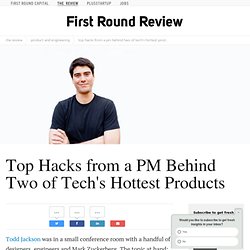 Top Hacks from a PM Behind Two of Tech's Hottest Products
Jackson has several other rules for these situations — best practices that span industries for PMs: Always know the current status and context: You should always know where key people in the company stand on what's important and why. You should also know what's going on with the competition.Jump from small details to big picture: "You should be able to articulate the highest level strategy behind a product but also be ready to explain why a particular UI element is placed the way it is."Have moxie but don't self-promote: Compliments should always go to the team. Credit should be handed out freely and generously. Success belongs to the team but failures belong to you.Be a master of influence, not authority: Obviously, you have no authority over the founders or cross-functional stakeholders you're presenting to — you also probably don't have authority over the engineers you work with.
Establishing Credibility - Communication Skills Training From MindTools
Inspiring Trust in Others Ensure that you build credibility on firm foundations. © iStockphoto/Jezperklauzen Would you attend a training course run by someone with no experience of his subject? Would you buy from a sales professional who had previously let you down? Or, would you go "above and beyond" for a leader who didn't routinely keep her word?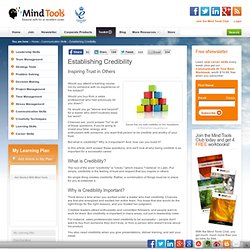 Five ways to create marketing worth sharing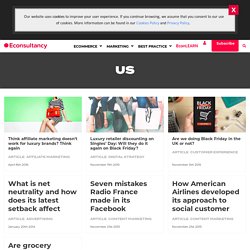 Don Draper has left the building is an announcement bound to dismay any woman with a pulse, but it should hearten marketers. That's because Don Draper represents the old school of marketing, said Tom Fishburne, CEO of Marketoon Studios, at Integrated Marketing Week earlier this month. In the Draper model, marketers decided what the brand stood for and what its strategy was. Every touch point with the customer was controlled. Today those touch points have exploded and marketers have far less control, said Fishburne.
Five Self-Defeating Behaviors that Ruin Companies and Careers - Rosabeth Moss Kanter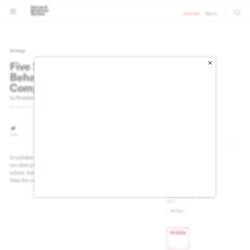 by Rosabeth Moss Kanter | 10:00 AM November 20, 2012 In turbulent times, it's hard enough to deal with external problems. But too often people and companies exacerbate their troubles by their own actions. Self-defeating behaviors can make any situation worse.
It is not so much a revolution but a rapid evolution and transformation. The growth of digital media, the convergence of paid, owned and earned media practices and the rapid growth and adoption of mobile and video have fueled change in the way we work in 2013. If you add to this equation the technological changes and innovation and the catalyst that is social media and content marketing it becomes apparent that dealing and adapting to change is a digital marketing necessity rather than the option that it used to be. Adapt
Transformation in digital marketing: five ways to work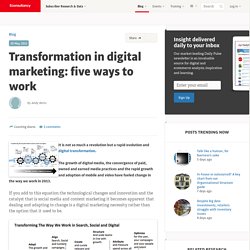 Authentic businesses inspire and prosper. A bold statement – but one that is very hard to argue with. You might think that by its very nature marketing isn't authentic, but in the digital age where people are increasingly savvy that preconception is being forced to change.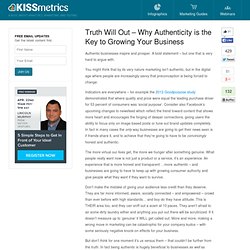 Truth Will Out - Why Authenticity is the Key to Growing Your Business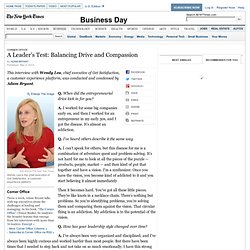 Wendy Lea, of Get Satisfaction, on Balancing Drive and Compassion
Q. When did the entrepreneurial drive kick in for you? A. I worked for some big companies early on, and then I worked for an entrepreneur in my early 30s, and I got the disease. It's almost an addiction. Q.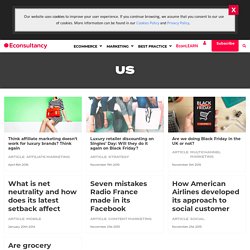 Introducing the Modern Marketing Manifesto
There are two big questions about marketing as a discipline at the moment. Firstly, is it becoming more, or less, important within organisations? Secondly, has digital completely changed what marketing is or has it fundamentally remained the same? As you might expect we at Centaur , under the Marketing Week and Econsultancy brands, champion the cause of marketing, and marketers, globally. We believe the value of marketing is, rightly, in the ascendancy. We have always maintained that digital marketing does not exist in isolation.
You cannot become a great content brand unless you are already a great brand. Article Highlights: When readers sift through the nearly unlimited information choices, they filter by how credible they view the source to be. The best way to get content right is not to think about it as the solution to a marketing problem.
The Hard Truth About Branded Content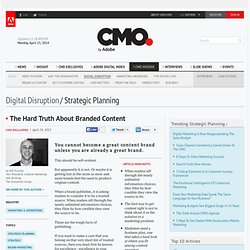 Old-School Business Practices Worth Bringing Back - John Coleman
by John Coleman | 10:00 AM April 11, 2013 In general, the business community is obsessed with what Michael Lewis once termed the "new, new thing." It's that faith in a kind of kaizen -in-all-things that has led to innumerable technological, organizational, and social advances in the corporate world.
Why Mindfulness and Meditation Are Good for Business
You don't need a personal guru or a trip to India to bring you inner peace. Perhaps you simply need to learn from Mirabai Bush, co-founder of the Center for Contemplative Mind in Society. Bush has worked with several businesses to teach people about the benefits of meditation and contemplative thinking. She has helped individuals improve their listening skills, their teamwork abilities and their anger management at corporations such as Google, Monsanto and Hearst. In addition, Bush has worked with non-profits, lawyers and educators, among others.
A friend recently sent me an article by Plinio Granado titled, "9 Things That Will Disappear in Our Lifetime." The list includes some obvious things including the post office, the check, newspaper, book and landline telephone — no surprises there. There were also a few that may not be obvious but are understandable: television, the music industry, "things" that you own (as they will live in a cloud) and privacy. In talking to friends and associates about the list, some of them say that they don't believe all of these things will disappear.
The One Thing That Will Never Be Obsolete | Talent Management Blog
Invest in Your Customers More Than Your Brand - Michael Schrage
by Michael Schrage | 11:45 AM February 25, 2013 To appreciate how broken most contemporary models of advertising and promotion have become, listen to Jeff Bezos complain about how Amazon's core values are misunderstood. "One of the early examples...was customer reviews," he recalls. "One [critic] wrote to me and said, 'You don't understand your business.
What Data Can't Do
The C.E.O. had his economists project out a series of downside scenarios and calculate what they would mean for his company. But, in the end, he made his decision on the basis of values. His bank had been in Italy for decades. He didn't want Italians to think of the company as a fair-weather friend. He didn't want people inside the company thinking they would cut and run when times got hard. He decided to stay in Italy and ride out any potential crisis, even with the short-term costs.
The VC Firm That Funded Facebook Explains How To Hire
Three Elements of a Successful Platform Strategy - Mark Bonchek and Sangeet Paul Choudary
Every Office Has Its Bullies; Here's How To Outwit Them
7 Things Great Marketers Do
Brand Strategy Sequence
Rethinking the Customer Journey in a Social World – Forbes
The difference between the business model, framework and architecture
This Year's Ten Digital Strategies for the Next-Generation Enterprise
Channeling Anna Wintour: When Creating Branded Content, Think Like An Editor-In-Chief
5 Things I Learned About Entrepreneurship From Y Combinator's Paul Graham
Why "humanizing" brands begins with a state of mind | Emotional Branding Alliance
Executives Share The Best Advice They Ever Received
Ask Jo: Being Strategic: Three components of a good strategy
Michael Porter on Why 'Best' Isn't the Right Goal
Don't Hold Out For A Hero: Go Get Yourself A Champion
Personal Branding – Discovering the Authentic You
Jan. 6th CEO Corner: Delivering Results with the Flexible Workforce Msquared Blog |  Msquared Blog
How IBM's Sam Palmisano Redefined the Global Corporation - Bill George - HBS Faculty
How leaders kill meaning at work - McKinsey Quarterly - Governance - Leadership
12 tech leaders' resolutions for 2012
The Economy - An Excuse of Convenience
Five Common Strategy Mistakes - Joan Magretta
Courage in the C-Suite - Harvard Business Review | Share on LinkedIn
Why Peter Drucker Distrusted Facts - Stephen Wunker