Tutorials and Patterns
How-Tuesday: Sew a Skirt in One Hour | The Etsy Blog
Search results for embroidery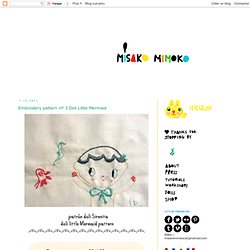 Embroidery pattern nº 3 Doli Little Mermaid
tengo un nuevo patrón de bordado para compartir, espero que os guste ,) es la sorpresita de la que os hablaba estos días. os lo podéis descargar aquí , la protagonista es doli sirenita con sus amigos el pulpo y el caballito de mar. mañana en el Taller de Bordado de Fantasía de Duduá aprenderemos todos los puntos con este patrón. más info e inscripciones aquí he utilizado un hilo con efecto Jewel de DMC para la cola de la sirena, DMC nos regala el bastidor, las telas, los hilos y todo el material necesario. ese librito de punto de cruz es regalo de Pepa :)
www.instructables.com/id/The-Shirt-Skirt/step6/null/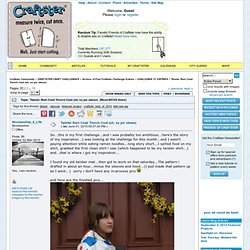 Twister Rain Coat/ Trench Coat (oh, so pic obese) - CRAFTSTER CRAFT CHALLENGES
So...this is my first challenge...and i was probably too ambitious...here's the story of my inspiration...I was looking at the challenge for this month...and I wasn't paying attention while eating ramen noodles...long story short...I spilled food on my shirt, grabbed the first clean shirt i saw (which happened to be my twister shirt...) and...that is where i got my inspiration...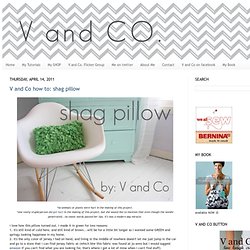 *no animals or plants were hurt in the making of this project.
Simple gathered-to-waistband skirt tutorial!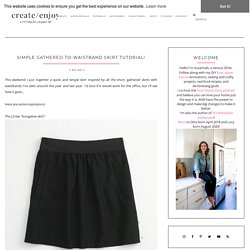 This weekend I put together a quick and simple skirt inspired by all the short, gathered skirts with waistbands I've seen around this year and last year.
A Vintagely Modern Skirt
One thing that I LOVE to sew is something vintage mixed with a modern twist.
*This tutorial is for personal use only. Please contact us to buy a limited-use permit to sell any item made from this tutorial.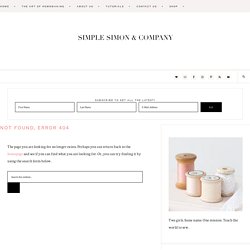 The Bustle Skirt. A tutorial.
This very pretty embroidered cotton was found in a local fabric store, but unfortunately it was only in a small piece.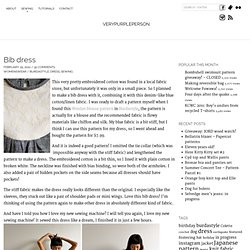 Bib dress
Here it is - finally!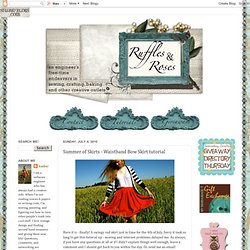 Summer of Skirts - Waistband Bow Skirt tutorial
Vintage Inspired Skirt: A tutorial by Anna of Noodlehead
You all know Anna, right?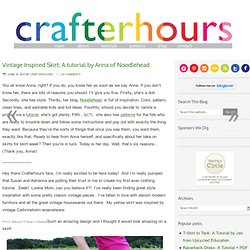 I taught a class a few weekends ago to the girls in my Relief Society on how to make my t-shirt dresses .
Winter Shirt Dress
Et voilà!
DIY Scallop Button Up Skirt - Pattern & How-To
I recently rescued a whole stack of my husband's old t-shirts from certain death in the trashcan. There were a few small holes in all of them, but the vast majority of the fabric in each was still usable. After I got over my initial shock and dismay that he would throw away potentially useful crafting materials, I got right to work upcycling the t-shirts into fancy new panties.
The Zen of Making: Tutorial: Upcycle a T-Shirt to Underpants
I know you've got them, lurking in drawers, the back of the closet, in the "giveaway" pile: those T-shirts that are, for various reasons, both unwearable and indispensable. They are too small, too big, too short, have a stain, a hole, or some other flaw, and yet you cannot bear to part with them.
I had a party to go to. Shopping takes time and money, both of which I didn't want to dispense.
Easy Elastic Waist Skirt
tutorial: how to sew a boho maxi dress
Freestyle Hot Mess Mommy Dress
Coffee Date Dress- multisize sample!
Tutorial ~ She Wears Flowers
two-seam top
lovely guest post~happy together!! | peace, love, and crafts
Women's Skirt with Yoga Style Waist Band
The Starboard Skirt by Simple Simon & Co.
Tutorials and things I want to make
REVERSIBLE WRAP SKIRT
Wrap Skirt made from a Circle Skirt
The Pinwheel Skirt
The Gilded Skirt
A Very Simple Skirt Tutorial