Tutorials and Patterns
Circle Knit Shirt Tutorial. So.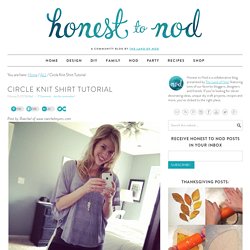 I have a favorite shirt. I'll be honest, it's probably my favorite because it's the most comfortable shirt I own, AND my husband bought it for me and he thinks I look cute in it. That's really all I need. Sew a Skirt in One Hour. In this week's How-Tuesday post, you'll learn how to stitch your very own custom skirt and update your wardrobe in a flash!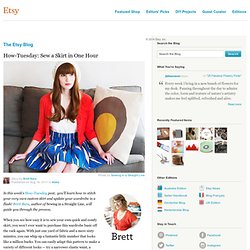 Brett Bara, author of Sewing in a Straight Line, will guide you through the process. When you see how easy it is to sew your own quick and comfy skirt, you won't ever want to purchase this wardrobe basic off the rack again. With just one yard of fabric and a mere sixty minutes, you can whip up a fantastic little number that looks like a million bucks. You can easily adapt this pattern to make a variety of different looks — try a narrower elastic waist, a longer length, or even less gathering to suit your own personal style. Search results for embroidery. Embroidery pattern nº 3 Doli Little Mermaid. Tengo un nuevo patrón de bordado para compartir,espero que os guste ,)es la sorpresita de la que os hablaba estos días.os lo podéis descargar aquí,la protagonista es doli sirenita con sus amigos el pulpo y el caballito de mar.mañana en el Taller de Bordado de Fantasía de Duduá aprenderemostodos los puntos con este patrón.más info e inscripciones aquíhe utilizado un hilo con efecto Jewel de DMC para la cola de la sirena,DMC nos regala el bastidor, las telas, los hilos y todo el material necesario. ese librito de punto de cruz es regalo de Pepa :) Tengo otro cosita que compartir :),este treasury tan mágico que ha hecho Mathyld, me encanta!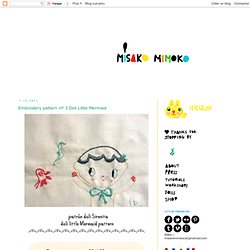 **the day after in the nursery of magic**espero que os esté yendo bien la semana! Feliz miércoles! Www.instructables.com/id/The-Shirt-Skirt/step6/null/ Twister Rain Coat/ Trench Coat (oh, so pic obese) - CRAFTSTER CRAFT CHALLENGES. So...this is my first challenge...and i was probably too ambitious...here's the story of my inspiration...I was looking at the challenge for this month...and I wasn't paying attention while eating ramen noodles...long story short...I spilled food on my shirt, grabbed the first clean shirt i saw (which happened to be my twister shirt...) and...that is where i got my inspiration...I found my old twister mat...then got to work on that saturday...The pattern i drafted in about an hour...minus the sleeves and hood...
(I just made that pattern up as I went...) sorry i don't have any in-process pics and here are the finished pics... here you can see the sleeve...i used the twister at both ends to do both sleeves ooh. and you can kind of see how it is fullllllly lined andddd here you can see the back pleat thing and the hoooood... V and Co how to: shag pillow. *no animals or plants were hurt in the making of this project.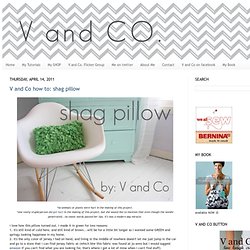 *one really stupid person did get hurt in the making of this project, but she would like to mention that even though the needle penetrated...no swear words passed her lips. it's was a modern day miracle. i love how this pillow turned out. i made it in green for two reasons: 1. it's still kind of cold here, and still kind of brown...will be for a little bit longer so i wanted some GREEN and springy looking happiness in my home. 2. it's the only color of jersey i had on hand, and living in the middle of nowhere doesn't let me just jump in the car and go to a store that i can find jersey fabric at (which btw this fabric was found at jo-anns but i would suggest amazon if you can't find what you are looking for, that's where i get a lot of mine when i can't find stuff)
Simple gathered-to-waistband skirt tutorial! This weekend I put together a quick and simple skirt inspired by all the short, gathered skirts with waistbands I've seen around this year and last year.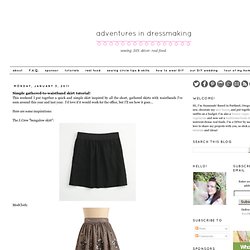 I'd love if it would work for the office, but I'll see how it goes... Here are some inspirations: The J.Crew "bungalow skirt": ModCloth: And this one from Anthro: A Vintagely Modern Skirt. One thing that I LOVE to sew is something vintage mixed with a modern twist.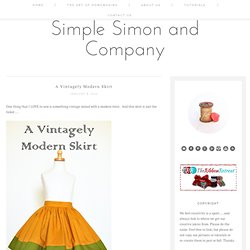 And this skirt is just the ticket…. I based it on a skirt that I pinned months ago. What a fun modern color-blocked skirt was my first thought when I pinned it. The Bustle Skirt. A tutorial. *This tutorial is for personal use only.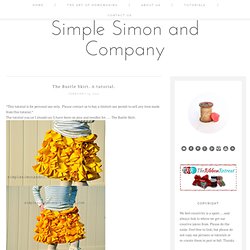 Please contact us to buy a limited-use permit to sell any item made from this tutorial.* The tutorial you (or I should say I) have been on pins and needles for….. Bib dress. This very pretty embroidered cotton was found in a local fabric store, but unfortunately it was only in a small piece.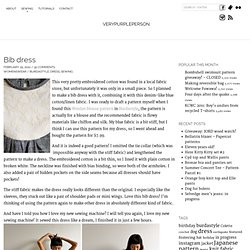 So I planned to make a bib dress with it, combining it with this denim-like blue cotton/linen fabric. I was ready to draft a pattern myself when I found this Wenlan blouse pattern in Burdastyle, the pattern is actually for a blouse and the recommended fabric is flowy materials like chiffon and silk. My blue fabric is a bit stiff, but I think I can use this pattern for my dress, so I went ahead and bought the pattern for $7.99. And it is indeed a good pattern! Summer of Skirts - Waistband Bow Skirt tutorial. Here it is - finally!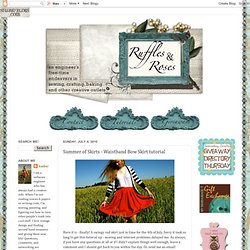 A swingy red skirt just in time for the 4th of July. Sorry it took so long to get this tutorial up - moving and internet problems delayed me. As always, if you have any questions at all or if I didn't explain things well enough, leave a comment and I should get back to you within the day. Or, send me an email! Vintage Inspired Skirt: A tutorial by Anna of Noodlehead. Winter Shirt Dress. I taught a class a few weekends ago to the girls in my Relief Society on how to make my t-shirt dresses. I created a handout with step-by-step instructions, and showed them how to cut out and attach each of the pieces.
I created this dress in the class, and figured that I would share it with you all as well. Since we are now in full fledged winter mode, I decided to use a long-sleeve black top, and paired with with some gray linen I picked up at the LA fabric district. DIY Scallop Button Up Skirt - Pattern & How-To. Et voilà! Mesdames et Messieurs, je voudrais présenter les 'Pattern and How-To' pour le 'Scallop Button Up Skirt'! Don't ask!... I just somehow wanted to write anything on French...desperately hoping I did not make any grammar or spelling mistakes in this short introduction! The Zen of Making: Tutorial: Upcycle a T-Shirt to Underpants. I recently rescued a whole stack of my husband's old t-shirts from certain death in the trashcan.
There were a few small holes in all of them, but the vast majority of the fabric in each was still usable. After I got over my initial shock and dismay that he would throw away potentially useful crafting materials, I got right to work upcycling the t-shirts into fancy new panties. T-Shirt Underwear.
I know you've got them, lurking in drawers, the back of the closet, in the "giveaway" pile: those T-shirts that are, for various reasons, both unwearable and indispensable. They are too small, too big, too short, have a stain, a hole, or some other flaw, and yet you cannot bear to part with them. I took my old t-shirts and gave them new life. They were reincarnated as underwear. The Concept My first pair came about because of an ill-shapen tee with a great air-brushed-style kitty face on the front. Easy Elastic Waist Skirt. I had a party to go to. Shopping takes time and money, both of which I didn't want to dispense. But I still wanted something new and cute. I am not at all well versed in the apparel world, but I can sew non-apparel like it's nobody's business.
I seem to have a knack for figuring out how things are made, but if I can do that regarding apparel then it must be easy. Let's make an easy skirt! DIY Shift Dress. Tutorial: how to sew a boho maxi dress. Freestyle Hot Mess Mommy Dress. Women's Clothing. Eva Dress - Patterns Archive. Little Red Infinity Dress Tutorial | Sew Like My Mom. Coffee Date Dress- multisize sample! Tutorial ~ She Wears Flowers. Two-seam top. How To Make An Easy Dress (For Cheap!)
Out Of Order: DIY Tutorial - Full Skirt. Lovely guest post~happy together!! | peace, love, and crafts. Women's Skirt with Yoga Style Waist Band. Lace for Days Skirt. The Starboard Skirt by Simple Simon & Co. Tutorials and things I want to make. REVERSIBLE WRAP SKIRT. Wrap Skirt made from a Circle Skirt. The Pinwheel Skirt. The Gilded Skirt. The Socialite Skirt. A simple skirt. A Very Simple Skirt Tutorial.
---