Broken, Old, Recalled Items
(2) Mary Flager / Pinterest. Weekly DIY Roundup: Unwanted Vinyl Record Projects! | ThreadBanger - D.I.Y Fashion & Style. Upload Tumblr Subscription preferences Loading...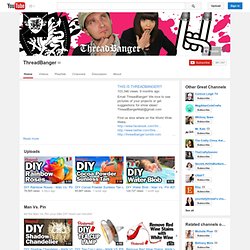 Working... ThreadBanger. Best of Vinyl Records. Even today vinyl records have a special place for those who like music.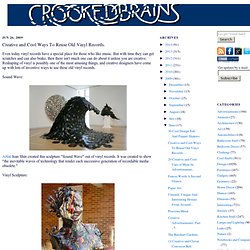 But with time they can get scratches and can also brake, then there isn't much one can do about it unless you are creative. Reshaping of vinyl is possibly one of the most amusing things, and creative designers have come up with lots of inventive ways to use these old vinyl records. Sound Wave: Artist Jean Shin created this sculpture "Sound Wave" out of vinyl records. It was created to show "the inevitable waves of technology that render each successive generation of recordable media obsolete. " Lunes Dream Catcher - How To. NOTE: This post was originally published on April 20th, 2011. Supplies: large metal loop (wire macrame hoop) thrifted lacy doily (thinner fibers like doilies made of mercerized cotton work the best) small ball of inexpensive light weight yarn (cotton/poly blend for less fray) clothes pins or clips. TLC Family &Ultimate Guide to Recycled T-Shirt Crafts& - StumbleUpon. You probably have a favorite T-shirt.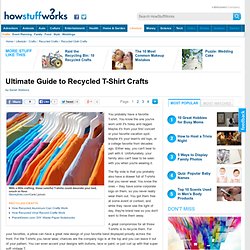 You know the one you've worn until it's holey and ragged. Maybe it's from your first concert or your favorite vacation spot. Maybe it's your team's old logo, or a college favorite from decades ago. Either way, you can't bear to part with it. Crafts from Recycled Materials: Reusing Materials to Make New Crafts- Recycled Crafts - Kaboose.com. CD Art - StumbleUpon. Cool $10 Cloud Lamp! The Craft Junkie: Soda Pop Art. Cosa verde | blog : inspiration: michelle brand. Where did cosa verde go?
With the growth of our web development company, Super Runaway, we are no longer able to give cosa verde the attention it deserves. While we loved cosa verde and all of you, we have decided that it is best to move on. Two ways to reuse your bath puff | Salihan Crafts Blog. Posted on Jan 15th, 2010 in Crafts, Knit | 54 comments My bath puff always comes loose after a few weeks and I just end up buying a new one.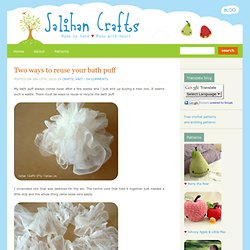 It seems such a waste. There must be ways to reuse or recycle the bath puff. I unravelled one that was destined for the bin. Centsational Girl & Blog Archive & DIY: Colorful Dessert Stands. Hello friends, happy spring, the sun is shining today, at last!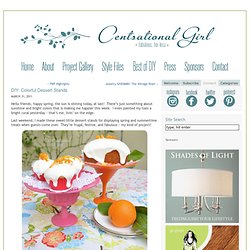 There's just something about sunshine and bright colors that is making me happier this week. I even painted my toes a bright coral yesterday ~ that's me, livin' on the edge. Last weekend, I made these sweet little dessert stands for displaying spring and summertime treats when guests come over. They're frugal, festive, and fabulous ~ my kind of project!
Pretty Dessert Stands from Goodwill Plates & Glasses: 30 Fabulous Reuses & Repurposes for Old or Recalled Cribs. With new crib regulations, the resale of cribs is going to be pretty non-existent for a while.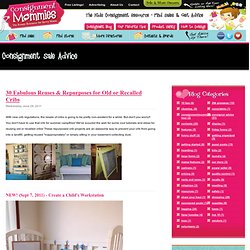 But don't you worry!! You don't have to use that crib for summer campfires! We've scoured the web for some cool tutorials and ideas for reusing old or recalled cribs!
---