Bead Making
Get flash to fully experience Pearltrees
July 11th, 2008 Email 169 users recommend
I love finding ways to turn everyday common items, which would otherwise go into the garbage, into beautiful items that everyone can enjoy! So… when I came across a gal who was making beautiful beads from recycled newspaper, I had to share the idea with you! When I saw Helen's beautiful beads, I asked her if she would mind sharing how she made them.
My parents are both science teachers: which means they always ruined the secrets to magic tricks, they forced me to identify every tree by leaf and bark type, and we always created our own versions of 'science-y' toys. We used to cook our Easy-Bake Oven meals with foil and a light bulb, and created our own slime with cornstarch and food coloring.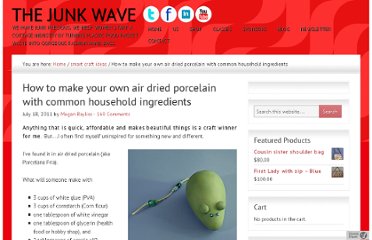 Anything that is quick, affordable and makes beautiful things is a craft winner for me . But…I often find myself uninspired for something new and different. I've found it in air dried porcelain (aka Porcelana Fria).
EDIT: (29 November 2008) I have several pieces like these now available in my Etsy shop . Let me know if you don't see anything you like. I'm open to doing custom orders.
Beading Patterns and Techniques
After curing, pull out your wire loop, and reinsert with a drop of super glue on the end of the wire.