Photography
Colossal | An art and design blog. Margi Madness. HDR photography software & plugin for Lightroom, Aperture & Photoshop - Tone Mapping, Exposure Fusion & High Dynamic Range Imaging for photography. Stuck In Customs | HDR Photography, Travel Photography and Camera Reviews. Just Posted: Sony NEX-F3 hands-on preview.
By dpreview staff on May 17, 2012 at 04:00 GMT Just Posted: our hands-on preview of the Sony NEX-F3.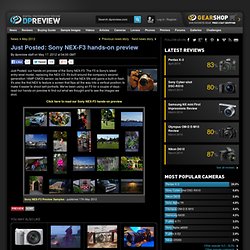 The F3 is Sony's latest entry-level model, replacing the NEX-C3. Europe Trip (Sep 2010) - JSTphotos - Photography by Jason Tenenbaum. Common Kingfisher, Alcedo atthis.
---