Startups
Billion-Dollar Start-Ups Face Problems With Valuation and Acquisitions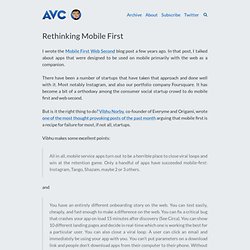 Rethinking Mobile First
I wrote the Mobile First Web Second blog post a few years ago. In that post, I talked about apps that were designed to be used on mobile primarily with the web as a companion.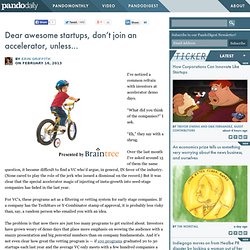 By Erin Griffith On February 16, 2013
Dear awesome startups, don't join an accelerator, unless…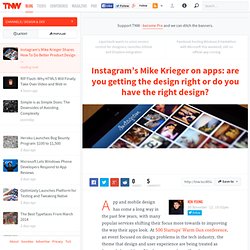 App and mobile design has come a long way in the past few years, with many popular services shifting their focus more towards to improving the way their apps look.
Instagram's Mike Krieger Shares How To Do Better Product Design
You can imagine the scene in the board room.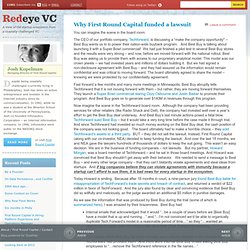 Why First Round Capital funded a lawsuit
Managing Startups: Best Posts of 2011
Marc Andreessen in conversation with Eric Ries - Lean Startup Conference 2012 HD
Startup technology demystified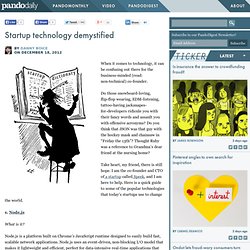 By Danny Boice On December 18, 2012 When it comes to technology, it can be confusing out there for the business-minded (read: non-technical) co-founder. Do those snowboard-loving, flip-flop wearing, EDM-listening, tattoo-having jackanapes-for-developers ridicule you with their fancy words and assault you with offensive acronyms?
Startup Attention and PR 101 by Ben Parr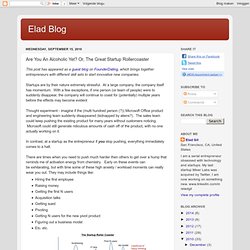 Are You An Alcoholic Yet? Or, The Great Startup Rollercoaster
This post has appeared as a guest blog on FounderDating, which brings together entrepreneurs with different skill sets to start innovative new companies.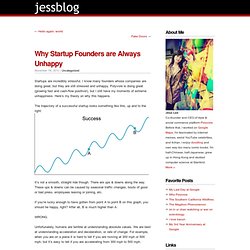 Why Startup Founders are Always Unhappy — jessblog
Startups are incredibly stressful. I know many founders whose companies are doing great, but they are still stressed and unhappy. Polyvore is doing great (growing fast and cash-flow positive!)
March 2012 One of the more surprising things I've noticed while working on Y Combinator is how frightening the most ambitious startup ideas are. In this essay I'm going to demonstrate this phenomenon by describing some.
Frighteningly Ambitious Startup Ideas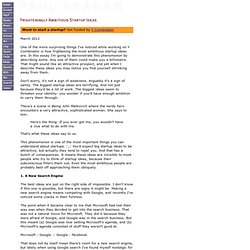 Four African Girls Created Urine-Powered Generator
What have you built lately? 14-year-olds Duro-Aina Adebola, Akindele Abiola, Faleke Oluwatoyin, and 15-year-old Bello Eniola have created a urine powered generator.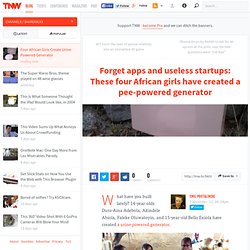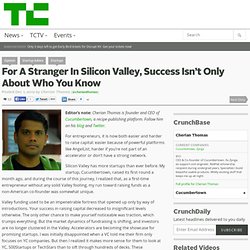 For A Stranger In Silicon Valley, Success Isn't Only About Who You Know
Editor's note: Cherian Thomas is founder and CEO of Cucumbertown, a recipe-publishing platform.
Instagram Co-Founder Mike Krieger's 8 Principles For Building Products People Want
Mike Krieger, Instagram's founder, thinks you can build apps that fit in the real world by watching what people want, not guessing. He presented his eight core product design insights today at 500 Startups' Warm Gun conference. Here's the cheat sheet to his talk.
If you're running a lean startup, "launch and learn" is undoubtedly a familiar mantra.
7 tactics lean startups need to build great products
Warby Parker: We are a lifestyle brand
Editor's Note: Lucas Rayala was the cofounder of Altsie. This is what you do when you close down your startup: you call Rackspace and cancel the Windows SQL server plan. You email SendGrid and give them notice on your Silver SMTP Service Package.
Killing Your Startup on a Thursday Night
ready-to-quit.png (300×575)
Black Swan Farming
September 2012 I've done several types of work over the years but I don't know another as counterintuitive as startup investing.
Screw the Black Swans: Ichiro is our role model, not Barry Bonds. | Dave McClure
There are probably better things for me to do today, however i feel compelled to respond to the Black Swan Farming post by Paul Graham, founding partner of Y Combinator. Maybe you can call this post "Grooming for Ugly Ducklings".
1 | How Airbnb Evolved To Focus On Social Rather Than Searches
Disruptions: Let Silicon Valley Eat ... Ramen Noodles?
Why I Never Started My Own Company | David Lee
- Startups - Chris Sacca of Lowercase Capital - TWiST #291
Simon Cowell and Will.i.am join forces to find new Bill Gates | The Sun |Showbiz|TV|X Factor
leanstartup: #leanstartup requires opinions
Startup is the New Hipster.
sacca: Don't think about how to explain
All Revenue is Not Created Equal: The Keys to the 10X Revenue Club
Sites Like Groupon and Facebook Disappoint Investors
The 7 Habits of Highly Effective Mediocre Entrepreneurs
How To Thrive In The Free-Product Economy
North of Where We Are Today: Live Nation Labs in San Francisco - Live Nation Labs
The Two Types of Companies in Silicon Valley
Ideas are just a multiplier of execution
Blake MastersSearch results for: cs183
Nurturing a Baby and a Start-Up Business
The 7 deadly sins of software development
9 Deadliest Start-up Sins
'The Golden Age of Silicon Valley Is Over, and We're Dancing on its Grave' - Derek Thompson - Business
The Cliff
Steve Blank on small startups, big execution, and Steve Jobs
Was Zynga's Deal To Buy OMGPOP That Disastrous? Here's Some Perspective.
A new field guide for entrepreneurs of all stripes
Google and Facebook Grow Comfortable and Complacent
Behind the Scenes at 9 Hot Tech Startups [PICS]
MEGA Startup Weekend 2012 Highlights – Day 1
How I Got Ripped At 500 Startups
Why I think ad's are no one-for-all revenue solution
MassChallenge Wants to Ignite a Startup Renaissance
Class 2 Notes Essay
How to Make It as a First-Time Entrepreneur
Stanford 2012 Lean LaunchPad Presentations – part 2 of 2
The myth of the overnight success
Crowdfunding Law Will Turn the Start-Up World Upside Down - Tim Rowe - Voices
Small Demons Deck
DressRush Pitch Deck
Frighteningly Ambitious Startup Ideas
How To Increase Your Productivity 500% Altucher Confidential
Why Some Startups Succeed And Others Fail: 10 Fascinating Harvard Findings
20 best startups of 2011
Minneapolis a tech center? Start-ups say yes
Submit a Story | Startup News for Entrepreneurs
After Four Years as ReadWriteWeb's Lead Writer, Here's My Next Adventure
Reid Hoffman of LinkedIn Has Become the Go-To Guy of Tech
500 Startups Peels Back The Curtain On Its Third And Largest Batch Yet
Brave New Thermostat: How the iPod's Creator Is Making Home Heating Sexy | Gadget Lab
The legal checklist every startup should reference
The legal checklist every startup should reference
Andy Brett | Do Not, Under Any Circumstances, Start A Startup: Or, What I Learned At Startup School 2011
Grow Detroit | Grown in the D
The ultimate startup lesson: knowing what matters — Cleantech News and Analysis
Interview #1: Hiten Shah, co-founder of CrazyEgg and KISSmetrics | Startup Guide for Non-Coders
(Founder Stories) Eric Ries: How Lean Was The Google+ Launch?
10 Essential PR Tips for Startups