Siri
More Proof That Siri Is Intended to Be A Google Killer
The backlash was inevitable. Siri has had a bit of an image problem this past week. Just like all technology propelled by the tailwinds of hype, it hit the inevitable wall of tech punditry.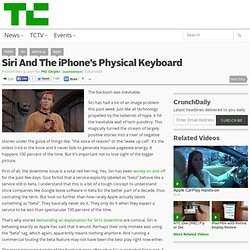 Siri And The iPhone's Physical Keyboard
If you watched last week's iPhone 4S announcement with your Android phone and went a little green with envy when Siri, iOS's new voice-recognizing personal assistant, was announced and demoed on stage, buck up. You've got a lot of great voice recognition apps to choose from on Android that can help you keep up with friends, look up the weather, find local businesses, and more. Here are a look at your options. If you haven't looked into voice recognition apps on Android before, you may be surprised at how many applications get the job done. None of the apps currently available for Android are quite as well integrated with the OS as Siri is be with iOS (sorry), but some of them come closer than others, and you can bet that all of them will be updated and improved now that Siri is available for iOS. Best of all, they're all free.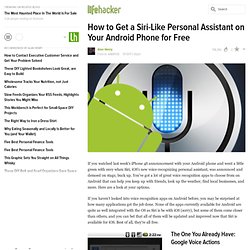 Siri is the most useful thing I've seen so far this year. But after playing with it, getting an interview with its CEO (video here on building43) it's even more important for you to pay attention to. It is the best example of what the web will be. Let's go back. Web 1994 was the "get me a domain and a page" era. Web 2000 was the "make my page(s) interactive and put people on it" era.