Pinterest
How to Keep Your Pinterest Brand Page Legal. Pinsanity: How Sports Teams Are Winning on Pinterest. Quickly shooting up the social media pyramid, image sharing network Pinterest has gained a reputation for largely being a repository for photos of wedding dresses and floral arrangements, due to its huge female user base.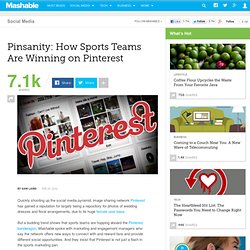 But a budding trend shows that sports teams are hopping aboard the Pinterest bandwagon. Mashable spoke with marketing and engagement managers who say the network offers new ways to connect with and reward fans and provide different social opportunities. What Marketers Can Learn From Whole Foods' Organic Approach to Pinterest. Pinterest is on everyone's lips these days, and many brands are trying to figure out how to leverage the platform as a marketing tool.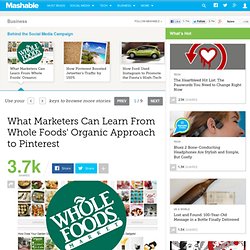 Fortunately, there are already a handful of brands out there that are doing it well. Pinterest co-founder and designer Evan Sharp told Mashable in December that when it comes to marketing on the platform, "the idea behind your brand makes sense on Pinterest," and he pointed to Whole Foods as a great example. Whole Foods was one of the first brands on the site, debuting a brand account in July 2011. Since then, the grocery company has racked up 14,421 followers on its Pinterest page. Startup opportunity: The Zynga of Pinterest. Pinterest is quietly generating revenue by modifying user submitted pins.
Additional Update (2/15): Pinterest adds disclosure about how they (might) make money, my error about Skimlinks and a conversation with the Pinterest CEO.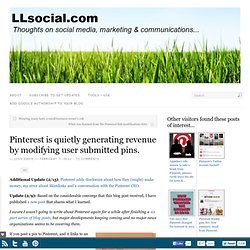 Update (2/9): Based on the considerable converge that this blog post received, I have published a new post that shares what I learned. I swore I wasn't going to write about Pinterest again for a while after finishing a six part series of blog posts, but major developments keeping coming and no major news organizations seems to be covering them.
---