Innovation
Super Normal. I regularly get asked the question: What do you think of <insert social app here>?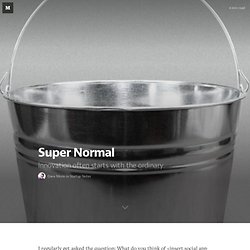 This question is usually followed up by another question which goes something like: How would you design a great social app? Usually I answer this question by telling the story of "Super Normal," one of my favorite Japanese design philosophies. When you set out to create a new product, you usually do not start by trying to think of something completely new. You think of a product or concept that is already "normal" to the world, and then try to make it better. You make it Super Normal. The lab or the factory. You work at one, or the other.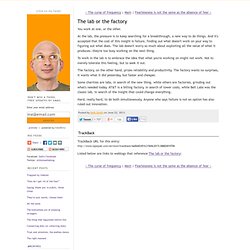 At the lab, the pressure is to keep searching for a breakthrough, a new way to do things. And it's accepted that the cost of this insight is failure, finding out what doesn't work on your way to figuring out what does. The lab doesn't worry so much about exploiting all the value of what it produces--they're too busy working on the next thing. To work in the lab is to embrace the idea that what you're working on might not work. Not to merely tolerate this feeling, but to seek it out. [DRAFT] Stanford d.school bootcamp notes from July 2012 1 - Weblog - Between Creativity & Pragmatism | Joseph Rueter. D.school July 2012 - Expanded Notesd.thinking Modes: Empathize.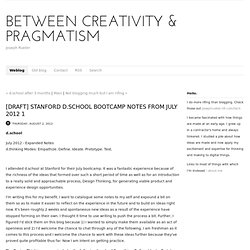 Define. Ideate. Prototype. Test. McKinney Incubator, TenPercent, Launches Dognition - Cat: Creativity and Technology. 7 tactics lean startups need to build great products. If you're running a lean startup, "launch and learn" is undoubtedly a familiar mantra.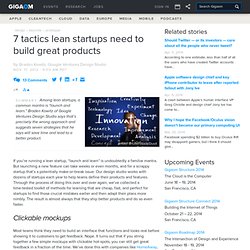 But launching a new feature can take weeks or even months, and for a scrappy startup that's a potentially make-or-break issue. Our design studio works with dozens of startups each year to help teams define their products and features. 4 Innovation Strategies From Big Companies That Act Like Startups. Stodgy.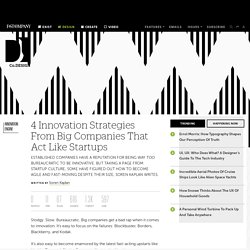 Slow. Bureaucratic. Big companies get a bad rap when it comes to innovation. Newspaper Advertising Collapse. The 7 Habits of Highly Effective Mediocre Entrepreneurs. [Editor's note: James Altucher is an investor, programmer, author, and entrepreneur.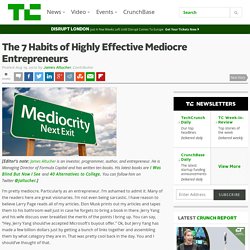 He is Managing Director of Formula Capital and has written ten books. His latest books are I Was Blind But Now I See and 40 Alternatives to College. You can follow him on Twitter @jaltucher.] I'm pretty mediocre. Loic Le Meur Tells All About Seesmic's Long And Winding Road To An Exit [TCTV] What is the Future of Storytelling? As consumer technology evolves at an ever-quickening pace, opportunities for new forms of storytelling are emerging.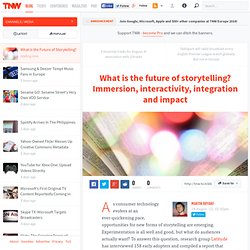 Experimentation is all well and good, but what do audiences actually want? To answer this question, research group Latitude has interviewed 158 early adopters and compiled a report that forms the first phase of its The Future of Storytelling project. Unsurprisingly, these early adopters are keen to take advantage of everything that technology has to offer.
How To Thrive In The Free-Product Economy. Building technology has never been cheaper than it is today.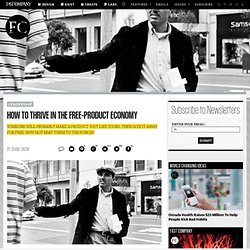 Or faster. In the past twelve months, Ruby on Rails programmers built more than a million apps on top of Heroku, a platform that allows coders to save drastic amounts of development time. Power Index - Newsweek and The Daily Beast. You Either Die A Hero Or You Become The Villain by MG Siegler. Over the past month, I've been watching Dalton Caldwell's App.net experiment with much interest.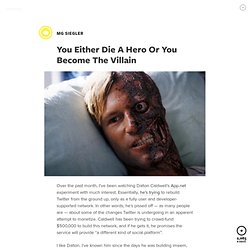 Essentially, he's trying to rebuild Twitter from the ground up, only as a fully user and developer-supported network. In other words, he's pissed off — as many people are — about some of the changes Twitter is undergoing in an apparent attempt to monetize. Caldwell has been trying to crowd-fund $500,000 to build this network, and if he gets it, he promises the service will provide "a different kind of social platform". I like Dalton. How Alan Turing Set the Rules for Computing. On Saturday, British mathematician Alan Turing would have turned 100 years old.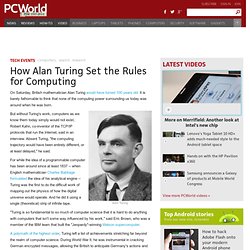 It is barely fathomable to think that none of the computing power surrounding us today was around when he was born. But without Turing's work, computers as we know them today simply would not exist, Robert Kahn, co-inventor of the TCP/IP protocols that run the Internet, said in an interview. Absent Turing, "the computing trajectory would have been entirely different, or at least delayed," he said. Fancy Turns Impulse Shopping Into An Art. Switchcam Raises $1.2 Million From Mark Cuban, 500 Startups, Turner Media Camp, And Others. San Francisco-based startup Switchcam has created technology that combines videos from multiple sources and allows users to watch concerts, political rallies, conferences, and other events from multiple different points of view. And it's attracted investment from one of the biggest names in video, raising $1.2 million in a seed round led by Dallas Mavericks owner, HDNet founder, and billionaire Mark Cuban.
But he's not alone: 500 Startups, Turner MediaCamp, Vikas Gupta, David Beyer, Jeffrey Schox, Niket Desai, and Reed Morse also participated in the round. So far, Switchcam's killer app seems to be pulling together full concert performances from multiple video sources. 32 Innovations That Will Change Your Tomorrow - Interactive Feature. Why Nikola Tesla was the greatest geek who ever lived. Net Neutrality and Economic Equality Are Intertwined. If You're Not Pissing Someone Off, You're Probably Not Innovating - Philip Auerswald. By Philip Auerswald | 9:58 AM May 4, 2012 As the editor of the journal Innovations, I'm asked with some regularity, "So, what is innovation anyhow?
How would you…"? (eyebrows usually furrow here) "… define it?" Since I don't particularly enjoy debating definitions, I usually respond by saying: "That's a difficult question. But one thing is for sure: If you're not pissing someone off, it's probably not innovation." Fourth Wall Studios does the 'Dirty Work' of innovation. On a seemingly typical shooting day recently at a stage in El Segundo, a director in a baseball cap was hunched over video monitors, burly grips were moving lights, and the producers were arguing about just what it was they were making.
"I swear we need a tip jar for every time somebody calls this 'television' or 'marketing,'" said an exasperated Elan Lee, chief creative officer of Fourth Wall Studios. "I want a jar for every time we say 'transmedia' too, but I don't know what else to say sometimes," added Jim Stewartson, Fourth Wall's chief executive.
Introducing Nike+ Basketball. There's No Finish Line to Innovation — Amy Jo Martin. There's this mysterious place called the Innovation Kitchen. I believe it just might be one of the most fascinating places on earth. It's in Beaverton, Oregon and a certain breed of swoosh scientists buzz around the Innovation Kitchen to develop top-secret formulas that make the invisible world visible and create the unbelievable. API: Three Letters That Change Life, the Universe and Even Detroit | Wired Enterprise. Sam Ramji was the head of open source software at Microsoft. But now he has a new crusade. Photo: Wired.com/Ariel Zambelich Sam Ramji met AT&T chief technology officer John Donovan on a speed date — or at least the tech world equivalent of a speed date.
In 2009, some big-name venture capitalists arranged for lightning-fast meetings between AT&T's top brass and the brains behind various Silicon Valley startups, including Ramji's new venture: Apigee, a company that builds and operates APIs. #BIE4001 Chatter. Clayton Christensen: How Pursuit of Profits Kills Innovation and the U.S. Economy. Understanding How The Innovator's Dilemma Affects You. Steve Jobs's 10 Best Quotes for Advertising Agencies.
Ingredients for Innovation — Amy Jo Martin. The Rise of Customer-Driven Innovation. Steve Jobs and the Seven Rules of Success.
---