Funding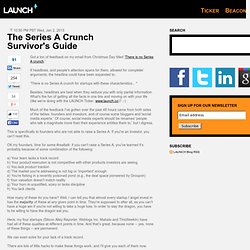 Got a ton of feedback on my email from Christmas Day titled 'There is no Series A crunch.'
The Series A Crunch Survivor's Guide
Matter Ventures CEO Corey Ford and KQED President John Boland Three media nonprofits — Knight Foundation, Public Radio Exchange (PRX), and KQED (you're on it, bub, no link required) have announced they're creating a $2.5 million accelerator fund for selected media startups — of the for-profit variety — to tap.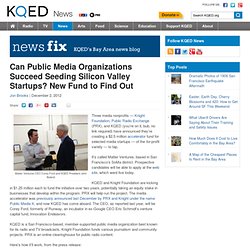 Can Public Media Organizations Succeed Seeding Silicon Valley Startups? New Fund to Find Out | KQED News Fix
Editor's note: Cherian Thomas is founder and CEO of Cucumbertown, a recipe-publishing platform.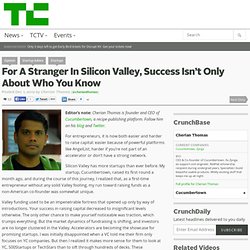 For A Stranger In Silicon Valley, Success Isn't Only About Who You Know
September 2012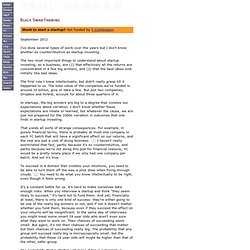 Black Swan Farming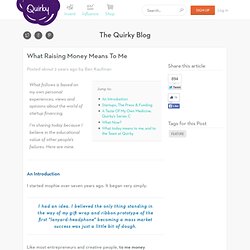 What follows is based on my own personal experiences, views and opinions about the world of startup financing. I'm sharing today because I believe in the educational value of other people's failures.
blog | What Raising Money Means To Me
This article initially appeared on TechCrunch - with a minor update highlighted in red below. Ah. We're back to discussing convertible debt again.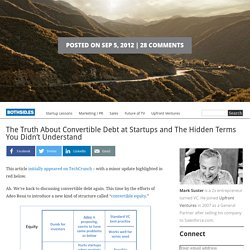 The Truth About Convertible Debt at Startups and The Hidden Terms You Didn't Understand
Convertible Debt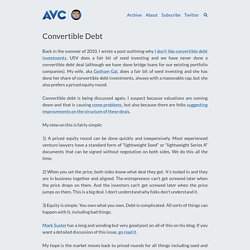 Back in the summer of 2010, I wrote a post outlining why I don't like convertible debt investments.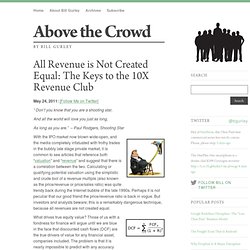 All Revenue is Not Created Equal: The Keys to the 10X Revenue Club
May 24, 2011: May 24, 2011: [Follow Me on Twitter] " Don't you know that you are a shooting star,And all the world will love you just as long,As long as you are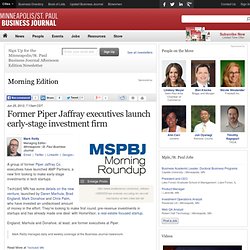 http://www.aviationpros.com/press_release/10855555/aar-extends-recruiting-for-aircraft-mechanics-at-twin-cities-job-fair
Former Piper Jaffray executives launch early-stage investment firm - Minneapolis / St. Paul Business Journal
Nearly two months ago, AMP Partners was introduced to Minnesota's tech entrepreneurs.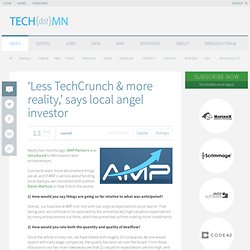 dotMN — 'Less TechCrunch & more reality,' says local angel investor
FundersClub
Moneyball: A Quantitative Approach to Angel Investing (Austin, TX -...
Why Are B2B Social Media Firms So Hot?
For a handful of enterprise social media firms, 2012 has been a version of 1999.
VivaKi Chief Strategy & Innovation Officer Rishad Tobaccowala channeled his inner Kafka Wednesday, explaining to a gathering of clients, agency executives, entrepreneurs, VCs, and a couple of journalists why ad agencies have managed to survive, and maybe even thrive, despite incessant proclamations that agencies were dying during his 30 years in the business: "The truth is, agencies are cockroaches." Tobaccowala, who is known to strike striking metaphors to make a point, likened agencies to roaches, because like the insect, they have proven themselves to adapt and persevere regardless of what is thrown at them.
Publications VivaKi's Tobaccowala Debugs Mystery Of Agency Survival: 'We Are Cockroaches' 06/14
New Tech Spenders in Feeding Frenzy
A preacher, 500 startups, and a dream to change it all
Dave McClure speaking at the US Embassy in Mexico City. Photo by David E. Weekly It's around 8:30 on a warm Friday night in Mexico City, and we're all milling around a podium set up in the lobby of the private residence of the U.S. Ambassador to Mexico, Earl Anthony Wayne.
Airbnb's first pitch deck
8 Hard-Earned Insights Into Raising Startup Capital
Approaching investors for the first time is a daunting exercise for any startup. Regardless of whether you're raising venture capital, approaching angels or still trying to figure out where to get started, it's critical to stay level-headed about what you're really pitching - and what it's actually worth. The best way to do that is to leverage the hard-won experience of real-world startup.
Fred Wilson: what crowdfunding means for the VC business
For the past couple of decades, venture capitalists have had the upper hand. They've had the funding and, traditionally, they've held most of the power in the startup ecosystem. But, Fred Wilson, managing partner of Union Square Ventures (and beloved blogger), believes that balance of power is shifting (As noted in Stacey's take on a similar notion advanced by the Kauffman Foundation earlier Tuesday.) And as it does, venture capitalists themselves must rethink their role. Speaking to a crowd of entrepreneurs at the Grind work space in New York this morning, Wilson said that since the mid-1990s institutional investors have poured $30 billion into the venture capitalist business every year, but venture capitalists have only been able to figure out how to generate good returns on half of it. (Actually, venture capitalists haven't seen that much money flowing in since 2007, according to the National Venture Capital Association, which notes the recession dramatically lowered investment.)
How to make a cap table
dotMN — Dear Minnesota Angel Investor
Sequoia Confirms Existence of "Stealth" Scout Program. Who's Next?
Crowdfunding: How Indiegogo Connects Concepts With Cash
Indiegogo
Startup says what? - Entrepreneur
[Excerpt] Fundraising: From $1,000 To $1,000,000
500 Startups Raising New $50M Fund, Names 4 New Partners, With 250+ Investments To Date
Aileen Lee Launches Kleiner-Backed Seed Fund - Kara Swisher
Why The JOBS Act Is Good for Startups - and for America | Revolution
Crowdfunding Law Will Turn the Start-Up World Upside Down - Tim Rowe - Voices
Online-Services Firms Catering to Businesses Look Good Again to Venture Investors
Tide Shifts on Web Start-Ups - Ben Worthen
Calling Bullshit On The Series A Crunch
Accel forms $100M fund to feed big data apps — Cloud Computing News
So, is venture money drying up or blowing up?