Education
Education gets schooled by startups at the Kaplan EdTech Accelerator. I'm excited to announce the Kaplan EdTech Accelerator, powered by TechStars this morning.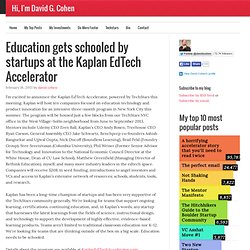 Kaplan will host ten companies focused on education technology and product innovation for an intensive three-month program in New York City this summer. The program will be housed just a few blocks from our TechStars NYC office in the West Village-SoHo neighborhood from June to September 2013. Mentors include Udemy CEO Eren Bali, Kaplan's CEO Andy Rosen, Treehouse CEO Ryan Carson, General Assembly CEO Jake Schwartz, Benchprep co-founders Ashish Rangnekar and Ujjwal Gupta, Nick Ducoff (Boundless Learning), Brad Feld (Foundry Group), Sree Sreenivasan (Columbia University), Phil Weiser (Former Senior Advisor for Technology and Innovation to the National Economic Council Director at the White House, Dean of CU Law School), Matthew Greenfield (Managing Director of Rethink Education), myself, and many more industry leaders in the edtech space.
Tutorspree Adds $800K From Resolute.VC & Others To Help Students Find Better Local Tutoring. Tutorspree has been quiet of late, but that doesn't mean it's not still plugging away on its mission to make high-quality, local tutors in any subject accessible to any student — or finding continued interest from investors along the way.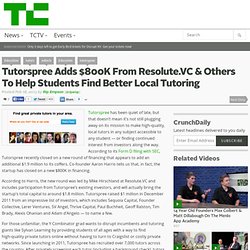 According to its Form D filing with SEC, Tutorspree recently closed on a new round of financing that appears to add an additional $1.9 million to its coffers. Co-founder Aaron Harris tells us that, in fact, the startup has closed on a new $800K in financing. According to Harris, the new round was led by Mike Hirschland at Resolute.VC and includes participation from Tutorspree's existing investors, and will actually bring the startup's total capital to around $1.8 million.
Tutorspree raised $1 million in December 2011 from an impressive list of investors, which includes Sequoia Capital, Founder Collective, Lerer Ventures, SV Angel, Thrive Capital, Paul Buchheit, Geoff Ralston, Tim Brady, Alexis Ohanian and Adam d'Angelo — to name a few. School 2.0: teachers will be liberated from the classroom. This is a guest post by entrepreneur Miro Kazakoff Somewhere, this year, a university hired its last tenured professor.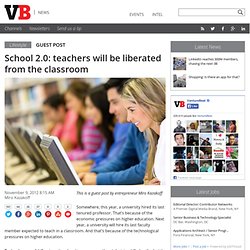 That's because of the economic pressures on higher education. Always Prepped raises $650,000 from True Ventures, angels - Washington Business Journal. Always Prepped, a startup that allows teachers to consolidate and visualize data from other e-learning platforms, has raised $650,000 in seed cash from True Ventures and angel investors.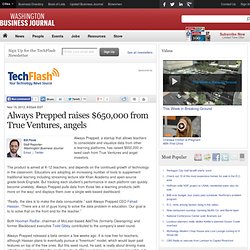 The product is aimed at K-12 teachers, and depends on the continued growth of technology in the classroom. Educators are adopting an increasing number of tools to supplement traditional learning including streaming lecture site Khan Academy and open-source grade-book Engrade. But tracking each student's performance in each platform can quickly become unwieldy. Khan Academy releases iPad app, mobile education is upon us | VentureBeat.
Is U.S. Higher Education A Bubble Economy? (Infographic Video) Plenty of smart people seem to think there's a bubble in higher education.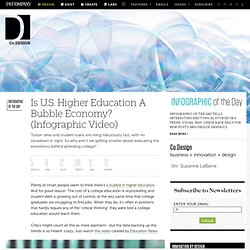 And for good reason: The cost of a college education is skyrocketing and student debt is growing out of control, at the very same time that college graduates are struggling to find jobs. When they do, it's often in positions that hardly require any of the "critical thinking" they were told a college education would teach them. At Waldorf School in Silicon Valley, Technology Can Wait. Gifted Students Deserve More Opportunities. An open letter to Peter Thiel. What surprised me was how much we agreed on.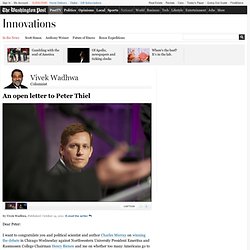 We agreed that higher education improves a person's life-long earning potential. We agreed that, for most professions, high school is not enough. We agreed that countries we are now competing with, such as India and China, are investing heavily in educating their children in an effort to insure they have the same advantages as their American peers. Business - Jordan Weissmann - Why the Internet Isn't Going to End College As We Know It.
Don't believe the hype: Nobody has figured out how to replace traditional higher education yet, and they're not about to.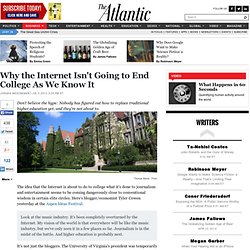 Thomas Barrat / Flickr The idea that the Internet is about to do to college what it's done to journalism and entertainment seems to be coming dangerously close to conventional wisdom in certain elite circles. Here's blogger/economist Tyler Cowen yesterday at the Aspen Ideas Festival: Intro to AI - Introduction to Artificial Intelligence - Oct-Dec 2011. Minnesota educators learn how to use social media in school. Mahtomedi High School language arts teacher Sarah Lorntson, who uses Twitter to communicate with students, says students complain "that I don't tweet enough.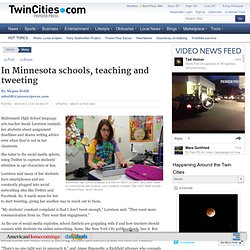 " ( Pioneer Press: Scott Takushi) Mahtomedi High School language arts teacher Sarah Lorntson reminds her students about assignment deadlines and shares writing advice even when they're not in her classroom. She takes to the social media sphere, using Twitter to capture students' attention in 140 characters or less. Lorntson said many of her students have smartphones and are constantly plugged into social networking sites like Twitter and Facebook. So, it made sense for her to start tweeting, giving her another way to reach out to them. "My students' constant complaint is that I don't tweet enough," Lorntson said. The Coming Meltdown in College Education & Why The Economy Won't Get Better Any Time Soon.
This is what I see when i think about higher education in this country today: Remember the housing meltdown ?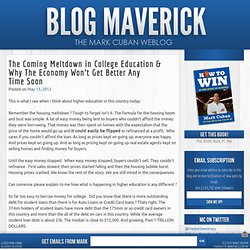 Tough to forget isn't it. VGo Is a Robot That Goes to School or Work for You [PICS] NEW ORLEANS — Soon your child may go to school with a robot.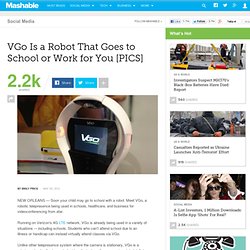 Meet VGo, a robotic telepresence being used in schools, healthcare, and business for videoconferencing from afar. Running on Verizon's 4G LTE network, VGo is already being used in a variety of situations -– including schools. Students who can't attend school due to an illness or handicap can instead virtually attend classes via VGo.
One Man, One Computer, 10 Million Students: How Khan Academy Is Reinventing Education. College Degree, No Class Time Required. Top Schools from Berkeley to Yale Now Offer Free Online Courses. On average, it will cost $55,600 to attend Princeton, Penn, Michigan or Stanford next year. But now you can enroll in online courses at all four universities online for free. The universities won't just be posting lectures online like MIT's OpenCourseWare project, Yale's Open Yale Courses and the University of California at Berkeley's Webcast.
Rather, courses will require deadlines, evaluations, discussions and, in some cases, a statement of achievement.
---