Advertising
What better way for an anti-social app to get noticed than by insulting its target audience? London-based app design studio ustwo has just put up a pair of billboards in the hipster heartland of Shoreditch, East London, a stone's throw from where its own studio is based, which brazenly proclaim: You have no friends and No one likes you. The billboards, which will be teasing Shoreditch's hipsters for two weeks, are an experimental ad campaign for one of ustwo's recent apps: random photo-sharing app Rando, which launched back in March on iOS. Rando has now also been rolled out on to Android and Windows Phone.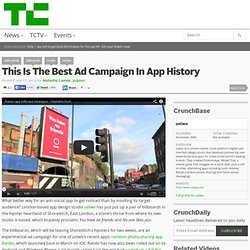 This Is The Best Ad Campaign In App History
What 3-D Printing Means To The Future Of Advertising
Around the dawn of the personal computer, advocates proclaimed that there would be one of these fancy boxes in every home. A few dissented, of course. We see who won out. Similarly, if we assume for a moment that today's advocates are right and 3-D printing or additive manufacturing is, if not the next household technology, then certainly a transformative business development, then what might it mean for advertising and marketing?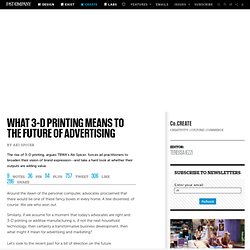 McKinney Incubator, TenPercent, Launches Dognition - Cat: Creativity and Technology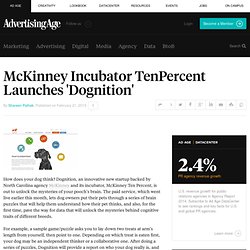 How does your dog think? Dognition, an innovative new startup backed by North Carolina agency McKinney and its incubator, McKinney Ten Percent, is out to unlock the mysteries of your pooch's brain. The paid service, which went live earlier this month, lets dog owners put their pets through a series of brain puzzles that will help them understand how their pet thinks, and also, for the first time, pave the way for data that will unlock the mysteries behind cognitive traits of different breeds. For example, a sample game/puzzle asks you to lay down two treats at arm's length from yourself, then point to one.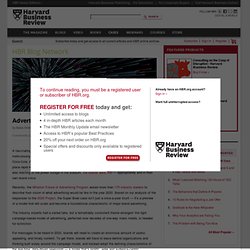 Advertisers Should Act More Like Newsrooms - Baba Shetty and Jerry Wind
by Baba Shetty and Jerry Wind | 10:00 AM February 15, 2013 A fascinating thing happened at the Super Bowl this year. Typically, Super Bowl advertisers meticulously plan every aspect of their presence months in advance of the big game.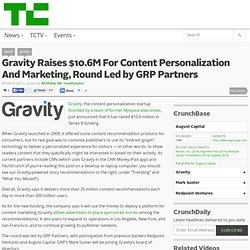 Gravity Raises $10.6M For Content Personalization And Marketing, Round Led by GRP Partners
Gravity, the content personalization startup founded by a team of former Myspace executives, just announced that it has raised $10.6 million in Series B funding. When Gravity launched in 2009, it offered some content recommendation products for consumers, but its real goal was to convince publishers to use its "interest graph" technology to deliver a personalized experience for visitors — in other words, to show readers content that they specifically might be interested in based on their activity. Its current partners include CNN (which uses Gravity in the CNN Money iPad app) and TechCrunch (if you're reading this post on a desktop or laptop computer, you should see our Gravity-powered story recommendations to the right, under "Trending" and "What You Missed"). Overall, Gravity says it delivers more than 25 million content recommendations each day to more than 200 million users.
>Native, Schmative…its getting hard out here for a Brand Pimp…While "Native" advertising is the meme of the moment in publishing ad circles, recent data may show that today's users aren't too keen, or at the least, very confused by ads that blur the line on content and promotion. Now, surveys skim the surface…are there, perhaps burgeoning (and less visible) examples of GOOD native ads (like the ones that Fallon and Cadillac are experimenting with on HuffPo, Quartz and Windows8-XBox! )? Because in users' defense – most "advertorials" are lame.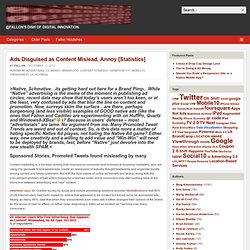 Ads Disguised as Content Mislead, Annoy [Statistics]
What Would Bono Do?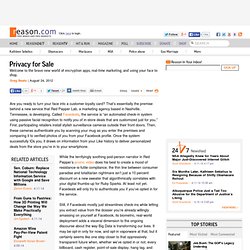 Are you ready to turn your face into a customer loyalty card? That's essentially the premise behind a new service that Red Pepper Lab, a marketing agency based in Nashville, Tennessee, is developing. Called Facedeals, the service is "an automated check-in system using passive facial recognition to notify you of in-store deals that are customized just for you." First, participating retailers install stylish surveillance cameras outside their front doors. Then, these cameras authenticate you by scanning your mug as you enter the premises and comparing it to verified photos of you from your Facebook profile. Once the system successfully IDs you, it draws on information from your Like history to deliver personalized deals from the store you're in to your smartphone.
Privacy for Sale
Update your user profile - Profile
NOTE: Some Chrome and Firefox users are reporting error messages with this link. You can also find the story here.
Nothing found for 2013 01 25 At-cnet-morale-is-plummeting-and-people-are-pissed-off \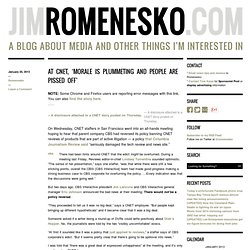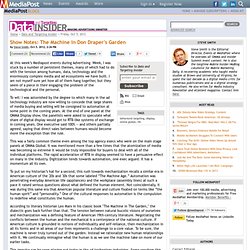 Publications Show Notes: The Machine In Don Draper's Garden 10/05
At this week's Mediapost events during Advertising Week, I was stuck by a number of persistent themes, many of which had to do with the tension among humans, data, technology and the enormously complex media and ad ecosystems we have built. I am not myself sure yet how all of them hang together, but they seem of a piece in their engaging the problem of the technological and the personal. To wit: I was astonished by the degree to which many in the ad technology industry are now willing to concede that large shares of media buying and selling will be consigned to automation at some point in the coming years. At the end of one panel at the OMMA Display show, the panelists were asked to speculate what share of digital display would got to RTB-like systems of exchange in coming years. One executive said 100% -- and others partially agreed, saying that direct sales between humans would become more the exception than the rule.
Privacy for Sale
Vice President Joe Biden's speech at the Democratic National Convention didn't blow up Twitter like First Lady Michelle Obama's and President Bill Clinton's did. But Biden did leave one word in his wake on Twitter — literally. Biden used "literally" often enough — nine times during the 40 minutes, The Washington Post reports — that it wasn't just the grammar geeks who took notice. The hashtag #literally quickly trended on Twitter, and people relentlessly began mocking the VP's faux-pas. But Obama didn't take this joke sitting down; he got in on the Twitter fun. The Obama team purchased an ad on the search term "literally," so when users went looking for tweets about the Vice President, they would now see a promoted tweet from @BarackObama.
Obama Is Literally Buying This Word on Twitter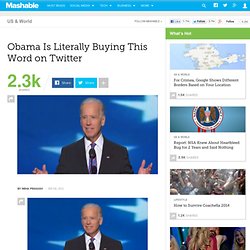 Meet the Man Behind Nike's Neon-Shoe Ambush - Behind The Work
Content Marketing vs. Traditional Advertising [Infographic]
The Truth About What Works in Digital Marketing | News
Why Earned Media Alone Won't Cut It
Earned media is suddenly the belle of the ball. It has leaped from the world of public relations to being a main pillar of modern marketing strategies in the social era. The mantra "paid, owned and earned" is on the lips of many forward-thinking marketers. There's something seductive about the idea that earned media is far more pure than paid media. The old saw by Amazon CEO Jeff Bezos is: "Advertising is the price you pay for having an unremarkable product or service."
Jeff Goodby Speaks About How Commonwealth Venture for Chevy Will Work - Ad Critic News
MDW NY | Faris Yakob_Strategy for the Post-Digital Age
Christine Fruechte, on Her Ad Agency's Creativity
I didn't get upgraded on my flight home from NYC tonight. That's not so unusual. I only get upgraded about 50% of the time.
Capturing More Value Than You Create
Ad Companies Face a Widening Talent Gap