Tools
Read, Write, Cite. Your research will never be the same with Papers for Windows and Citations. Papers revolutionizes the way you deal with your research documents.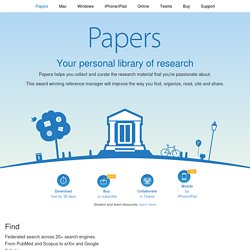 Document Actions ACM's first classification system for the computing field was published in 1964. Then, in 1982, the ACM published an entirely new system.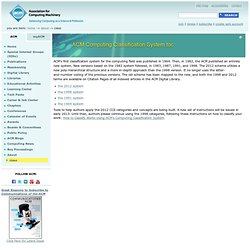 Computing Classification System toc
What is it? Web of Science consists of 4 databases, which can be searched either simultaneously or separately. Science Citation Index Citations from over 3700 leading scientific and technical journals. Social Sciences Citation Index Citations from over 2400 leading social sciences journals. Arts and Humanities Citation Index Citations from around 1400 Arts and Humanities journals. Conference Proceedings Citation Index Details of conferences, symposia, seminars etc in the fields of Science and Technology.
Web of Science (ISI) - Electronic Resources List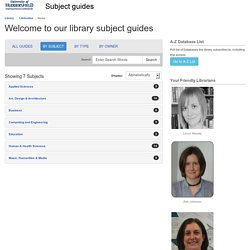 What is it? Scopus is a database of abstracts and citations for scholarly journal articles. It covers nearly 18,000 international journal titles in the scientific, technical, medical and social sciences (including arts and humanities) fields . Scopus also offers author profiles which cover affiliations, number of publications and their bibliographic data, references and details on the number of citations each published document has received. Where is it? click here (University network login required)
Scopus - Electronic Resources List