.NET
Development Tools and Languages
Code Snippets
Mainsoft.com Search What is Grasshopper? Key features MSIL to Java bytecode compilation Java EE compliant applications
Grasshopper – The Visual Studio Plugin for .NET Java applications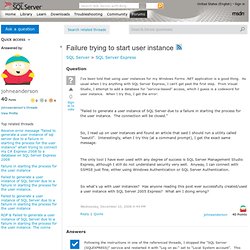 Failure trying to start user instance
I've been told that using user instances for my Windows Forms .NET application is a good thing. As usual when I try anything with SQL Server Express, I can't get past the first step. From Visual Studio, I attempt to add a database for "service-based" access, which I guess is a codeword for user instance. When I try this, I get the error: "Failed to generate a user instance of SQL Server due to a failure in starting the process for the user instance. The connection will be closed."
Visual Studio has a number of keyboard shortcuts for different Visual Studio commands and windows. Keyboard shortcuts are assigned according to different keyboard mapping schemes. Your scheme is set the first time you start Visual Studio. After that you can add schemes and assign new keyboard shortcuts on the Tools / Options / Environment / Keyboard options page. The following list shows the relationship between settings and keyboard mapping schemes.
Pre-defined Keyboard Shortcuts
Visual C#
Extension Methods (C# Programming Guide)
Extension methods enable you to "add" methods to existing types without creating a new derived type, recompiling, or otherwise modifying the original type. Extension methods are a special kind of static method, but they are called as if they were instance methods on the extended type. For client code written in C# and Visual Basic, there is no apparent difference between calling an extension method and the methods that are actually defined in a type.
Access Modifiers (C# Reference)
XML Documentation Comments (C# Programming Guide)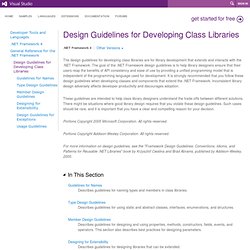 The design guidelines for developing class libraries are for library development that extends and interacts with the .NET Framework. The goal of the .NET Framework design guidelines is to help library designers ensure that their users reap the benefits of API consistency and ease of use by providing a unified programming model that is independent of the programming language used for development. It is strongly recommended that you follow these design guidelines when developing classes and components that extend the .NET Framework. Inconsistent library design adversely affects developer productivity and discourages adoption. These guidelines are intended to help class library designers understand the trade-offs between different solutions. There might be situations where good library design requires that you violate these design guidelines.
Design Guidelines for Developing Class Libraries