Articles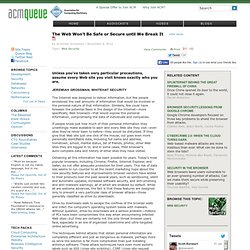 The Web Won't Be Safe or Secure until We Break It
Related Content Security in the Browser Web browsers leave users vulnerable to an ever-growing number of attacks. Can we make them secure while preserving their usability?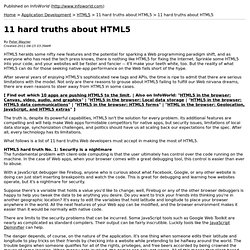 HTML5 heralds some nifty new features and the potential for sparking a Web programming paradigm shift, and as everyone who has read the tech press knows, there is nothing like HTML5 for fixing the Internet. Sprinkle some HTML5 into your code, and your websites will be faster and fancier -- it'll make your teeth white, too. But the reality of what HTML5 can do for those seeking native-app performance on the Web falls short of the hype. After several years of enjoying HTML5's sophisticated new tags and APIs, the time is ripe to admit that there are serious limitations with the model.
11 hard truths about HTML5
The Dirty Little Secrets of Search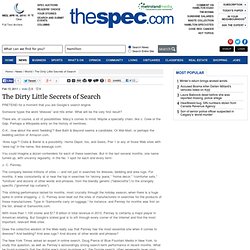 Hamilton Spectator PRETEND for a moment that you are Google's search engine. Someone types the word "dresses" and hits enter. What will be the very first result? There are, of course, a lot of possibilities.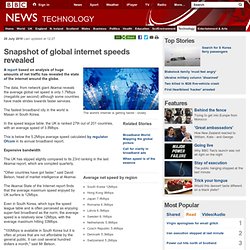 28 July 2010Last updated at 12:27 The world's internet is getting faster - slowly A report based on analysis of huge amounts of net traffic has revealed the state of the internet around the globe.
Snapshot of global internet speeds revealed
Firefox 4 RC Vs. IE9 RC: The First Duel
Mozilla posted the first builds of the Release Candidate of Firefox on its FTP servers: Time for a first comparison with IE9 RC, its main rival. How fast is Mozilla's Firefox 4 RC1? At the time of this writing, Mozilla's Firefox 4 RC has not been released, at least not officially. However, the first build of the release candidate was available openly for some time last Friday and we accepted the invitation to take a closer look. According to Mozilla's developer posts, the Firefox team does not expect to make any more changes to the code of the posted RC (build1) and release it as the final version in the near future. In fact, the version posted on Mozilla's FTP server was built from the Firefox 4.0 beta 13-pre builds based on the Mozilla 2.0 core .
JavaScript expert: WebKit, get your bug-ridden house in order | Internet & Media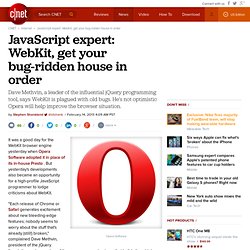 It was a good day for the WebKit browser engine yesterday when Opera Software adopted it in place of its in-house Presto . But yesterday's developments also became an opportunity for a high-profile JavaScript programmer to lodge criticisms about WebKit. "Each release of Chrome or Safari generates excitement about new bleeding-edge features; nobody seems to worry about the stuff that's already (still!) broken," complained Dave Methvin, president of the jQuery foundation and a member of the core programming team that builds the widely used Web programming tool, in a blog post. "jQuery Core has more lines of fixes and patches for WebKit than any other browser. In general these are not recent regressions, but long-standing problems that have yet to be addressed."
May 25, 2011 Follow @peterwayner In 1996 when no one believed in Apple and AOL was voted most likely to succeed, Netscape took its shiny, new JavaScript language from the browser and stuck it in the Netscape Enterprise HTTP server.
JavaScript conquers the server | Application Development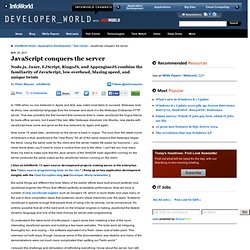 Pillars of Python: Six Python Web frameworks compared | Application Development
August 10, 2011 Although Python is not as prevalent as, say, PHP as a language for Web applications, Python nevertheless has much to recommend it in that effort. It is a dynamic, interpreted language, as is PHP, and therefore encourages iterative, exploratory development.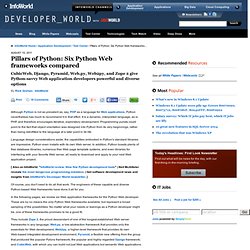 WebGL as a security problem