Articles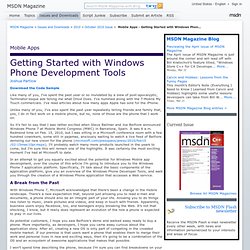 Like many of you, I've spent the past year or so inundated by a slew of post-apocalyptic, Terminator-esque ads telling me what Droid Does. I've hummed along with the T-Mobile My Touch commercials. I've read articles about how many apps Apple has sold for the iPhone.
MSDN Magazine: Mobile Apps - Getting Started with Windows Phone Development Tools
Compiling Java in Visual Studio
I often see my fellow comp. sci. students writing their (relatively) simple Java code in applications like Emacs, Nano or Eclipse. I'm not fond of either application. I much prefer Visual Studios text handling, solution overview, output windows and so forth. What most people don't know is that you can actually extend Visual Studio to a great extent. One way to extend Visual Studio is to write plugins using .NET, but there's a way that is much simpler (albeit also more limited). I will now show how you can make Visual Studio compile and run your Java applications all within Visual Studio itself.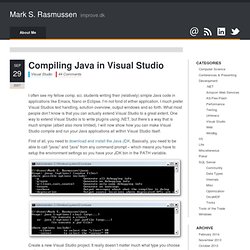 WebSharper platform seeks to broaden F# use
Microsoft's F# language is best suited for financial and scientific applications, but a startup wants to broaden its usage to building mainstream Web applications.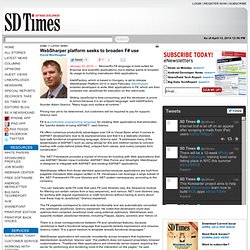 The Truth About Value Types - Fabulous Adventures In Coding
Excelent post, Eric! By the way, I found your blog while searching for this subject (your older post).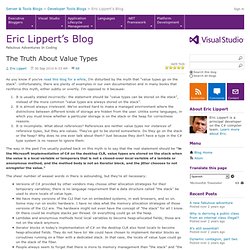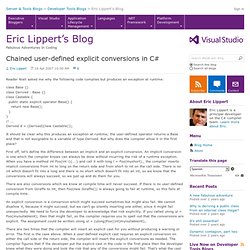 Chained user-defined explicit conversions in C# - Fabulous Adventures In Coding
Reader Niall asked me why the following code compiles but produces an exception at runtime:
Windows 8 for software developers: the Longhorn dream reborn?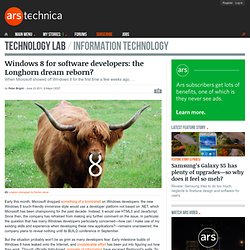 Early this month, Microsoft dropped something of a bombshell on Windows developers: the new Windows 8 touch-friendly immersive style would use a developer platform not based on .NET, which Microsoft has been championing for the past decade. Instead, it would use HTML5 and JavaScript. Since then, the company has refrained from making any further comment on the issue.