Blogs
treasure & bond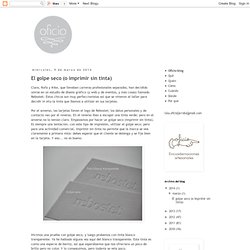 Para los que no estéis familiarizados con los programas informáticos de diseño, aquí os dejo un enlace a la Wikipedia: el de la curva de Bézier. No hace falta que lo leáis todo, sólo hasta el índice, que luego ya se ponen muy técnicos y no lo entiendo ni yo. Y ahora empezamos con la entrada. Hace unos días, aquí, os enseñé el proceso de composición de unas tarjetas para felicitar a los recién casados. En aquella entrada hablaba del kern de una tipografía Futura negrita del cuerpo 20 que estaba utilizando.
oficio
Dear Le Love, Nearly 3 years ago I lost someone I love. I often read your blog as it gave me peace of mind when I was hurting. I have always wanted to share my story but could never find the appropriate words, or rather the courage.
all photos: Kristin Ess + thebeautydepartment.com post designed by kristin ess Lots of emails this week asking for a tutorial on Lauren's temporary bright colors. Here I've replicated the process for you in 7 steps on an extension. While I never recommend bleaching out the ends of your hair at home, if you want to do the fun colors yourself, maybe get the tips bleached out by a pro + then play with the temporary colors on your own. The best things about this color– you're able to hide it in a bun for work if you need to, AND you're only doing a couple of inches on the bottom so it won't kill you to cut it off if you get over it quickly.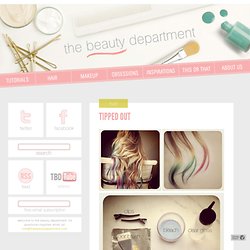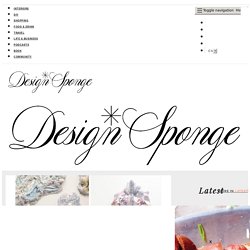 One of my biggest goals on the site this year, as well as Kristina's, was to expand the type of kitchen and food related content we offer. Kristina has posted over 300 delicious recipes on Design*Sponge so far, but we wanted to dig deeper and learn more about the people behind those recipes. From what their daily lives are like and what tools they swear by to what inspires them and the work they create, this year we're adding a few new columns in the food section that are devoted to bringing you the same sort of practical information, tips and tools that our new design columns do. With that in mind, we're thrilled to kick off a new series that celebrates cooking tools that chefs and bakers swear by- and tips for using them. Two of my favorite people (and bakers) in the whole world, Cheryl and Griff Day, are starting us off this week.
For the past few weeks I've been constantly reminded of how I need to throw out the mindset of "I just need this/that before I can do my project", and rather just use what I have. One of my big problems is that I make something as a gift and then usually can't find appropriate packaging. So I've decided to start making my own.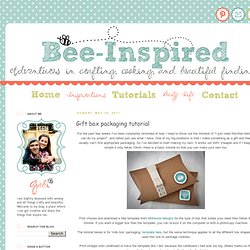 Here in Melbourne, there is no lack of incredible breakfast spots to go and try. Neil and I have been making our way through a list of places that we've walked past, heard about or seen top rated on Urbanspoon. On the weekend, my dear friend, Soné from Polli, and I launched our Friday morning with girls' breakfast out. We made our way into the city to experience what so many others have loved and raved about, and that is Manchester Press. Tucked in at the back of Rankins Lane, we were greeted with the rare sight of a giant disco ball hanging high above the entrance, and fantastic illustrations. Inside it was busy and bustling but we managed to find a table where we were again, surrounded with gorgeous illustrations covering the walls.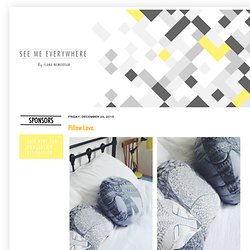 See Me Everywhere
most favorited all-time - page 7 | craftgawker
Happy Thursday Everyone. I hope all of you have had a positive and successful week. I wanted to share with all of you what we are going to do in class tomorrow.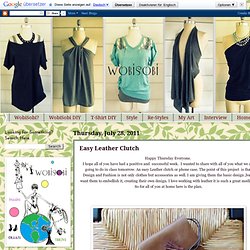 Easy Leather Clutch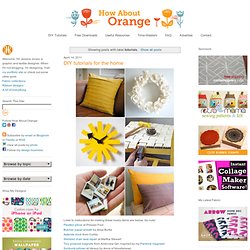 It's the last stiffened fabric project and then I'm moving on! I wanted to try an oversized, realistic fabric rose just for fun. Make a template with six petals.
How About Orange
Skip to content decor8 Fresh finds, inspiring interiors & ideas for creative living
decor8 » Blogroll: A-M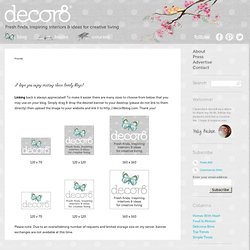 | JuBella.com – Get Your Creative Dose
Quite a while ago I ran across the site of UK based Surface Designer Rachael Taylor . Her work is fantastic. Full of color, pattern, and imagination, Rachael takes the beauty of an object and creates lovely pieces such as pillows, fabric, tableware, lamp shades, greeting cards, and wall art. Her list of clientele includes: Paperchase, Graham & Brown, Target, and Hanes Paper just to name a few. Rachael was so kind to take a few moments to share with us an insight into her inspiration and her process as a surface designer.
Design For Mankind - Part 3
Let's Swap Thanks to Swapdom for helping me clean out my closet this weekend! The first freelance article I ever published at the ripe age of 20-something was a piece on the rise of bartering. It was such a great assignment, uncovering stories like this one artist in Portland who bartered large-scale murals in exchange for dental work.
Summer Boulders | Studio Home
* imperdibles!... | Cristina Martins
New Products - Huset-Shop.com | Your House For Modern Scandinavian