Pub
PR Secrets for Startups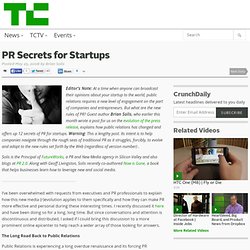 Editor's Note: At a time when anyone can broadcast their opinions about your startup to the world, public relations requires a new level of engagement on the part of companies and entrepreneurs. But what are the new rules of PR? Guest author Brian Solis , who earlier this month wrote a post for us on the evolution of the press release , explains how public relations has changed and offers up 12 secrets of PR for startups. Warning : This a lengthy post.
[Je ne sais pas quelle forme ça prendra, mais j'ai commencé un essai sur la pub 2.0. Je vais en partager des segments ici, au fur et à mesure et dans le désordre. Je les classerai sous la catégorie Pub 2.0 ] Avant l'ère industrielle, le commerce en Amérique du Nord était simple. Si un nouveau barbier devait rejoindre les poilus du village, un bon cri à la sortie de l'église suffisait. Puis, le magasin général est apparu.
(PROVOKAT) Pubs 1.0 et 2.0 : les medias
(Blogue bénéfice.net ) Le WEB officiellement un MÉDIA DE MASSE
....HOW ADVERTISING SPOILED ME....
L'UMP achète Mahomet
(IPUB.CA.CX) Affichage dans les abrisbus de Paris
tgv - c'est un choix
Des petits oiseaux qui volettent, des prairies vertes où gambadent des lapins blancs, un arc-en-ciel, une haie de flamands roses et, traversant cette animation aux couleurs psychédéliques, des moteurs volants. Ce spot publicitaire a été conçu par l'agence londonienne Wieden & Kennedy, pour un nouveau modèle de moteur diesel du constructeur automobile Honda, présenté comme moins polluant. "C'est un magnifique tableau, très ludique, très sympathique. C'est aussi un dessin animé pour enfants, très puéril" , affirme Bertrand Suchet, coprésident de l'agence DDB Paris. "La durée de ce spot, d'environ une minute trente, comparée aux trente secondes habituelles, fait que l'on va vouloir le découvrir autrement, sur Internet, ou par exemple, par le biais de CD diffusés chez les concessionnaires" , ajoute-t-il.
Les agences transforment de plus en plus le consom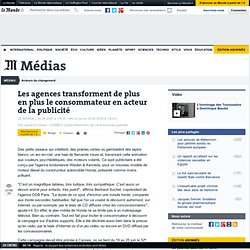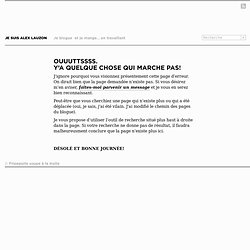 J'ignore pourquoi vous visionnez présentement cette page d'erreur. On dirait bien que la page demandée n'existe pas. Si vous désirez m'en aviser, faites-moi parvenir un message et je vous en serez bien reconnaissant. Peut-être que vous cherchiez une page qui n'existe plus ou qui a été déplacée (oui, je sais, j'ai été vilain. J'ai modifié le chemin des pages du blogue). Je vous propose d'utiliser l'outil de recherche situé plus haut à droite dans la page.
(alexlauzon) Les hommes et la pub
Stratosphere: comment bloquer la publicité des sites Web ?