Pub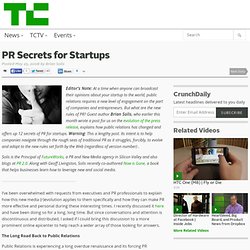 Editor's Note: At a time when anyone can broadcast their opinions about your startup to the world, public relations requires a new level of engagement on the part of companies and entrepreneurs. But what are the new rules of PR? Guest author Brian Solis, who earlier this month wrote a post for us on the evolution of the press release, explains how public relations has changed and offers up 12 secrets of PR for startups. Warning: This a lengthy post.
[Je ne sais pas quelle forme ça prendra, mais j'ai commencé un essai sur la pub 2.0. Je vais en partager des segments ici, au fur et à mesure et dans le désordre. Je les classerai sous la catégorie Pub 2.0 ] Avant l'ère industrielle, le commerce en Amérique du Nord était simple. Si un nouveau barbier devait rejoindre les poilus du village, un bon cri à la sortie de l'église suffisait. Puis, le magasin général est apparu.
(PROVOKAT) Pubs 1.0 et 2.0 : les medias
(Blogue bénéfice.net ) Le WEB officiellement un MÉDIA DE MASSE
Text in the card:Wet your finger and rub to find out what millions of women feelAfter following the instructions, thanks to a special ink, the word NOTHING appears underneath.Text back of card:Over two million girls suffer genital mutilation every year. The AMAM association has very few members and strictly limited funds, for which reason it had to run a campaign with few resources but convincing, with a high profile. This is why a free postcard was chosen, to be distributed at strategic points where the target audience was to be found: arthouse cinemas, theatres, galleries, etc. The postcard's impact was visible very quickly, with donations, e-mails and even mentions in the media.Agency: Contrapunto BarcelonaClient: AMAM EspañaCreative Director: Tomás Oliva, Manuel PadillaArt Director: Lorena MartíPhotography: Guixa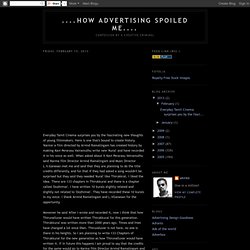 L'UMP achète Mahomet
(IPUB.CA.CX) Affichage dans les abrisbus de Paris
tgv - c'est un choix
LE MONDE | • Mis à jour le | Par Laurence Girard - CANNES (Alpes-Maritimes) de notre envoyée spéciale Des petits oiseaux qui volettent, des prairies vertes où gambadent des lapins blancs, un arc-en-ciel, une haie de flamands roses et, traversant cette animation aux couleurs psychédéliques, des moteurs volants. Ce spot publicitaire a été conçu par l'agence londonienne Wieden & Kennedy, pour un nouveau modèle de moteur diesel du constructeur automobile Honda, présenté comme moins polluant. "C'est un magnifique tableau, très ludique, très sympathique. C'est aussi un dessin animé pour enfants, très puéril" , affirme Bertrand Suchet, coprésident de l'agence DDB Paris.
Les agences transforment de plus en plus le consom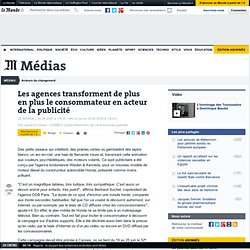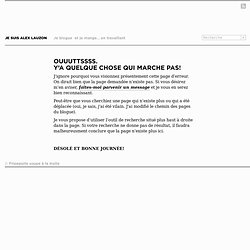 J'ignore pourquoi vous visionnez présentement cette page d'erreur. On dirait bien que la page demandée n'existe pas. Si vous désirez m'en aviser, faites-moi parvenir un message et je vous en serez bien reconnaissant. Peut-être que vous cherchiez une page qui n'existe plus ou qui a été déplacée (oui, je sais, j'ai été vilain. J'ai modifié le chemin des pages du blogue). Je vous propose d'utiliser l'outil de recherche situé plus haut à droite dans la page.
(alexlauzon) Les hommes et la pub
Stratosphere: comment bloquer la publicité des sites Web ?