Wikipedia cars
Automobili Lamborghini S.p.A. ( Italian: [lamborˈɡiːni] ( listen ) ) is an Italian manufacturer of luxury sportscars which is owned by the German Volkswagen Group through its subsidiary Audi . Lamborghini's production facility and headquarters are located in Sant'Agata Bolognese , Italy. In 2011, Lamborghini's 831 employees produced 1,711 vehicles.
Lamborghini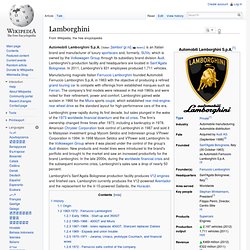 The Lamborghini Murciélago is a two-door, two-seat sports car produced by Italian automaker Lamborghini between 2001 [ 2 ] and 2010. Successor to the Diablo and flagship of the automaker's lineup , the Murciélago was introduced as a coupé in 2001. The automaker's first new design in eleven years, the car was also the brand's first new model under the ownership of German parent company Audi , which is owned by Volkswagen . It was styled by Peruvian -born Belgian Luc Donckerwolke , Lamborghini's head of design from 1998 to 2005. [ 3 ] A roadster version was introduced in 2004, followed by the updated LP 640 coupé and roadster and limited edition LP 650–4 Roadster. The final variation to wear the Murciélago nameplate was the LP 670–4 SuperVeloce, powered by the largest and final evolution of the Lamborghini V12 engine .
Lamborghini Murciélago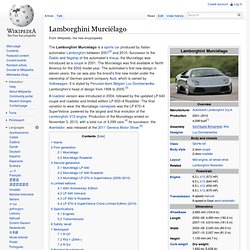 The Lamborghini Reventón ( Spanish pronunciation: [reβenˈton] ) is a mid-engine sports car that debuted at the 2007 Frankfurt Motor Show . It was the most expensive Lamborghini road car until Lamborghini Veneno is launched, costing two million dollars (~ € 1.5 million, or ~ £ 840,000). [ 1 ] Its top recorded speed was recorded in Dubai , UAE at 221 miles per hour (355.7 km/h). The official press release stated that only 20 vehicles would be sold to the public, [ 2 ] with one additional car (marked as 0/20) produced for the Lamborghini Museum. [ 3 ] Although early rumors indicated the total number would actually be 100, [ 2 ] [ 4 ] [ 5 ] each Reventón is stamped with its number in the sequence of 20 between the driver's and passenger's seats.
Lamborghini Reventón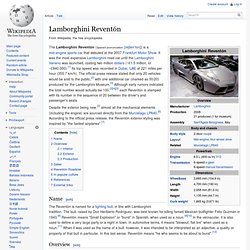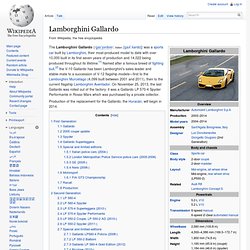 Lamborghini Gallardo
The Lamborghini Gallardo ( pron.: / ɡ aɪ ˈ j ɑr d oʊ / ; Italian: [ɡaʎˈʎardo] ) is a sports car built by Lamborghini , their most-produced model to date with over 10,000 built in its first seven years of production. [ 1 ] Named after a famous breed of fighting bull , [ 2 ] the V-10 Gallardo has been Lamborghini's sales leader and stable-mate to a succession of V-12 flagship models—first to the Lamborghini Murciélago (4,099 built between 2001 and 2011), then to the current flagship Lamborghini Aventador . [ edit ] First Generation [ edit ] Gallardo Lamborghini Gallardo The first generation Gallardo came with a 5 liter 90 degree V10 (4961cc), based on Audi's 4.2 Liter V8 developed by Cosworth .
Chevrolet Camaro
The Chevrolet Camaro is an automobile manufactured by General Motors under the Chevrolet brand, classified as a pony car [ 1 ] [ 2 ] and some versions also as a muscle car . [ 3 ] [ 4 ] It went on sale on September 29, 1966, for the 1967 model year and was designed as a competing model to the Ford Mustang . The car shared its platform and major components with the Pontiac Firebird , also introduced for 1967.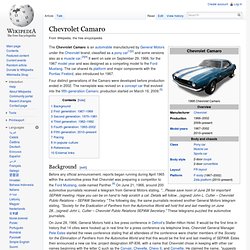 Ford Mustang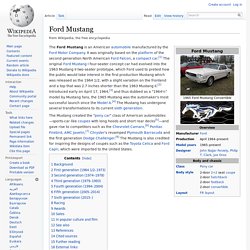 The Ford Mustang is an automobile manufactured by the Ford Motor Company . It was initially based on the platform of the second generation North American Ford Falcon , a compact car . [ 1 ] Introduced early on April 17, 1964, [ 2 ] and thus dubbed as a "1964½" model by Mustang fans, the 1965 Mustang was the automaker's most successful launch since the Model A . [ 3 ] The Mustang has undergone several transformations to its current fifth generation . The Mustang created the " pony car " class of American automobiles—sports car-like coupes with long hoods and short rear decks [ 4 ] —and gave rise to competitors such as GM's Chevrolet Camaro , [ 5 ] AMC's Javelin , [ 6 ] as well as Chrysler 's revamped Plymouth Barracuda and the first generation Dodge Challenger . [ 7 ] The Mustang is also credited for inspiring the designs of coupés such as the Toyota Celica and Ford Capri , which were imported to the United States. [ edit ] Background
Bentley's winged "B" badge and bonnet (hood) ornament Bentley Motors Limited is a German owned British manufacturer of luxury automobiles. In 1998 when Rolls-Royce Motors was acquired by Volkswagen , without the brandname, that business entity was absorbed into Bentley Motors Limited. Bentley was originally founded on 18 January 1919 by W. O.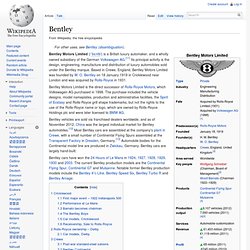 Bentley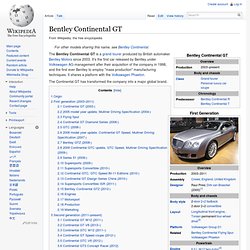 The Bentley Continental GT is a two- door ' two plus two ' grand touring coupé released in 2003, replacing the previous Rolls-Royce -based Continental R and T . It is equipped with a 6.0 litre twin-turbocharged W12 engine , which produces a DIN -rated motive power output of 560 metric horsepower (412 kW ; 552 bhp ) at 6,100 rpm , and torque of 650 newton metres (479 lbf·ft ) at 1,600-6,100 rpm. [ 1 ] Torsen -based permanent four-wheel drive is standard. [ 1 ] It will accelerate from 0 to 100 kilometres per hour (0 to 62.1 mph) in 4.8 seconds, and go on to reach a top speed of 318 kilometres per hour (197.6 mph). [ 1 ]
Bentley Continental GT
Bentley Mulsanne (2010)
The new Bentley Mulsanne is a luxury car produced by Bentley Motors Limited in the United Kingdom . [ 4 ] The name is derived from Bentley's historical racing pedigree, which included five victories at the 24 Hours of Le Mans — the Mulsanne Straight being the stretch of the Le Mans racing circuit where cars reach their highest speeds. [ edit ] Legacy Bentley has brought back the Mulsanne nameplate that was last used in 1992, and this model replaces the Bentley Arnage . The new Mulsanne was unveiled at the 2009 Pebble Beach Concours d'Elegance , on 16 August 2009.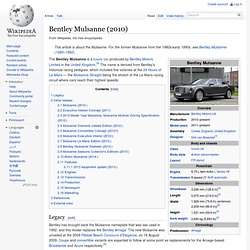 The Honda Civic is a line of subcompact and subsequently compact cars made and manufactured by Honda .
Honda Civic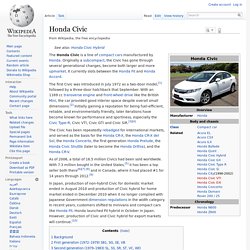 Main Page - Wikicars
The Gumpert Apollo is a sports car produced by German automaker Gumpert Sportwagenmanufaktur GmbH in Altenburg . Gumpert ended business endeavors in August of 2012, after undergoing bankruptcy. [ 1 ] [ edit ] History Pre-production car In 2000 Roland Gumpert proposed a new generation sports car . One of the first concerns of this car was that it was a street-legal car, ready for the race track.
Gumpert Apollo
AC Cobra
The AC Cobra , sold as the Ford/Shelby AC Cobra in the USA and often known colloquially as the Shelby Cobra in that country, is an American-engined British sports car produced intermittently since 1962. [ edit ] History and Development Like many British specialist manufacturers, AC Cars had been using the Bristol straight-6 engine in its small-volume production, including its AC Ace 2-seater roadster. This had a hand-built body with a steel tube frame, and aluminium body panels that were made using English wheeling machines. The engine was a pre-World War II design of BMW which by the 1960s was considered dated.
The SSC Ultimate Aero is an American-built mid-engine sports car by SSC North America (formerly known as Shelby SuperCars). The higher-performance limited production version previously held the Guinness Book of World Records record for being the fastest production car in the world, but the record is held now by Bugatti Veyron Super Sport , which reached the speed of 431.072 km/h. The SSC Ultimate Aero does not have electronic aids such as ABS brakes or traction control , as according to Jerod Shelby, "Early design philosophy on the car was to make it a driver's car.
SSC Aero
Bugatti
Coordinates : Automobiles Ettore Bugatti was a French car manufacturer of high-performance automobiles , founded in 1909 in Molsheim , Alsace by Italian -born Ettore Bugatti . Bugatti cars were well known for their design beauty (Ettore Bugatti was from a family of artists and considered himself to be both an artist and constructor) and for the large number of races that they have won. The death of Ettore Bugatti in 1947 proved to be the end for the marque, and the death of his son Jean Bugatti in 1939 ensured there was not a successor to lead the factory. No more than about 8000 cars were made. The company struggled financially, and released one last model in the 1950s, before eventually being purchased for its airplane parts business in the 1960s.
The Bugatti Veyron EB 16.4 is a mid-engined grand touring car , designed and developed by the Volkswagen Group and manufactured in Molsheim, France by Bugatti Automobiles S.A.S. The Super Sport version of the Veyron is the fastest street-legal production car in the world, with a top speed of 431.072 km/h (267.856 mph). [ 4 ] The original version has a top speed of 408.47 km/h (253.81 mph). [ 5 ] It was named Car of the Decade (2000–2009) by the BBC television programme Top Gear . The standard Veyron won Top Gear ' s Best Car Driven All Year award in 2005.
Bugatti Veyron
Bugatti EB110
Lexus
Lexus LFA
Lexus CT
Lexus ES
Lexus IS F
Lexus SC
Lexus HS
Porsche
Porsche 911
Porsche Cayman
Porsche Boxster