Quake
solar storm warning
Statistical Aurora Oval
2014-04-13 12:41:26 Shishaldin Watch Orange 2014-04-13 07:23:15 Kilauea Watch Orange 2014-04-13 12:41:26 Cleveland Advisory Yellow 2014-04-13 12:41:26 Veniaminof Advisory Yellow 2014-04-11 09:50:42 Pagan Advisory Yellow 2014-04-11 14:37:08 Cascade Range Normal Green 2014-04-09 07:54:47 Mauna Loa Normal Green 2014-04-09 07:54:47 Mauna Kea Normal Green 2014-04-09 07:54:46 Hualalai Normal Green 2014-04-09 07:54:46 Haleakala Normal Green 2014-04-03 13:57:33 Yellowstone Normal Green 2014-04-09 07:54:46 Lo`ihi Unassigned Unassigned Subscribe to the Volcano Notification Service Subscribe to our feed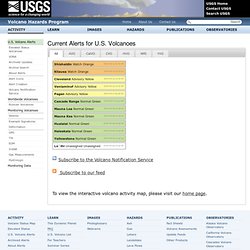 Current Alerts for U.S. Volcanoes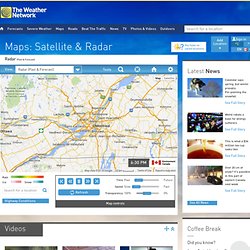 Satellite and Radar: Interactive Weather Maps
Six key signs of spring Have you seen any of these six signs of things getting a little warmer? News In A Minute: Monkeys escape zoo If you missed it - 3 of our top news stories from today Mei Day: Adventurous grannies!
The University of Utah
About the Webicorder Display, including interpreted examples of earthquake recordings. Webicorder displays are organized by region. They can be accessed using links from regional station maps or stations lists. Station maps for the Utah Region, Yellowstone Region, and Teton Region provide an easy interactive path to available Webicorders for the last seven days.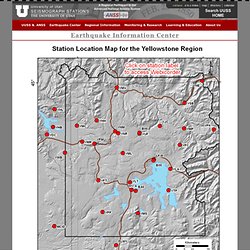 Recent Helicorder Displays
MSO BHZ US : Missoula, MT (ANSS) (Broadband Vertical) MSO SPZ US : Missoula, MT (ANSS) (Short Period Vertical) MSO LPZ US : Missoula, MT (ANSS) (Long Period Vertical) DLMT BHZ IW : Dillon, MT (ANSS) (Broadband Vertical) DLMT SPZ IW : Dillon, MT (ANSS) (Short Period Vertical)
usgs