Social Media Policies
8 Tips for Training Social Media Marketers. Does your business have a plan for bringing on social media marketers?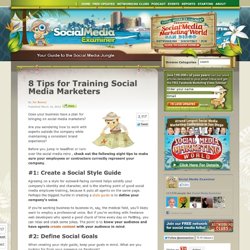 Are you wondering how to work with experts outside the company while maintaining a consistent brand experience? Before you jump in headfirst or turn over the social media reins , . #1: Create a Social Style Guide Agreeing on a style for outward-facing content helps solidify your company's identity and character, and is the starting point of good social media employee training, because it puts all agents on the same page. Perhaps the biggest hurdle in creating a style guide is to . 10 Tips for Creating a Social Media Policy for Your Business. Policy.
It can be a dirty word, especially in social media communities. Why? Poorly written social media policies restrict, deter and deaden social media engagement–the exact opposite of what businesses want. How to Craft a Privacy Policy for Your Website. Does your website have a privacy policy?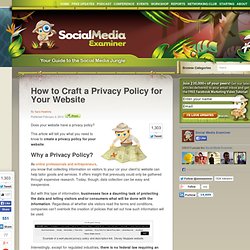 This article will tell you what you need to know to create a privacy policy for your website. Why a Privacy Policy? As online professionals and entrepreneurs, you know that collecting information on visitors to your (or your client's) website can help tailor goods and services. It offers insight that previously could only be gathered through expensive research. Today, though, data collection can be easy and inexpensive. The 10 Ds of Creating a Social Media Use Policy | Blog | Daily Dose. There's been no shortage of news these days about companies getting in trouble because of what they or a third-party marketers have done when taking to the socially-powered airwaves.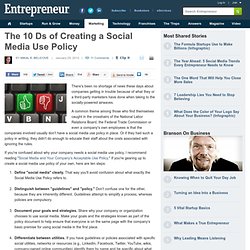 A common theme among those who find themselves caught in the crosshairs of the National Labor Relations Board, the Federal Trade Commission or even a company's own employees is that the companies involved usually don't have a social media use policy in place. Or if they had such a policy in writing, they didn't do enough to educate their staff about the costs associated with ignoring the rules. If you're confused about why your company needs a social media use policy, I recommend reading "Social Media and Your Company's Acceptable Use Policy.
" Online Database of Social Media Policies. Online Database of Social Media Policies. 10 Must-Haves for Your Social Media Policy. Sharlyn Lauby is the president of Internal Talent Management (ITM) which specializes in employee training and human resources consulting.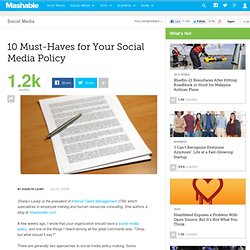 She authors a blog at hrbartender.com. A few weeks ago, I wrote that your organization should have a social media policy, and one of the things I heard among all the great comments was: "Okay, but what should it say? "
---