Social Media Articles
Gartner: Fake Social Media Ratings, Reviews to Hit 10 to 15 Percent by 2014
Feel comfortable buying Facebook Likes or Twitter followers? The practice is becoming more and more accepted, and fake social media ratings and reviews could hit 10 to 15 percent by 2014, according to research company Gartner .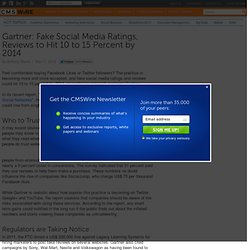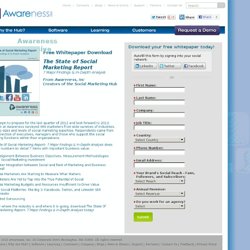 As we begin to prepare for the last quarter of 2012 and look forward to 2013, the team at Awareness surveyed 469 marketers from wide varieties of industries, company sizes and levels of social marketing expertise.
The State of Social Marketing Report
The vast majority of CMOs (89.4%) say social data (related to customer use of social media) has affected at least some of their business decisions, and 21.3% say such data affects at least 1 in 5 decisions they make, according to a new report by Bazaarvoice and The CMO Club .
CMOs Tapping Into Social Data for Consumer Insights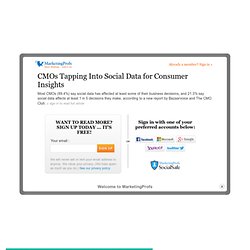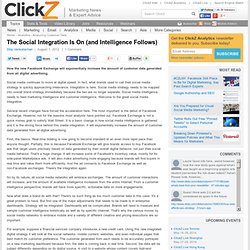 The Social Integration Is On (and Intelligence Follows)
Dilip Venkatachari | August 1, 2012 | 1 Comment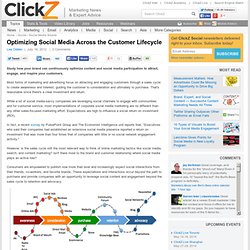 Lee Odden | July 16, 2012 | 2 Comments
Optimizing Social Media Across the Customer Lifecycle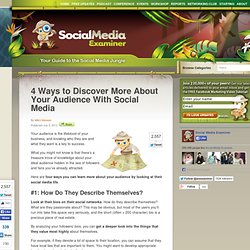 Your audience is the lifeblood of your business, and knowing who they are and what they want is a key to success.
4 Ways to Discover More About Your Audience With Social Media
Do you know if your social media promotions or campaigns were successful? For many businesses, it can be easy to label a social campaign a huge hit or a blatant blunder, but which elements made the campaign successful?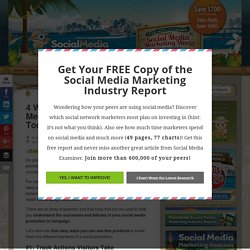 Making sense of social media
In this video series, McKinsey partners David Court , Roxane Divol , and David Edelman show that by mapping social-media initiatives to different stages of the consumer decision journey, companies can prioritize investments and provide customers with exceptional brand experiences.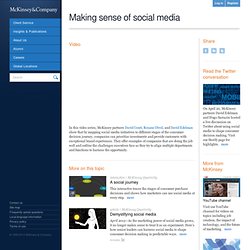 Demystifying social media - McKinsey Quarterly - Marketing & Sales - Digital Marketing
Executives certainly know what social media is. After all, if Facebook users constituted a country, it would be the world's third largest, behind China and India. Executives can even claim to know what makes social media so potent: its ability to amplify word-of-mouth effects.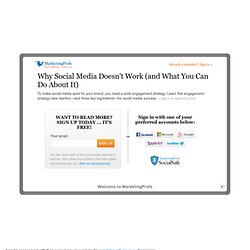 Why Social Media Doesn't Work (and What You Can Do About It)
In this article, you'll learn... Three ingredients for social media success Five engagement-strategy idea starters Time to face reality: Marketing and advertising are a lot harder to do today than ever before.
How to Automate Your Social Activities
Are you looking to simplify management of your social activities?
Are you wondering what the changing social trends are for consumers? If so, look no further. In Nielsen and McKinsey's Social Media Report , consumers were surveyed to discover how they use social networks.
7 Social Media Trends for Consumers New Research
5 Social Media Tips for Finding and Engaging Your Target Audience: New Research
Do you know where your customers and prospects spend time online?
Do you have a social media strategy for your business yet?
Joshua March is co-founder and CEO of Conversocial , a provider of integrated social CRM and marketing software for Facebook and Twitter.
How to Turn Social Feedback into Valuable Business Data
9 Common and Costly B2B Social Media Marketing Mistakes
Want to Avoid Getting Banned on Social Media? Learn the Rules
How to Plan Your Social Integration Strategy
7 Terrific Ways to Use Social Media for Instant Feedback
9 Tips for Integrating Social Media on Your Website
Why Social Media Needs to Get More Personal
47 Outrageous Viral Marketing Examples over the Last Decade
How to Use Social Media For Better Customer Acquisition
Creating Synergy Between Social Media and Email Marketing
Using Data to Build and Strengthen Community Connections
How Darwin's Social Funnel Transforms CXM Into Sales