Social Media Articles
Gartner: Fake Social Media Ratings, Reviews to Hit 10 to 15 Percent by 2014. Feel comfortable buying Facebook Likes or Twitter followers?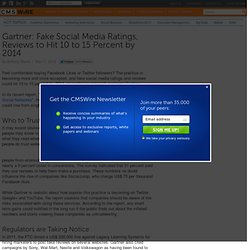 The practice is becoming more and more accepted, and fake social media ratings and reviews could hit 10 to 15 percent by 2014, according to research company Gartner. In its recent report, "The Consequences of Fake Fans, 'Likes' and Reviews on Social Networks", the company says that trust in social media remains low, but could rise from single digits to as high as 33 percent by 2014. Who to Trust It may sound obvious, but people tend to trust those most like them and also people they know in real life.
That partly explains why many people don't trust what they read when it comes to Amazon.com reviews, for example. CMOs Tapping Into Social Data for Consumer Insights. The vast majority of CMOs (89.4%) say social data (related to customer use of social media) has affected at least some of their business decisions, and 21.3% say such data affects at least 1 in 5 decisions they make, according to a new report by Bazaarvoice and The CMO Club.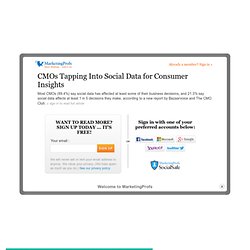 Moreover, CMOs agree that social data* reflects business and consumer trends, and that it's at least somewhat effective in indicating the following: Discernible trends that may impact the business: 83.3%Consumer demographics and/or psychographics: 80.7%Consumer sentiment toward product lines: 79.7%Influence of individuals or groups on the purchase decision: 77.9%Consumer sentiment toward a brand or company: 72.8% Below, additional findings from the study titled "Chief customer advocate: How social data elevates CMOs," by Bazaarvoice and The CMO Club.
The Social Integration Is On (and Intelligence Follows) Dilip Venkatachari | August 1, 2012 | 1 Comment inShare15 How the new Facebook Exchange will exponentially increase the amount of customer data generated from all digital advertising.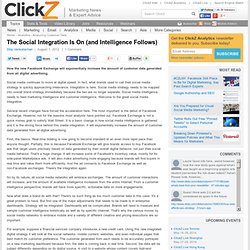 Social media continues to move at digital speed. In fact, what brands used to call their social media strategy is quickly approaching irrelevance. Optimizing Social Media Across the Customer Lifecycle. Lee Odden | July 16, 2012 | 2 Comments inShare163 Study how your brand can continuously optimize content and social media participation to attract, engage, and inspire your customers.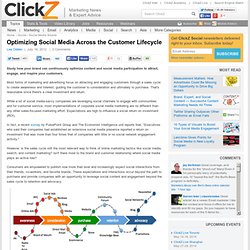 Most forms of marketing and advertising focus on attracting and engaging customers through a sales cycle to create awareness and interest, guiding the customer to consideration and ultimately to purchase. That's reasonable since there's a clear investment and return. 4 Ways to Discover More About Your Audience With Social Media. Your audience is the lifeblood of your business, and knowing who they are and what they want is a key to success.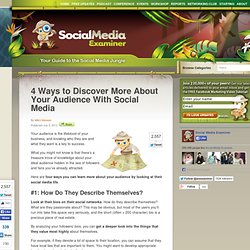 What you might not know is that there's a treasure trove of knowledge about your ideal audience hidden in the sea of followers and fans you've already attracted. Here are four ways you can learn more about your audience by looking at their social media life. #1: How Do They Describe Themselves? 4 Ways to Measure Social Media Success With Free Tools. Do you know if your social media promotions or campaigns were successful?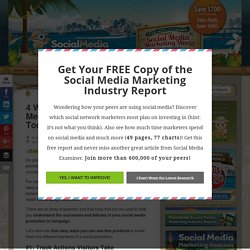 For many businesses, it can be easy to label a social campaign a huge hit or a blatant blunder, but which elements made the campaign successful? There are an array of powerful and free tools that can be used to help you understand the successes and failures of your social media promotion or campaign. Let's dive into four easy ways you can use free products to break down the different elements of a social promotion. #1: Track Actions Visitors Take One way to better understand your social campaign as a whole is to understand how your users find out about it. Making sense of social media. Demystifying social media - McKinsey Quarterly - Marketing & Sales - Digital Marketing. Executives certainly know what social media is.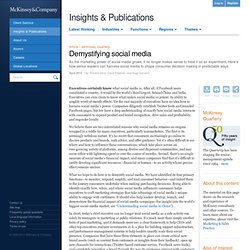 After all, if Facebook users constituted a country, it would be the world's third largest, behind China and India. Executives can even claim to know what makes social media so potent: its ability to amplify word-of-mouth effects. Yet the vast majority of executives have no idea how to harness social media's power. Companies diligently establish Twitter feeds and branded Facebook pages, but few have a deep understanding of exactly how social media interacts with consumers to expand product and brand recognition, drive sales and profitability, and engender loyalty. We believe there are two interrelated reasons why social media remains an enigma wrapped in a riddle for many executives, particularly nonmarketers.
Why Social Media Doesn't Work (and What You Can Do About It) Time to face reality: Marketing and advertising are a lot harder to do today than ever before.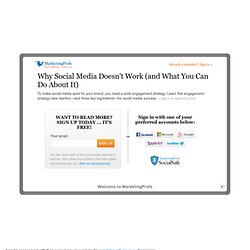 Half of consumers don't trust print ads or television commercials, and fewer still trust what they hear on the radio. And consumer trust level is even worse for direct mail and outdoor advertising. How to Automate Your Social Activities. Are you looking to simplify management of your social activities?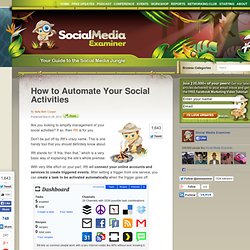 If so, then Ifttt is for you. Don't be put off by Ifttt's crazy name. This is one handy tool that you should definitely know about. Ifttt stands for "If this, then that," which is a very basic way of explaining the site's whole premise. 7 Social Media Trends for Consumers New Research. Are you wondering what the changing social trends are for consumers?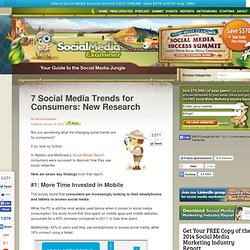 If so, look no further. In Nielsen and McKinsey's Social Media Report, consumers were surveyed to discover how they use social networks. 5 Social Media Tips for Finding and Engaging Your Target Audience: New Research. Do you know where your customers and prospects spend time online? Marketers have long relied on market research to determine where to spend their advertising dollars on television, radio and print advertisements. In the last few years, research organizations have begun providing intelligence on how consumers behave on social networks. The following article is based on new social media research studies.
3 Steps to an Effective Social Media Strategy. Do you have a social media strategy for your business yet? If you don't, you could be missing out on game-changing results. According to the 2011 Social Media Marketing Industry Report, 78% of marketers saw increased traffic with just six hours a week invested in social media. The businesses that do social media marketing well will see even bigger wins in 2012, as the gap between who "gets it" and who doesn't grows wider by the minute. How to Turn Social Feedback into Valuable Business Data. Joshua March is co-founder and CEO of Conversocial, a provider of integrated social CRM and marketing software for Facebook and Twitter. He resides in London. You've set up your company's Facebook Page and Twitter account, pulled together a social media team to start generating engagement, and now you've got a decent audience involved in conversations about your brand.
Great, but where's the real value? 13 Tools to Simplify Your Social Media Marketing. Are you looking for tools to simplify your social media activities? Many businesses feel overwhelmed when implementing their social media marketing. Sometimes the solution is to focus on the right social media tools for your business. We asked social media experts for their most valuable tool for small businesses using social media. Here are 13 tools to help you execute your social media strategy effectively. 9 Common and Costly B2B Social Media Marketing Mistakes. Yes, B2B companies should be using social media.
In fact, it is easy to make the argument that B2B companies are better suited for social media marketing than B2C companies. Think about it: with a relationship-based sales cycle, core subject matter expertise and a legacy of content creation, most B2B companies are a great fit to leverage social media as part of an inbound marketing strategy. In a world in which 60% of the sales cycle is over before a lead ever talks to a salesperson , it has never been more important for marketing to be involved early in the buying process.
Social media, when used for B2B lead generation and education, can help attract, educate, and qualify leads. Want to Avoid Getting Banned on Social Media? Learn the Rules. How to Plan Your Social Integration Strategy. 7 Terrific Ways to Use Social Media for Instant Feedback. 9 Tips for Integrating Social Media on Your Website. Why Social Media Needs to Get More Personal. 35 Great Social Media Infographics. 47 Outrageous Viral Marketing Examples over the Last Decade. How to Use Social Media For Better Customer Acquisition. Creating Synergy Between Social Media and Email Marketing. Using Data to Build and Strengthen Community Connections. How Darwin's Social Funnel Transforms CXM Into Sales.
---