Social CRM
A Lesson in Social Data for Brands: Expression vs. Intention — WhatWorksWhere.com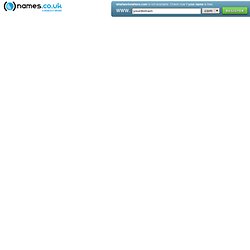 Social Data is an amazing source of consumer expressions that allows brands to draw audience insights, measure campaign effectiveness, respond in real time, create engagement platforms and profile their customers. The process of Social Listening is a very effective method of capturing these expressions but it can be difficult to determine the users intent behind the expression unless they explicitly state it. The difference between consumer 'expressions' and 'intentions' is very important. An expression is the process of making known one's thoughts or feelings.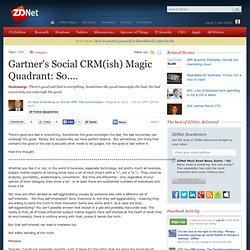 Gartner's Social CRM(ish) Magic Quadrant: So....
There's good and bad in everything. Sometimes the good outweighs the bad, the bad conversely can outweigh the good. Rarely, but occasionally, we have perfect balance.
Observations why Social CRM isn't….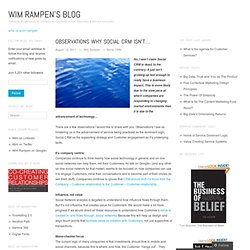 No, I won't claim Social CRM is dead, to the contrary. It just isn't growing up fast enough to really have a business impact. This is more likely due to the slow pace at which companies are responding to changing market environments than it is due to the advancement of technology…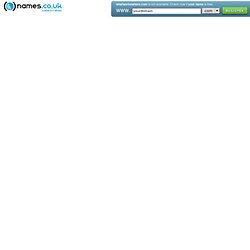 Social CRM or SCRM is still a confusing topic for many brands and their agencies. Here's why it shouldn't be and why you're probably already halfway there. Social CRM is simply an evolution of customer relationship management models to include new data sources ( social data ) and communication channels (social communities).
Some Food For Thought On Social CRM (SCRM) — WhatWorksWhere.com
Leverage Social Behavior in Your B2B Email Campaigns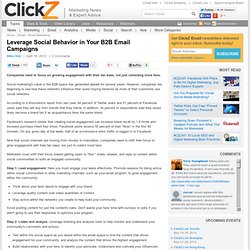 Mike Hotz | April 18, 2012 | 0 Comments <a href="http://ad.doubleclick.net/jump/clickz.us/email/email-marketing;page=article;artid=2168087;topcat=email;cat=email-marketing;static=;sect=site;tag=facebook;pos=txt1;tile=8;sz=2x1;ord=123456789?" target="_blank"><img src="http://ad.doubleclick.net/ad/clickz.us/email/email-marketing;page=article;artid=2168087;topcat=email;cat=email-marketing;static=;sect=site;tag=facebook;pos=txt1;tile=8;sz=2x1;ord=123456789?"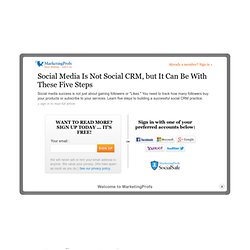 In this article, you'll learn... Five steps to building a successful social CRM practice Why social CRM offers a new way of doing business You've likely heard the following: "We need more followers on Twitter," or, possibly, "Our CEO wants more Likes on Facebook."
Social Media Is Not Social CRM, but It Can Be With These Five Steps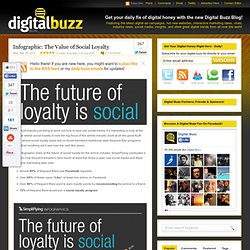 With most brands just trying to work out how to best use social media, it's interesting to look at the flip side where social loyalty is now the big focus of the airline industry (look at all the great KLM work), where social loyalty plays will no doubt transform traditional style frequent flyer programs faster than anything we'll see over the next few years… This infographic looks at the future of social loyalty for the airline industry. SimpliFlying conducted a study on how frequent travellers (who travel at least five times a year) use social media and there are some interesting take outs:
Infographic: The Value of Social Loyalty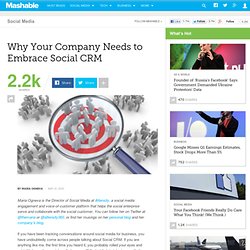 Why Your Company Needs to Embrace Social CRM
Maria Ogneva is the Director of Social Media at Attensity , a social media engagement and voice-of-customer platform that helps the social enterprise serve and collaborate with the social customer. You can follow her on Twitter at @themaria or @attensity360 , or find her musings on her personal blog and her company's blog . If you have been tracking conversations around social media for business, you have undoubtedly come across people talking about Social CRM. If you are anything like me, the first time you heard it, you probably rolled your eyes and said, "Ugh, another social media buzzword!" And while I do take issue with the jargon itself (and will discuss that later), Social CRM is a central concept that businesses need to understand deeply and integrate fully, in order to serve the social customer . Who Is the Social Customer?
What Is Social CRM?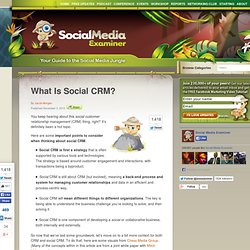 You keep hearing about this social customer relationship management (CRM) thing, right? It's definitely been a hot topic. Here are some important points to consider when thinking about social CRM . Social CRM is first a strategy that is often supported by various tools and technologies.
Chess Media Group in collaboration with Mitch Lieberman just recently released The Guide to Understanding Social CRM , a free whitepaper created to help brands and organizations navigate and understand Social CRM. I'm going to be speaking at the New Communications Forum (see sidebar link) in April on Social CRM. I'm currently collaborating with Esteban Kolsky on a what I hope will be a killer presentation. I reached out to Esteban because I greatly admire and respect his research and his work; I consider him to be one of the top leaders in the space. I'll talk more about some of the things we're going to be putting together as we get closer to the event. For now, I wanted to provide a high level introduction to social CRM for those that are not familiar with the topic.