SEO Resources
How to Optimize Content When You Don't Know Jack about SEO. How to Create a Content Calendar to Correlate SEO Results. How to Conduct an On-Page SEO Site Audit. The first thing an SEO should do when given a new project is to conduct an SEO site audit.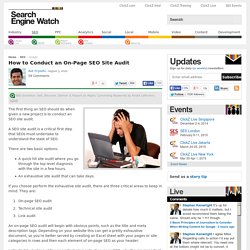 A SEO site audit is a critical first step that SEOs must undertake to understand the state of SEO. There are two basic options: A quick hit site audit where you go through the top level diagnosis with the site in a few hours.An exhaustive site audit that can take days. Google Shows Startups How to Master SEO in 10 Minutes. Worried about how to fill out your meta keywords tag so your startup ranks best in Google results?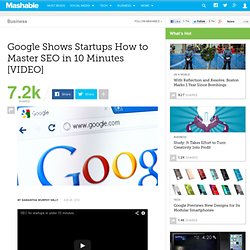 Don't bother, the company says. Google search ignores it. Google released on Tuesday a video that provides startups tips and suggestions about how to master search engine optimization in just 10 minutes. Paid & Subscription-Based Keyword Research Tools. Search Engine Optimization Tools by WebPosition. Monitor Search Engine Rankings with ZoomRank. Toolbar - Take the power of Google with you anywhere on the web! Website Performance Test. Compuware APM is the leader in a New Generation of Application Performance Management.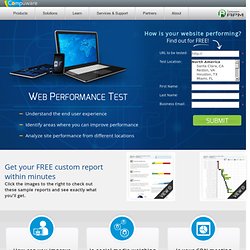 Unlike traditional APM solutions that are heavy, difficult and reactive, Compuware APM is light, smart and proactive. Designed to manage the complexity of today's most challenging web, cloud, mobile, enterprise and Big Data applications, Compuware APM optimizes and monitors tens of thousands of applications for more than 5,000 customers, large and small, around the globe. Multiple Pagerank Checker. Alexa the Web Information Company. Home | Quantcast.
---