Marketing Metrics Articles
20 Stats That Explain Why Marketers Still Struggle to Measure Social Media ROI [Data] When it comes to social media, many marketers are still figuring things out as they go.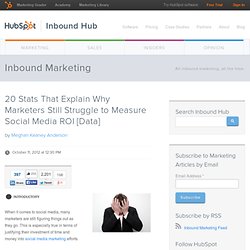 This is especially true in terms of justifying their investment of time and money into social media marketing efforts. But LinkedIn launched 9 years ago. We've had 8 years to get to know Facebook, and 6 to wrap our heads around Twitter. So why are so many of us still struggling to report on the value of social media ? Quantifying the ROI of Social Media Product Promotion. Kevin Tate | October 16, 2012 | 1 Comment inShare19 How can you prove the success across your product engagement strategy?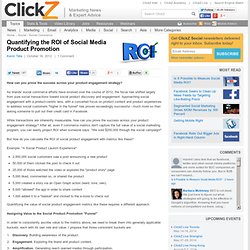 As brands' social commerce efforts have evolved over the course of 2012, the focus has shifted largely from pure social transactions toward social product discovery and engagement. Approaching social engagement with a product-centric lens, with a concerted focus on product content and product experiences to address social customers "higher in the funnel" has proven exceedingly successful - much more so than asking someone to pull out their credit card in Facebook.
Social Media ROI: How To Define a Strategic Plan. As marketers are tasked with the challenge of doing less with more, there's an increasing demand to quantify the value of social media.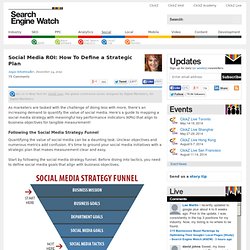 Here's a guide to mapping a social media strategy with meaningful key performance indicators (KPIs) that align to business objectives for tangible measurement! Following the Social Media Strategy Funnel Quantifying the value of social media can be a daunting task. Unclear objectives and numerous metrics add confusion. 4 Critical Metrics You Won't Find in Google Analytics. Why You're Struggling to Measure the Value of Social Media. In a recent report, Adobe examined the oft-discussed issue of how exactly to quantify the value of social media.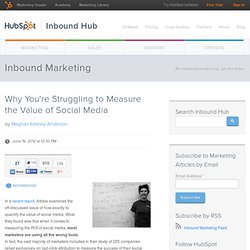 What they found was that when it comes to measuring the ROI of social media, most marketers are using all the wrong tools. In fact, the vast majority of marketers included in their study of 225 companies relied exclusively on last-click attribution to measure the success of their social efforts. Social Marketing vs. Marketing Automation. By Chuck Schaeffer There an interesting two-fold growth occurrence occurring in the marketing software sector—with marketing automation systems and social marketing automation showing increased traction (along separate but converging tracks)—and both representing the highest growth technologies within the CRM software industry.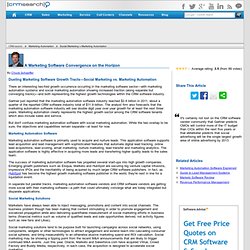 Gartner just reported that the marketing automation software industry reached $2.8 billion in 2011, about a quarter of the reported CRM software industry total of $11.9 billion. The analyst firm also forecasts that the marketing automation software industry will see double digit year over year growth for at least the next three years. 9 Ways to Measure Your Brand's Social Media Health.
Jacqueline Zenn is the Director of Social Media Strategy at SociaLogic, a social media marketing firm.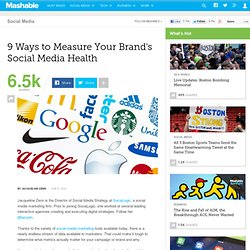 Prior to joining SociaLogic, she worked at several leading interactive agencies creating and executing digital strategies. Follow her @jazspin. Thanks to the variety of social media marketing tools available today, there is a nearly endless stream of data available to marketers. That could make it tough to determine what metrics actually matter for your campaign or brand and why. Here are nine key performance indicators and explanations for why they might matter to your brand. A Simple Guide to Measuring Facebook Ad ROI. It's a topic that is running rampant around the web.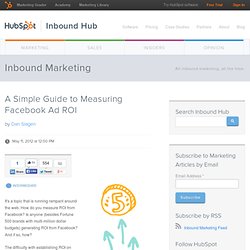 How do you measure ROI from Facebook? Is anyone (besides Fortune 500 brands with multi-million dollar budgets) generating ROI from Facebook? And if so, how? The difficulty with establishing ROI on Facebook has typically been tracking, but luckily, Facebook recently made a bunch of updates to help marketers tackle this problem. And while Facebook is heading in the right direction, SMB marketers (and all marketers) need more, and they need it now. 4 Unique Approaches for Measuring Social Media ROI. Krista Neher | February 15, 2012 | 2 Comments inShare103 A look at the creative ways to measure (or at least validate) your social media efforts.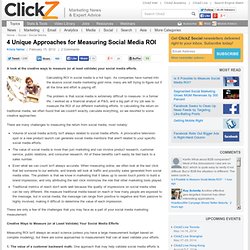 Calculating ROI in social media is a hot topic. As companies have rushed into the elusive social media marketing gold mine, many are left trying to figure out if all the time and effort is paying off. The 7 Slides You Need for an Epic Monthly Marketing Report. Here's a challenge for all you marketers who are on top of your game: How do you make sure your marketing team is taken seriously within your own company?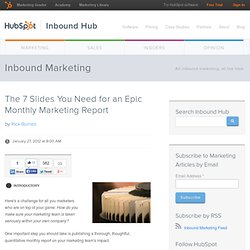 One important step you should take is publishing a thorough, thoughtful, quantitative monthly report on your marketing team's impact. For as long as there's been marketing, marketers have struggled to show their impact. But today, there's no need to struggle. Today, it's simple to collect the data you need to show how your marketing investments are generating revenue for your business. Marketing Research: Only 25% of marketers can show value to the organization. Recently, I had the opportunity to speak with Julie Schwartz, Senior Vice President of Research and Thought Leadership at ITSMA (Information Technology Services Marketing Association), and Laura Patterson, President of VisionEdge Marketing .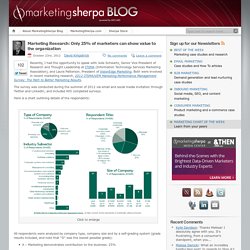 Both were involved in recent marketing research, . The survey was conducted during the summer of 2012 via email and social media invitation through Twitter and LinkedIn, and included 405 completed surveys. Here is a chart outlining details of the respondents:
Business Metric Resources. Metrics & ROI - A Three-Step Approach for Linking Content and Behavior: Measuring Relevancy. Various studies over the years have examined the relationship between content relevancy and behavior. Almost everyone would agree that content must be relevant. But what is relevance? According to Wikipedia: "Relevance describes how pertinent, connected, or applicable something is to a given matter. " Analytics Resources.
---