Inbound Marketing
Learning from Affilorama's Inbound Marketing Success. I've worked with Affilorama for over a year and half as an in-house SEO (since early 2010 to mid 2011), and became an external marketing consultant for them for almost a year now.
Those experiences alone have taught me ton of things that I'm sure I will not be able to learn if I've chosen to work for other companies. Even the story of my career – as an online publisher, online marketing professional and entrepreneur – has revolved around the fact that I've been once a part of a really strong team. A Super Simple Explanation of Inbound Marketing [INFOGRAPHIC] As extreme inbound marketing advocates, we love when we see businesses drink the inbound marketing Kool-Aid, eat the inbound marketing dog food, sip the inbound marketing champagne, or just, you know -- adopt the inbound marketing methodology.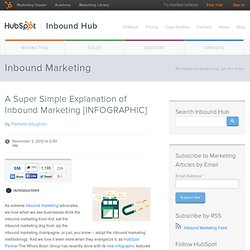 And we love it even more when they evangelize it, as HubSpot Partner The Whole Brain Group has recently done with its new infographic featured below. So if you're just catching on to the concept of inbound marketing and are looking for a super simple explanation of how it compares to a more traditional marketing strategy -- and how a really effective inbound marketing strategy works -- take a few minutes to check out The Whole Brain Group's rundown.
7 Inspiring Examples of Real-Time Marketing in Action. Real-time marketing means reacting in real, or near-real time.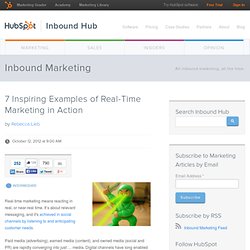 It's about relevant messaging, and it's achieved in social channels by listening to and anticipating customer needs. Paid media (advertising), earned media (content), and owned media (social and PR) are rapidly converging into just … media. 12 Critical Marketing and Sales Metrics You BETTER Be Tracking. Sales and marketing alignment takes work.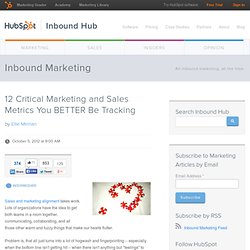 Lots of organizations have the idea to get both teams in a room together, communicating, collaborating, and all those other warm and fuzzy things that make our hearts flutter. Problem is, that all just turns into a lot of hogwash and fingerpointing -- especially when the bottom line isn't getting hit -- when there isn't anything but "feelings" to back up the discussion. That's why it's critical sales and marketing should track shared goals and metrics to keep each team accountable to the other. When your two teams get on the same page with these 12 metrics -- that address both quantity and quality -- you'll find it's easier to objectively evaluate your respective performances without devolving into unproductive blame games that don't do anything to advance your company's goals.
Here are the 12 metrics that will serve as the missing piece in your attempts at sales and marketing alignment! Sales - Marketing Automation Drives B2B Lead Gen Effectiveness. Among B2B organizations, the use of integrated marketing automation appears to boost the effectiveness of lead generation efforts across various metrics, such as the quantity of leads generated, the quality of leads passed to sales teams, and the proportion of leads accepted by sales, according to a report by Lenskold Group and The Pedowitz Group.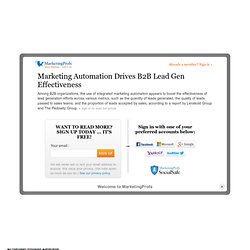 Roughly one-half (51%) of surveyed lead generation marketers use some type of integrated marketing automation platform (i.e., a system integrated with CRM and sales), the study found. Another 19% use a marketing automation system, but one not integrated with CRM or sales. 12 Automated Email Workflows You'll Kick Yourself For Not Using. Are your contacts "going with the flow," or are they just sitting dormant in your marketing database?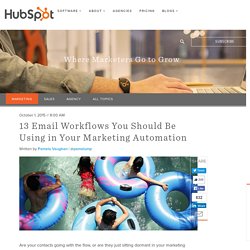 Well, if you don't have any email workflows set up, then your answer is probably the latter -- which also means you're missing out on some big opportunities to leverage, engage, and nurture all the people in your marketing database. In fact, according to a report released by Lenskold Group and The Pedowitz Group, 60% of survey respondents who use marketing automation say it has increased the quality of the leads that get passed to sales. But wait ... there's more. Lead nurturing emails aren't the only types of email workflows you can set up to get more out of your marketing database. What about the contacts who are already customers? Advancing from SEO to CRO: Using AB Testing to Maximize Conversions.
This entry is a guest post by Nick Eubanks, the VP of Digital Strategy at W.L.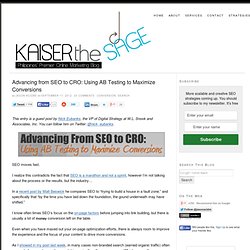 Snook and Associates, Inc. You can follow him on Twitter: @nick_eubanks. SEO moves fast. The Must-Have Components of a Modern Sales & Marketing Machine [INFOGRAPHIC] How powerful is your sales and marketing machine?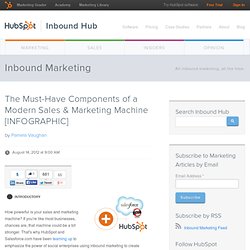 If you're like most businesses, chances are, that machine could be a bit stronger. That's why HubSpot and Salesforce.com have been teaming up to emphasize the power of social enterprises using inbound marketing to create powerful sales and marketing machines. 10 Stops to Take on the Road to Lead-Generating Landing Pages [INFOGRAPHIC] If you've ever wondered how to build a landing page that converts, or even why you should be using them, you're in the right place.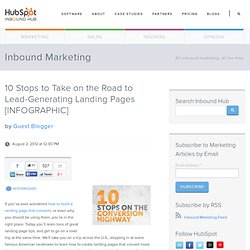 Today you'll learn tons of great landing page tips, and get to go on a road trip at the same time. We'll take you on a trip across the U.S., stopping in at some famous American landmarks to learn how to create landing pages that convert more visitors into leads and customers, admittedly pushing the limits of metaphor further than it probably should be ;-) And be sure to check out the recap below the infographic for some bonus tips, too! (Click infographic to enlarge.) So what now? How to Analyze the Strength of Your Marketing Offers. As an inbound marketer, you spend countless hours creating remarkable content to help generate leads for your business.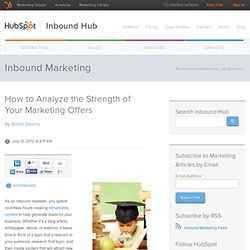 Whether it's a blog article, whitepaper, ebook, or webinar, it takes time to think of a topic that's relevant to your audience, research that topic, and then create content that will attract new leads and customers. When you put this much time and effort into your content, it's crucial that you also take time to analyze the ROI of your content creation. After Google Penguin, Travel Sites Need to Get Serious About Inbound Marketing. Google's Penguin algorithm update has impacted several travel affiliate websites. What did all those travel sites have in common? A search engine optimization (SEO) strategy that depended heavily on a non-diverse link profile with a majority of their links coming from low quality sites with over-optimized anchor text.
As a result, many businesses were decimated by Penguin, just like Panda before it. These sites won't recover the organic traffic and rankings they once had unless they do some cleaning up and reinvent their online marketing strategy. 8 Ways to Integrate Social Media Into Your Lead Nurturing Campaigns. We often fall into the trap of assuming that lead nurturing is a completely email-driven strategy . But technically, lead nurturing is defined as consistent and targeted communication to move your leads further down the funnel.
So while email has proven to be a very effective tool for this, it is not the only bridge between your company and its leads. The 5-Step Guide to Executing an Outstanding Inbound Marketing Campaign. We marketers are known for launching and running various campaigns. But like lots of other terms in our industry -- 'engagement,' 'brand equity,' 'virality' -- what an inbound marketing campaign actually is sometimes seems like sort of a mystery. It's not that it's a difficult concept -- an inbound marketing campaign is simply a concentrated effort to attract leads and customers who are interested in a particular topic, or have a specific need. Sales - Why Lead Scores Should Have Expiration Dates. It became immediately apparent to Howard J. Sewell that something was terribly wrong with his client's lead scoring system.
"The most glaring symptom was the absurdly high scores: hundreds of contacts had lead scores of more than 1,000, even though the supposed threshold for a sales-ready lead was a mere 100 points," he notes at The Point. Score inflation is a common problem—and one Sewell attributes to a point-adding loophole in automated technology.
Most of us assign scores by: Is Your Sales & Marketing Team Ready for a CRM? As a marketer, you're likely familiar with a CRM system; if not, no worries, you're about to learn all about it! The frustrating thing about many CRMs is that they come with a range of functionality -- from basic to robust -- and all too often, businesses find themselves equipped with more than they need (or frankly, can handle). In an attempt to equip businesses with the right CRM system for their needs , this post will explain -- without the gobbledygook -- what the heck a CRM is, why they are incredibly valuable in the right hands, and whether you actually need one at this stage in the game.
Understanding How Your Marketing Analytics Gives Credit for Conversions. How to Design a Persona-Centric Website Experience. How to Combine Personas With Automation and Get Closer to Customers. 20 Fresh Stats About the State of Inbound Marketing in 2012. The Inbound Way to Do Trade Show Marketing. How Inbound Marketing Works, From Start to Finish [INFOGRAPHIC] 6 Google+ Tips for Businesses.
---