E-Commerce
Web Sites - Three Steps for Stopping Checkout Abandonment. You've gotten your customer on your site, and even to the checkout page, but (as you well know) your efforts don't end at the "Add To Basket" button.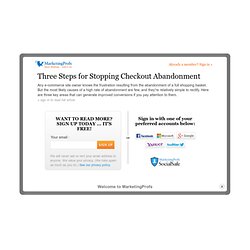 If you want to encourage your website visitors to complete their purchases, you need to double-check your checkout process. Any e-commerce site owner knows the frustration resulting from the abandonment of a full shopping basket; all online shops suffer from a certain amount of checkout abandonment. But the most likely causes of a high rate of abandonment are few, and they're relatively simple to rectify. Here are three key areas that can generate improved conversions if you pay attention to them.
Delivering the Best Online Shopping Experience - Jason Sylva - HBR Events. By Jason Sylva | 1:02 PM November 2, 2012 Consumer commerce has changed radically over the past half-century.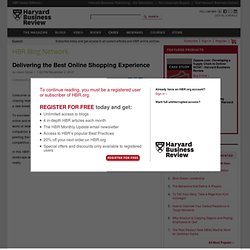 Today, abundant supply is chasing relatively scarce demand, and new technologies have empowered individuals, giving rise to a new breed of consumer. "Consumer 3.0″ is firmly in control of the shopping landscape. To succeed in this environment, all companies in every industry need to be engaging customers online and meeting their expectations—though the expectations bar has never been set higher. The world of retailing is no longer built around products, but around consumers. Less Than 1% of Online Purchases Influenced by Social Media [STUDY] Ecommerce businesses should concentrate more of their efforts on traditional online marketing tactics like search and e-mail than social media.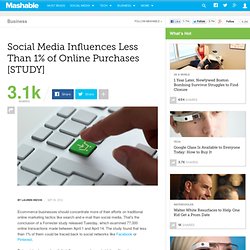 That's the conclusion of a Forrester study released Tuesday, which examined 77,000 online transactions made between April 1 and April 14. The study found that less than 1% of them could be traced back to social networks like Facebook or Pinterest. Determining how web activity influences purchases is tricky; although many often credit the last touchpoint for a sale, Forrester found that half of repeat customers and a third of new customers touch multiple touchpoints prior to a purchase. As such, certain funnels, like display advertising and e-mail, may be undervalued. Nevertheless, ecommerce websites still convert more highly than any other channel, accounting for 30% of transactions. Taobao SEO: A Guide to One of the World's Largest Consumer Marketplaces.
One question I get almost every week is, "why am I struggling so much with selling directly to consumers in China?"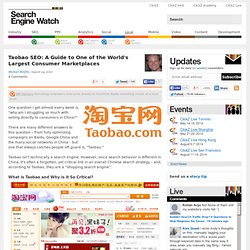 There are many different answers to this question – from fully optimizing campaigns on Baidu, Google China and the many social networks in China – but one that always catches people off guard is, "Taobao." Taobao isn't technically a search engine. However, since search behavior is different in China, it's often a forgotten, yet critical link in an overall Chinese search strategy – and, according to Taobao, they are a "shopping search engine".
China vs. the West: Who's the Biggest Fish in E-Commerce? Aubrey Beck | June 27, 2012 | 0 Comments inShare62 As the numbers continue to mount, and China continues growing its slice of the pie, retailers will have to start the process of figuring out how to succeed in China.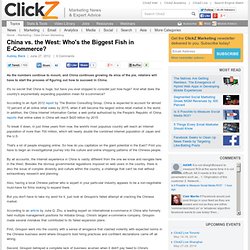 It's no secret that China is huge, but have you ever stopped to consider just how huge? And what does the country's exponentially expanding population mean for e-commerce? According to an April 2012 report by The Boston Consulting Group, China is expected to account for almost 10 percent of all online retail sales by 2015, when it will become the largest online retail market in the world.
International SEO Strategy: Get Trusted Quickly. Google rolled out its Trusted Stores program earlier this month, acknowledging the importance of trust to improving online shopping experiences.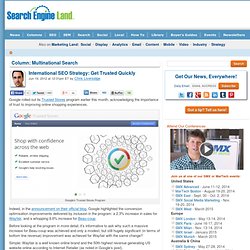 Google's Trusted Stores Program Indeed, in the announcement on their official blog, Google highlighted the conversion optimisation improvements delivered by inclusion in the program: a 2.3% increase in sales for Wayfair, and a whopping 8.6% increase for Beau-coup. Before looking at the program in more detail, it's informative to ask why such a massive increase for Beau-coup was achieved and only a modest, but still hugely significant (in terms of bottom line revenue) improvement was achieved for Wayfair with the same change? Ecommerce in China: How the World's Biggest Market Buys Online. China is poised to become the biggest online marketplace in the world within the next few years, according to multiple estimates.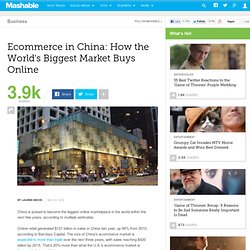 Online retail generated $121 billion in sales in China last year, up 66% from 2010, according to Barclays Capital. The size of China's ecommerce market is expected to more than triple over the next three years, with sales reaching $420 billion by 2015. Social Media Influences Moms' Purchasing Decisions. Mothers are more present, more active, and more engaged users of social networking sites than other women, according to a study by Performics.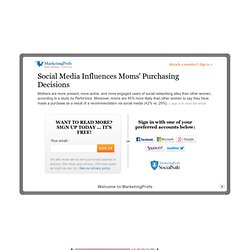 Moreover, moms are 45% more likely than other women to say they have made a purchase as a result of a recommendation via a social networking site (42% vs. 29%). Overall, moms are more active than other women with Facebook: 8 Ways to Boost Ecommerce Shopping Cart Conversions. 13 E-Commerce Trends for 2013. By Mark Simpson, Founder and President, Maxymiser 2013 is here and it's slated to be the biggest e-commerce year in history.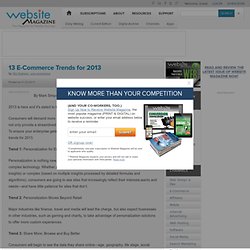 Consumers will demand more from the digital properties they visit and businesses will race to not only provide a streamlined user experience, but also one that is personalized and intuitive. To ensure your enterprise gets its piece of the digital pie, prepare it for these 13 e-commerce trends for 2013. Trend 1: Personalization for Everyone Personalization is nothing new, but its widespread popularity is thanks to easily available complex technology.
---