Customer Service & Retention
10 Things your customers wish you knew about them [INFOGRAPHIC] By Gregory Ciotti on Sep 13, 2012 How well do you know your customers?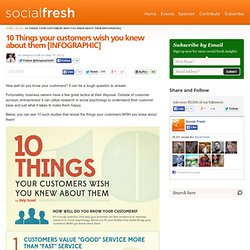 It can be a tough question to answer. Fortunately, business owners have a few great tactics at their disposal. Outside of customer surveys, entrepreneur's can utilize research in social psychology to understand their customer base and just what it takes to make them happy. Below, you can see 10 such studies that reveal the things your customers WISH you knew about them! Using Digital Coupons to Increase Engagement and Loyalty. Share Because of the recession, the average consumer has become increasingly pocket conscious.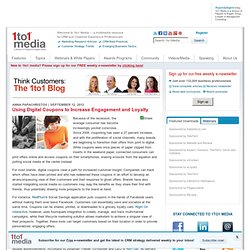 Since 2008, couponing has seen a 27 percent increase, and with the proliferation of social channels, many brands are beginning to transition their offers from print to digital. While coupons were once pieces of paper clipped from inserts in the weekend paper, connected consumers can print offers online and access coupons on their smartphones, erasing scissors from the equation and putting social media at the center instead. For most brands, digital coupons clear a path for increased customer insight. Companies can track which offers have been printed and who has redeemed these coupons in an effort to develop an all-encompassing view of their customers and their response to given offers. The Holy War Over Net Promoter: Is It The Ultimate Way To Measure Customer Experience? Share Have you ever been caught in this cross-fire?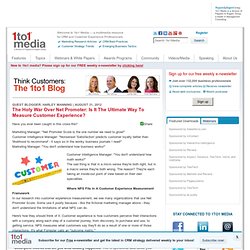 Marketing Manager: "Net Promoter Score is the one number we need to grow! " Gaining Business Leader Buy-in: 7 CEO personas. You may have an incredible plan to improve your company's marketing performance, but unless you can do a little selling, you're never going to be able to start marketing.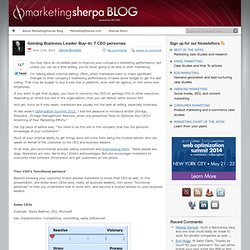 I'm talking about internal selling. Often, when marketers want to make significant changes to their company's marketing performance, it takes some budget to get the ball rolling. That may be budget to buy a new tool or platform, work with an agency, or hire some new employees. Loyalty Marketing Best Practices. Loyalty programs are often part and parcel of a comprehensive customer relationship strategy.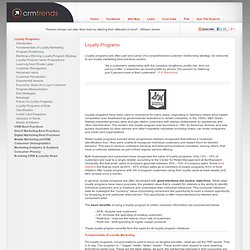 So welcome to our loyalty marketing best practices section. "As a customer's relationship with the company lengthens, profits rise. And not just by a little.
Customer Service
Customer Retention. 7 Reasons Marketing & Customer Service Need to Work Together. If you've read our articles on the benefits of sales and marketing alignment , you likely understand the importance of a marketing strategy that leverages cross-departmental collaboration and integration.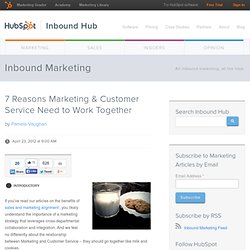 And we feel no differently about the relationship between Marketing and Customer Service -- they should go together like milk and cookies. The need for a symbiotic marketing/customer service relationship is only more important now, with consumers increasingly turning to social media as a way to communicate with businesses. In fact, according to a recent study from Booz & Company , 75% of marketers using social media identify customer service as a primary use of their social media platform . But while the majority of marketers admit that customer service is a major function of their social presence, according to the same Booz & Company survey, only 26% of respondents describe customer service as a department responsible for contributing leadership to social media strategies. The Ultimate Digital Customer Service Guide. In our recent Customer Experience Series, Mashable dove deep into the mysterious alchemy of customer service.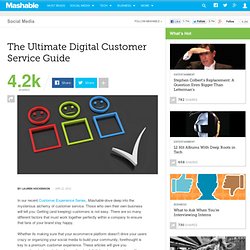 Those who own their own business will tell you: Getting (and keeping) customers is not easy. There are so many different factors that must work together perfectly within a company to ensure that fans of your brand stay happy. Whether its making sure that your ecommerce platform doesn't drive your users crazy or organizing your social media to build your community, forethought is key to a premium customer experience. These articles will give you comprehensive knowledge of many facets of digital customer service, with expert advice from community managers, CEOs and web designers. Here's a roundup of all of our articles, brought together into this handy guide. 8 Ways to Offer Better Customer Service on Facebook. Customers know that the squeaky wheel gets the grease, and web-savvy customers know that Facebook is the ultimate squeak amplifier.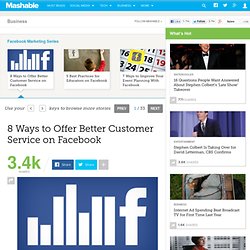 According to Forrester Research, 27% of U.S. online consumers sought customer service support on the web in 2011, and currently three out of four expect a reply to a negative comment posted on Facebook. Unfortunately, many brands still don't incorporate customer service into their social strategy, despite the fact that Facebook is one of the best venues in which to turn your customers' negative comments into brand opportunities. Here are eight tips to help you improve your Facebook customer support initiative and, in turn, raise your brand's reputation, decrease your inbound service requests, acquire new customers and turn infrequent customers into brand loyalists. What are your tips? Let us know in the comments below. Social Customer Service: Best Practices. Nick Cifuentes | April 16, 2012 | 1 Comment inShare64 The next time you ignore a tweet or Facebook comment you might regret it.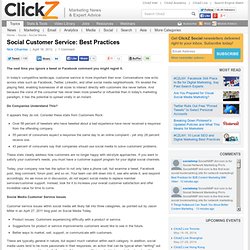 In today's competitive landscape, customer service is more important then ever. 4 Ways to Use Twitter for Customer Service and Support. Do you have customers?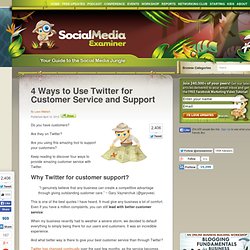 Are they on Twitter? Are you using this amazing tool to support your customers? Keep reading to discover four ways to provide amazing customer service with Twitter. Why Twitter for customer support? Social Customer Service Allows Startup to Outpace the Competition. Patton Gleason is the first to admit he can't sell. And just over a year after going live with his online start-up, the Natural Running Store , he hasn't had to try. "I'm a terrible sales guy. I'm awful at it," Gleason says. "But I really do like this idea of 'can a relationship really be your big marketing vehicle?'"
Turns out, it can. Customer service is the new marketing. Image by tmcnem on BigStockPhoto In most brand organizations, marketing investments rest on 20th century marketing principles whose results are diminishing every year. At the same time, an increasing portion of products and services are commoditizing, which puts more pressure on marketing to "create" differentiation and value.
---