Content Marketing
Services.google.com/fh/files/misc/multiscreenworld_final.pdf. How to get Higher Demand Generation Returns from B2B Content Marketing. Can Content Marketing Software Platforms Drive Increased Success? 5 Reasons to Invest in Content for PPC and SEO. Kevin Lee | June 8, 2012 | 3 Comments inShare122 Great content doesn't only empower SEO and social media, it can also empower your paid search campaign.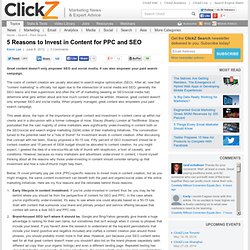 The costs of content creation are usually allocated to search engine optimization (SEO). The Inbound Marketer's Complete Guide to Newsjacking. Breaking news, you guys!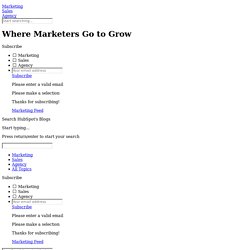 Something really important happened in your industry. Or in an industry tangentially related to yours. Or ... somewhere in the world ... completely unrelated to your industry. If you found an opportunity to write a blog post , launch a social media campaign, get press coverage, or generate some sort of sales or lead gen offer in all of those scenarios, then you're a newsjacker -- and that's a great thing to be as an inbound marketer! Seven Principles of Content Marketing. Now that we've all agreed that "Content is King (Again)," and Content Marketing is all the rage, maybe it is time to think about some easy-to-follow tenets.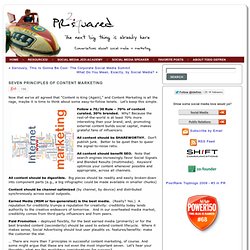 Let's keep this simple. Follow a 70/30 Rule – 70% of content curated, 30% branded. Why? Because the rest-of-the-world is at least 70% more interesting than your brand; and, promoting external content builds social capital, makes grateful fans of influencers. Three Ways to Augment the Effectiveness of Your B2B Content Marketing. In an age when prospects and clients want product and service information right here right now, B2B marketers have increasingly embraced content marketing to deliver it.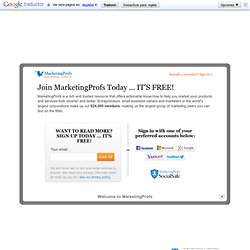 According to MarketingProfs' latest study, B2B Content Marketing: 2012 Benchmarks, Budgets, and Trends, nine out of 10 B2B marketers are using content marketing to help grow their businesses. Why, then, are some seeing terrific results while others are, well, lagging behind? 8 Powerful Tips for Marketing Your Business With Ebooks. Scott Gerber is the founder of the Young Entrepreneur Council, a nonprofit organization that promotes youth entrepreneurship as a solution to unemployment and underemployment.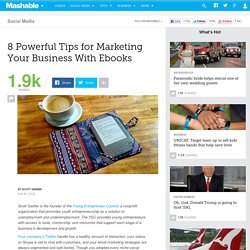 The YEC provides young entrepreneurs with access to tools, mentorship, and resources that support each stage of a business's development and growth. Your company's Twitter handle has a healthy amount of interaction, your status on Skype is set to chat with customers, and your email marketing strategies are always segmented and split-tested. Though you adopted every niche social media platform early and your website's editorial calendar is full, you still may be missing out on a huge opportunity to expand your audience and rake in revenue.
Email Marketing. Blogging. Get More from Wikipedia: 10 Tips and Tricks. The English version of Wikipedia currently boasts over 3,854,000 articles over more than 25 million pages.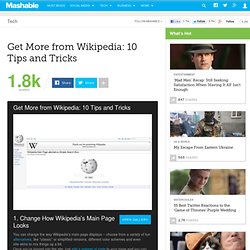 That's an awful lot of content to navigate when you're trying to find something specific. Maybe you visit Wikipedia several times per week, but how much do you know about the world's leading online encyclopedia? We spent some time exploring the site in order to offer you 10 useful tips and tricks to help you get the most out of the site. Learn how to change the way the main page looks, how to use special characters in searches, how to view page stats, etc.
Take a look through our gallery of useful tips and tricks.
---