Health
Sex
Homemade Soaps. Studies. Habits. Rocks. Clothing. Health Companies. Sleep. The "Sleep Mistake" Which Boosts Your Risk of Cancer. Healthrageous. Visualization. Earthing. Changing Our Clocks: New Research Explores How Our Bodies Keep Time. Our alarm clocks may spring forward on March 9, but our biological clocks may take longer to adjust.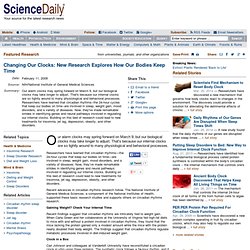 That's because our internal clocks are so tightly wound to many physiological and behavioral processes. Researchers have learned that circadian rhythms—the 24-hour cycles that keep our bodies on time—are involved in sleep, weight gain, mood disorders, and a variety of diseases. Oakworks Premium Stool with Saddle Seat. Durable and comfortable, supports 300lbs., and offers simple pneumatic height adjustments.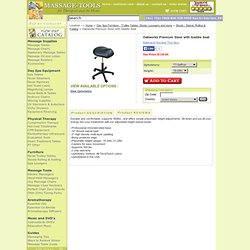 Sit down and put all your energy into your treatments with our adjustable height swivel stools. -Professional chromed steel base -14" Round swivel seat -3" High density multi-layer padding -Bump protector edge -Pneumatic height ranges: 18-24in, 21-28in -Casters for easy movement -Supports 300 lbs. -2 year warranty -Upholstery Options: All TerraTouch colors -Upholstered in the USA.
Health Apps. Nutrition. Population Data. Movement. Healing. Self-tracking.
---