Blogs
Sanduich.cl - Nuestro pan de cada día
Miscellany We do grouse about the weather, it's true. But it's miraculous, if you think about it, that we still manage to get excited about spring at all, given that it happens every year. Television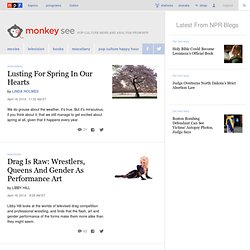 Monkey See
Bridging the Nerd Gap — A Big Group Hug of Technology, Efficiency, and Business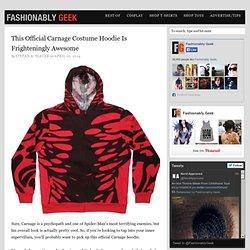 Fashionably Geek — Clothing and accessories for the well-dressed geek
Sure, Carnage is a psychopath and one of Spider-Man's most terrifying enemies, but his overall look is actually pretty cool. So, if you're looking to tap into your inner supervillain, you'll probably want to pick up this official Carnage hoodie. It's made from cotton and polyester, and it also features a mesh mask that can help you achieve that genuine (and definitely scary) Carnage vibe. Check out some more sweatshirt pics after the break… [click to continue…] When handing out buttons fails, then it's time to break out the Spidey suit.
The Best of "Dark Roasted Blend" in 2012 "Dark Roasted Blend" - All Kinds of Weird and Wonderful Things, Discovered Daily!" DRB is a top-ranked and respected source for the best in art, travel and fascinating technology, with a highly visual presentation. Our in-depth articles in many categories make DRB a highly visual online magazine, bringing you quality entertainment every time you open your "feed" reader or visit our site - About DRB
The Best of "Dark Roasted Blend" in 2012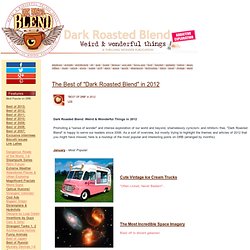 NBC News 4 reporter Scott MacFarlane, researching a story about the Washington Navy Yard shootings of September 2013, sent some FOIA (Freedom of Information Act) requests to the Navy. The danger of "Reply All." He asked for memos sent by some officials, and for any emails they sent between 8:00 and 9:30 am on the day of the shooting. He also asked for photos of Building 197, where the shootings took place.
SorryWatch | Analyzing apologies in the news, media, history and literature, and pondering why they are so often horrid.
Geek Art – Art, Design & Lightsabers
Ou Leili is a contributor at Ministry of Tofu. You can learn more about her on our About page. "I am festering away, paralyzed and over 100,000 yuan (US $16,303.60) in debt.
China news and articles. Social justice, people's life and mentality. | Ministry of Tofu 豆腐部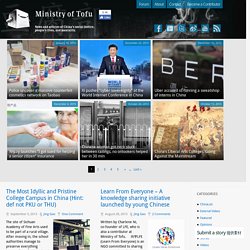 The Good Men Project —
The Art of Manliness | Men's Interests and Lifestyle
Ditch the Pavement: Trail Running 101 by A Manly Guest Contributor Editor's Note: This is a guest post from Doug Hay. Running is the most primal of sports.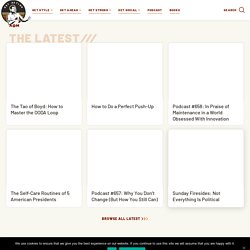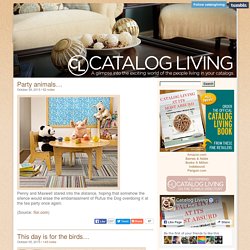 Catalog Living
Hello Catalog Living fans! Just wanted to let you all know that we are on hiatus for a bit; Molly welcomed a baby girl into the world two weeks ago and is taking some time away from the world of starfish, fruit bowls, and gourds. Speaking of which, this break is a perfect opportunity for all of us to make sure our seasonal gourd display is up to date now that fall is here. We will see you soon!
Screen Rant: Movie News, Movie Reviews, Movie Trailers, TV News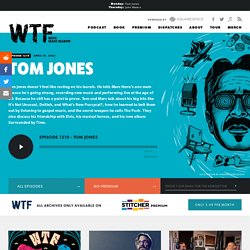 WTF with Marc Maron Podcast
Shalom, People- I made it out of my nephew's Bar Mitzvah physically alive but emotionally annihilated. Good times. Nothing like seeing the family to re-introduce you to all the things you've been running from in yourself.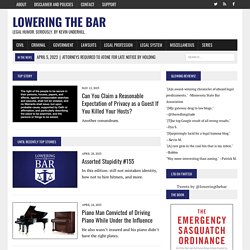 KABC in Los Angeles reported on April 5 that our heroes in the TSA had successfully prevented another innocent disabled person from flying. This time it was a stroke victim in a wheelchair who couldn't answer questions about her expired driver's license because—also due to the stroke—she is mute. Sherry Wright said she was with her sister Heidi and tried to explain for her, having brought along her sister's Social Security card and papers from the DMV (and possibly also a state ID card). She said that not only did the agent reject her explanation, he or she rudely insisted on hearing it from Heidi herself. When she was unable to respond, being mute, they were turned away, and Heidi had to make an eight-hour bus trip instead. I once stupidly forgot my driver's license when on my way home for the holidays, and didn't realize this until I needed it at the airport.
Lowering the Bar
Bits and Pieces
Nerdist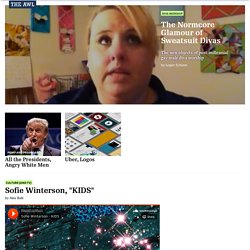 On one side of The Divide—the gap in the justice system between the rich and the poor that provides the title for Matt Taibbi's brilliant and enraging new book—financiers and other wealthy people commit egregious crimes, including laundering drug money, and rarely face jail time. Prosecutors worry about "collateral consequences" before filing charges. On the other side is Andrew Brown, who lives in a neighborhood obsessively monitored by police and is arrested for standing outside his own building talking to a friend.
The Awl - Be Less Stupid
The Boston Globe has published an interesting photo that uses the Leaflet mapping platform to provide an interactive graphic of survivors of the bombing of the Boston Marathon. One year after the tragic bomb explosion at the Boston Marathon, The Boston Globe invited survivors, police, firefighters, EMTs, doctors, nurses and runners back to the finish line on Boylston Street to pose for a group photo. The resulting One Year, One City photo is a powerful testimony to the resilience of the people of Boston. By using the Leaflet mapping platform the Boston Globe has created an interactive photo which you can pan around and in which you can zoom in on individuals in the picture.
Google Maps Mania
Understanding innovation APR 18 Horace Dediu explains what innovation is and how it differs from novelty, invention, and creation. Novelty: Something new Creation: Something new and valuable Invention: Something new, having potential value through utility Innovation: Something new and uniquely useful Big Bang gravitational waves possibly in doubt APR 18 Ruh-roh. Remember the news last month about the detection of gravitational waves would have allowed scientists to see all the way back to the Big Bang?
kottke.org - home of fine hypertext products
Download The Universe
Speaking To My Madness: How I Searched For Myself In Schizophrenia. By Roberta Payne. Kindle and print-on-demand. Reviewed by Thomas Levenson Roberta Payne, a polylingual scholar and translator has just published her first book of prose, Speaking To My Madness.
Open Culture
"Our independence from Spanish domination did not put us beyond the reach of madness," said Gabriel García Márquez in his 1982 Nobel Prize acceptance speech. García Márquez, who died yesterday at the age of 87, refers of course to all of Spain's former colonies in Latin America and the Caribbean, from his own Colombia to Cuba, the island nation whose artistic struggle to come to terms with its history contributed so much to that art form generally known as "magical realism," a syncretism of European modernism and indigenous art and folklore, Catholicism and the remnants of Amerindian and African religions.
Pop Culture Brain | Movies TV Music Web Theater
Metropolis TV
La Cárcel de Papel
Imaginary Foundation
Geekologie - Gadgets, Gizmos, and Awesome
Life Scoop — Tips for a Connected Lifestyle
Everything Is Terrible!
PijamaSurf - Noticias alternativas: neurociencia, futurismo, noticias raras, teorías de conspiración, 2012, astronomía...
Dangerous Minds
Flavorwire
Hero Complex – movies, comics, fanboy fare – latimes.com
The Escapist
Cultura Impopular
La Redó! --- Manchando la Pelota
orgtheory.net
Waxy.org: Andy Baio lives here
This Blog Rules | Why go elsewhere?
Twitch
Badass Digest
Major Spoilers Comic Book Reviews and News
Los Eternautas | Para los amantes del Comic
FormulaTV.com » Todo sobre televisión audiencias programación tv noticias series programas telecinco tve antena 3 cuatro la sexta
theSlingshot.com
Uberbin.net | Un simple weblog
Regretsy | Where DIY Meets WTF
Sánguches
Complex.com | Buy. Collect. Obsess.
3quarksdaily
The News Vault - Unmoderated. Uncensored. News.
theCHIVE
Paleofuture - Paleofuture Blog
One Thing Well
Splitsider - Inside Jokes.
The Second Pass
Popten
Urlesque - Internet Trends, Viral Videos, Memes and Web Culture
Today I Found Out
The Daily What
Seth's Blog
Rough Type: Nicholas Carr's Blog
Random Good Stuff - Entertainment Blog
Laughing Squid
juan freire
Geek Culture and The Joy of Tech: pretty much everything you've ever wanted.
Information Is Beautiful | Ideas, issues, knowledge, data - visualized!
deugarte.com
Clay Shirky
Brain Pickings
Ben Casnocha: A blog about entrepreneurship, ideas, current affairs, and intellectual life
The Daily Dish | By Andrew Sullivan