Blogs
Sanduich.cl - Nuestro pan de cada día
Monkey See
Bridging the Nerd Gap — A Big Group Hug of Technology, Efficiency, and Business
Fashionably Geek — Clothing and accessories for the well-dressed geek
The Best of "Dark Roasted Blend" in 2012 "Dark Roasted Blend" - All Kinds of Weird and Wonderful Things, Discovered Daily!" DRB is a top-ranked and respected source for the best in art, travel and fascinating technology, with a highly visual presentation. Our in-depth articles in many categories make DRB a highly visual online magazine, bringing you quality entertainment every time you open your "feed" reader or visit our site.
The Best of "Dark Roasted Blend" in 2012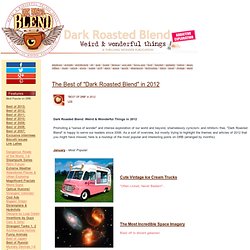 SorryWatch | Analyzing apologies in the news, media, history and literature, and pondering why they are so often horrid.
Geek Art – Art, Design & Lightsabers
China news and articles. Social justice, people's life and mentality. | Ministry of Tofu 豆腐部
The Good Men Project —
The Art of Manliness | Men's Interests and Lifestyle
Catalog Living
Screen Rant: Movie News, Movie Reviews, Movie Trailers, TV News
WTF with Marc Maron Podcast
Lowering the Bar
Bits and Pieces
Nerdist
The Awl - Be Less Stupid
Google Maps Mania
kottke.org - home of fine hypertext products
Download The Universe
Open Culture
Pop Culture Brain | Movies TV Music Web Theater
Metropolis TV
La Cárcel de Papel
Imaginary Foundation
Geekologie - Gadgets, Gizmos, and Awesome
Life Scoop — Tips for a Connected Lifestyle
Everything Is Terrible!
PijamaSurf - Noticias alternativas: neurociencia, futurismo, noticias raras, teorías de conspiración, 2012, astronomía...
Dangerous Minds
Flavorwire
Hero Complex – movies, comics, fanboy fare – latimes.com
The Escapist
Cultura Impopular
La Redó! --- Manchando la Pelota
orgtheory.net
Waxy.org: Andy Baio lives here
This Blog Rules | Why go elsewhere?
Twitch
Badass Digest
Major Spoilers Comic Book Reviews and News
Los Eternautas | Para los amantes del Comic
FormulaTV.com » Todo sobre televisión audiencias programación tv noticias series programas telecinco tve antena 3 cuatro la sexta
theSlingshot.com
Uberbin.net | Un simple weblog
Regretsy | Where DIY Meets WTF
Sánguches
Complex.com | Buy. Collect. Obsess.
3quarksdaily
The News Vault - Unmoderated. Uncensored. News.
theCHIVE
Paleofuture - Paleofuture Blog
One Thing Well
Splitsider - Inside Jokes.
The Second Pass
Popten
Urlesque - Internet Trends, Viral Videos, Memes and Web Culture
Today I Found Out
The Daily What
Seth's Blog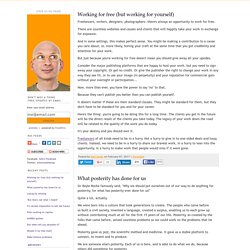 Organized non-profits provide reach, leverage and consistency that can't be matched by the millenia-old model of individuals helping those they encounter in the community. It's one of the extraordinary success stories of the industrial age that they've been able to have such a worldwide impact with relatively few resources. As our choices continue to increase (yes, there's now a long tail of philanthropy), it gets ever more important that we make conscious choices about what to support and how.
Rough Type: Nicholas Carr's Blog
Random Good Stuff - Entertainment Blog
Laughing Squid
juan freire
Geek Culture and The Joy of Tech: pretty much everything you've ever wanted.
Information Is Beautiful | Ideas, issues, knowledge, data - visualized!
deugarte.com
Fifteen years ago, a research group called The Fraunhofer Institute announced a new digital format for compressing movie files. This wasn't a terribly momentous invention, but it did have one interesting side effect: Fraunhofer also had to figure out how to compress the soundtrack. The result was the Motion Picture Experts Group Format 1, Audio Layer III , a format you know and love, though only by its acronym, MP3.
Clay Shirky
Brain Pickings
Ben Casnocha: A blog about entrepreneurship, ideas, current affairs, and intellectual life
Nassim Taleb is provocative. I've read all his books, and enjoyed his most recent book Antifragile: Things That Gain from Disorder. While the "antifragile" thesis didn't rock my world as a general framework — I agree with it and it's certainly novel, but I just didn't find it revolutionary or especially practical — the various side points and examples throughout made it very worthwhile reading overall.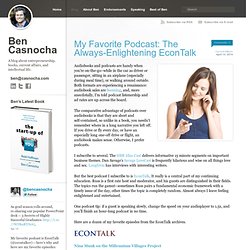 The Daily Dish | By Andrew Sullivan