Blogs
Sanduich.cl - Nuestro pan de cada día. Monkey See. Bridging the Nerd Gap — A Big Group Hug of Technology, Efficiency, and Business. Fashionably Geek — Clothing and accessories for the well-dressed geek. The Best of "Dark Roasted Blend" in 2012. The Best of "Dark Roasted Blend" in 2012 "Dark Roasted Blend" - All Kinds of Weird and Wonderful Things, Discovered Daily!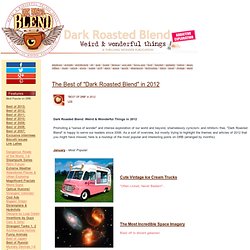 " DRB is a top-ranked and respected source for the best in art, travel and fascinating technology, with a highly visual presentation. Our in-depth articles in many categories make DRB a highly visual online magazine, bringing you quality entertainment every time you open your "feed" reader or visit our site - About DRB. SorryWatch | Analyzing apologies in the news, media, history and literature, and pondering why they are so often horrid. Geek Art – Art, Design & Lightsabers. China news and articles. Social justice, people's life and mentality. | Ministry of Tofu 豆腐部. The Good Men Project — The Art of Manliness | Men's Interests and Lifestyle. Catalog Living. Screen Rant: Movie News, Movie Reviews, Movie Trailers, TV News.
WTF with Marc Maron Podcast. Lowering the Bar. Bits and Pieces. Nerdist. The Awl - Be Less Stupid. Google Maps Mania. Kottke.org - home of fine hypertext products. Download The Universe. Open Culture. Pop Culture Brain | Movies TV Music Web Theater. Metropolis TV. La Cárcel de Papel. Imaginary Foundation. Geekologie - Gadgets, Gizmos, and Awesome. Life Scoop — Tips for a Connected Lifestyle. Everything Is Terrible! PijamaSurf - Noticias alternativas: neurociencia, futurismo, noticias raras, teorías de conspiración, 2012, astronomía...
Dangerous Minds. Flavorwire. Hero Complex – movies, comics, fanboy fare – latimes.com. The Escapist. Cultura Impopular. La Redó! --- Manchando la Pelota. Orgtheory.net. Waxy.org: Andy Baio lives here. This Blog Rules | Why go elsewhere? Twitch. Badass Digest. Major Spoilers Comic Book Reviews and News. Los Eternautas | Para los amantes del Comic. FormulaTV.com » Todo sobre televisión audiencias programación tv noticias series programas telecinco tve antena 3 cuatro la sexta. TheSlingshot.com. Uberbin.net | Un simple weblog. Regretsy | Where DIY Meets WTF. Sánguches. Complex.com | Buy. Collect. Obsess. 3quarksdaily. The News Vault - Unmoderated. Uncensored. News. TheCHIVE. Paleofuture - Paleofuture Blog. One Thing Well. Splitsider - Inside Jokes. The Second Pass. Popten. Urlesque - Internet Trends, Viral Videos, Memes and Web Culture.
Today I Found Out. The Daily What. Seth's Blog. The connection economy is based on generosity.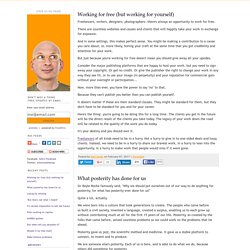 After all, why would someone want to connect to a selfish organization? But the critical need for generosity as an element of our new economy is easy to get lost because it leads to the question, "what is generosity?" Rough Type: Nicholas Carr's Blog. Random Good Stuff - Entertainment Blog. Laughing Squid. Juan freire. Geek Culture and The Joy of Tech: pretty much everything you've ever wanted.
Information Is Beautiful | Ideas, issues, knowledge, data - visualized! Deugarte.com. Clay Shirky. Fifteen years ago, a research group called The Fraunhofer Institute announced a new digital format for compressing movie files.
This wasn't a terribly momentous invention, but it did have one interesting side effect: Fraunhofer also had to figure out how to compress the soundtrack. The result was the Motion Picture Experts Group Format 1, Audio Layer III , a format you know and love, though only by its acronym, MP3. Brain Pickings. Ben Casnocha: A blog about entrepreneurship, ideas, current affairs, and intellectual life. Over the past year, Felix Salmon of Reuters wrote a masterful five-part series on the economics of content online.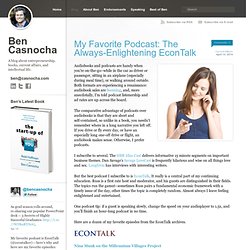 Worth reading for anyone interested in the topic. I link to each part below and excerpt my favorite paragraphs (all Salmon's words, but emphases are my own). Part 1: Advertising. The Daily Dish | By Andrew Sullivan.
---