Webkit Acceleration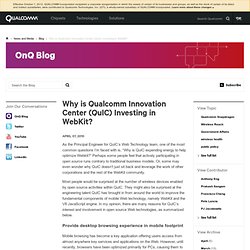 As the Principal Engineer for QuIC's Web Technology team, one of the most common questions I'm faced with is, "Why is QuIC expending energy to help optimize Webkit?" Perhaps some people feel that actively participating in runs contrary to traditional business models.
OnQ Blog - Why is Qualcomm Innovation Center (QuIC) Investing in WebKit?
Programmable Graphics Hardware Pipeline Programmable Vertex Processor
Tutorials
Web Inspector: Styles Enhanced
Recall that in the software path there was a single GraphicsContext for the entire page.
GPU Accelerated Compositing in Chrome - The Chromium Projects