Food
Culture & events from the whole naranja - Tijuego. Everything you wanted to know about matching food and wine…but were afraid to ask! » A unique approach to wine and winemaking. » CRAIGS WINE. Did you know that one of the most frequently asked questions I receive is …How do you match food and wine?.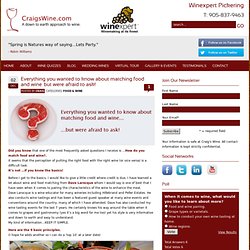 It seems that the perception of putting the right food with the right wine (or vice versa) is a difficult task.It's not …if you know the basics! Before I get to the basics, I would like to give a little credit where credit is due. I have learned a lot about wine and food matching from Dave Larocque whom I would say is one of best that I have seen when it comes to pairing the characteristics of the wine to enhance the meal.
Dave Larocque is a wine educator for many wineries including Hillebrand and Peller Estates. He also conducts wine tastings and has been a featured guest speaker at many wine events and conventions around the country, many of which I have attended. Seafood Insider | Sustainable Seafood Done Right. Cookmauritian.com. Blog.khymos.org » - dedicated to molecular gastronomy. - La cuisine de Mercotte :: Macarons, Verrines, … et chocolat. Food Blog Search. Serious Eats: A Food Blog and Community.
A Martian's search for food. Rasa Malaysia: Easy Asian Recipes. Wandering Chopsticks. 50 of the world's best food blogs - Times Online. Delights and Prejudices. Cooking Issues — The French Culinary Institute's Tech'N Stuff Bl. July 2010. Dear, sweet, gentle reader.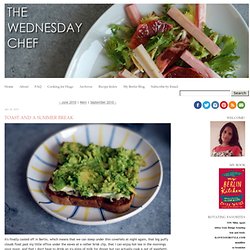 It is taking all of my mental and most of my physical capacity to endure life until tomorrow night when Germany plays Spain in the semi-finals of the World Cup. If you've been following along, and I sure hope you have (the drama! The intrigue! The exhilaration!) Steamy Kitchen - Recipes Steamy Kitchen: fast recipes, simple re.
La Tartine Gourmande. Žaidimų aikštelė. Eater National : The National Restaurant, Bar, and Nightlife Blog. Deliciously Organic. The Meat Grinder. There was a time when people would go to the butcher and get their meat ground to order.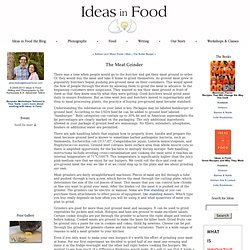 Or they would buy the meat and take it home to grind themselves. As ground meat grew in popularity butchers began pushing pre-ground meat on their customers. This would speed the flow of people through the store by allowing them to grind the meat in advance. The Local Dish - Discover the best in local food from around the.
Dessert First. I had an over-the-top, amazingly full weekend, the kind that starts on Thursday afternoon and doesn't end until you're catching your breath on a wickedly warm Sunday evening.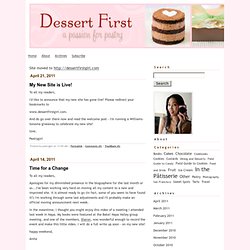 Too much to share, and some bits I'm saving for a future post, but I did want to talk about a big part of my Saturday: the Bake Sale for Japan. A series of bake sales around the Bay Area organized to raise money for Japan, this event brought together amateur and professional bakers in a happy mashup of cookies, pies, jams, and all other forms of baked goods. I stopped by one of the San Francisco bake sales, located at Bi-Rite, with my contributions (more on them below) and snapped a few pictures of the bounty on display:
---