Spanish
Tontitofrito's Channel. 02 Spanish Lesson - Preterite - Irregulars - ver & dar. 02 Spanish Lesson - Preterite - Irregulars - traer, traducir, conducir. 02 Spanish Lesson - Preterite - Irregulars - Song! Learn Spanish. Turning Pages -- Al's Mafalda Page. Español / English Mafalda is the best-known creation of the brilliant Argentine cartoonist Quino (Joaquín Salvador Lavado, b.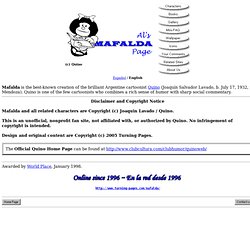 July 17, 1932, in Mendoza). Quino is one of the few cartoonists who combines a rich sense of humor with sharp social commentary. Disclaimer and Copyright Notice. El mundo de Mafalda. Colorín Colorado: A bilingual site for families and educators of English language learners.
Spanish Pronunciation Guide. Spanish/Web Resources. Spanish/Web Resources From Wikibooks, open books for an open world < Spanish The latest reviewed version was checked on 17 October 2012.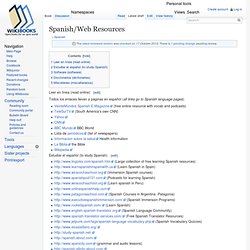 There is 1 pending change awaiting review. Jump to: navigation, search. Best Spanish Language Web Sites. Spanish Web Resources. Antologíia de poesía española Biografías y Vidas A searchable database containing thousands of biographies and personal histories.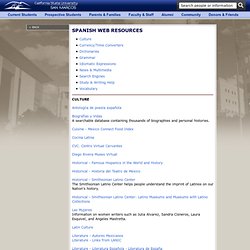 Cuisine - Mexico Connect Food Index Cocina Latina CVC. Complete Spanish Guide. Spanish web resources. On this page, we list a number of additional resources that may be of use to both teachers and students of Spanish.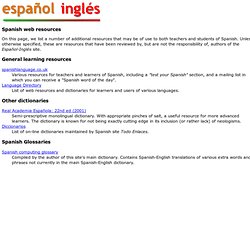 Unless otherwise specified, these are resources that have been reviewed by, but are not the responsibility of, authors of the Español-Inglés site. General learning resources. Bristol University - Hispanic, Portuguese & Latin American Studies - Spanish Web Resources. University home > Department of HiPLA Stud… >About the department >Resources > Spanish Web Resources Spanish Resources: Iberia and General General Information The CIA World Factbook: Spain provides fundamental information and statistics about Spain.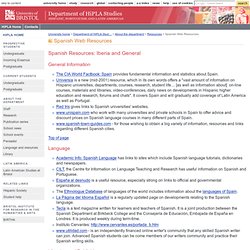 Universia is a new (mid-2001) resource, which in its own words offers a "vast amount of information on Hispanic universities, departments, courses, research, student life.... Best Spanish Websites. Spanish teacher hints, advice and tips - I know from my own personal experience that being on a continual path of self-improvement is an absolute necessity toward be a better teacher.
Hang out with other educators that you admire. Watch them closely and learn from them. Imitation is the greatest compliment! Join your language association AATSP - ( plus two foreign language teacher associations (state and national: ACTFL - ( and attend their annual meetings on a regular basis. Spanish Web Resources - Web Links.
---