London
Seoul Bakery - Soho. 1 check-in here There is only seating for 14 people. 2 side by side chairs facing a wall of post-its; and 2 other tables, each seating 6 and 4.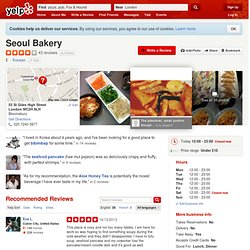 Your whole party must be there to be seated, otherwise if someone else is waiting with their entire party, you will be asked to move. Con el sello de Marylebone en El Viajero de ELPAÍS. Aunque se esfuerce por dar la apariencia de una gran metrópolis, Londres quizás sea el mejor ejemplo, entre las más pujantes capitales del mundo, de que en esencia se trata de una sucesión de pueblecitos.
Mientras que algunos barrios del extremo oeste, como Kensington y Notting Hill, conservan su marcado encanto de ciudad pequeña, las cosas han sido diferentes en barrios más próximos al centro de la ciudad, como Mayfair y Soho, que han sido sometidos a un lavado de cara urbano mucho más minucioso y que se encaminan hacia una especie de uniformidad comercial globalizada en sus escaparates a pesar del orgulloso carácter británico de la arquitectura de la ciudad. Es lo que hace que pasear y comprar en Marylebone High Street sea una sorpresa tan agradable. Lo-Fi London « THIS IS NAIVE.
Newsletter - GO.
---