Social media
A Instagram le va la pasarela | Fotogalería | Actualidad
Nace Bananity: Amor y odio en una red social - belindagaliano's posterous Bananity. Nueva red social. Todo lo que odias y quieres en un mismo sitio!!! Tiene una semana de vida, y sus datos son escalofriantes: 22.340 loves y hates , más 5.000 conceptos y pocos cientos de usuarios.
La Sociedad Banana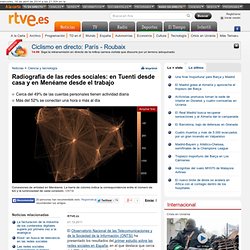 RTVE.es 01.12.2011 El Observatorio Nacional de las Telecomunicaciones y de la Sociedad de la Información (ONTSI) ha presentado los resultados del primer estudio sobre las redes sociales en España , en el que destaca que cerca del 49% de los usuarios de redes sociales acceden a ellas cada día. El estudio ha sido presentado por el Director General de red.es Carlos Cano y por el Director del ONTSI, Pedro Martín Jurado.
Radiografía de las redes sociales: en Tuenti desde casa y en Menéame desde el trabajo
Marketing y Consumo
Un estudio de la Universidad de Milán asegura que la distancia entre dos personas de cualquier lugar del mundo se reduce a 4,74 pasos El estudio asegura que la tendencia es que según aumentan los usuarios de Facebook , el número de pasos del proceso disminuye, y que si se limita a contactos de un mismo país, el proceso se puede completar con solo tres pasos (cuatro si se cuenta al usuario que inicia el proceso). Facebook es la red social más popular del momento.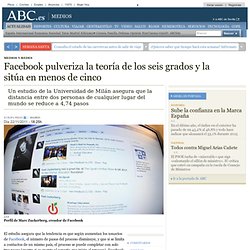 Facebook pulveriza la teoría de los seis grados y la sitúa en menos de cinco
5 reglas de oro para tener éxito en redes sociales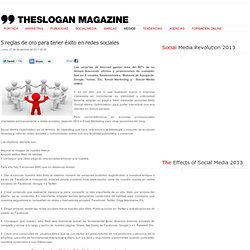 Lunes, 07 de Noviembre de 2011 00:00 Los usuarios de Internet gastan más del 90% de su tiempo buscando ofertas y promociones de cualquier tipo en 3 canales fundamentales : Motores de búsqueda: Google, Yahoo, Etc, Email Marketing y Social Media (SMO) . Y es por ello, por lo que cualquier marca o empresa interesada en incrementar su visibilidad y notoriedad debería adaptar su página Web mediante acciones SMO (Social Media Optimization) para poder interactuar con sus clientes en dichos canales.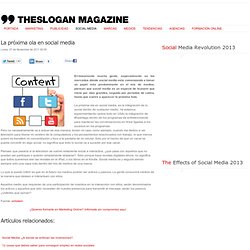 Lunes, 07 de Noviembre de 2011 00:00 Erróneamente mucha gente, especialmente en los mercados dónde social media esta comenzando a tomar un papel más predominante en el mix de medios, piensan que social media es un especie de tsunami que viene por olas grandes, seguido por períodos de calma, hasta que vuelve a aparecer la próxima hola. La próxima ola en social media, es la integración de lo social dentro de cualquier medio. Ya estamos experimentando (sobre todo en USA) la integración de #hashtags dentro de los programas de entretenimiento para mantener las conversaciones en línea ligadas a los sucesos en los programas.
La próxima ola en social media
As a Harvard buddy of Mark Zuckerberg, Samuel Lessin had early access to Facebook in 2004. The then-nascent web site instantly became a part of his life. "The sum of those conversations was how I expressed myself," he says, "it's how people express themselves." Timeline is potentially an omnivorous collector of personal data that you can format to tell your story. Countless software developers will create applications that not only provide a function but also automatically sends the data generated by those activities to Facebook So it's not surprising that when Lessin took a job at Facebook last year he became product manager of Timeline , which transmogrifies one's Facebook profile to a linear self-account that accumulates the moments of your life — via communications among friends, photos, videos, links, check-in and other data — in a chronological presentation.
With Timeline, Facebook Bids To Reinvent The Social Biography | Epicenter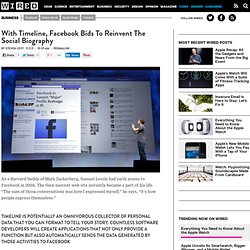 Usuarios se comprometen más con las marcas los fines de semana en Facebook
Las empresas siempre buscan encontrar el momento ideal para postear en redes sociales con el objetivo de que más público vea sus publicaciones, pero ¿cuándo tus clientes son más receptivos? Un estudio de Argyle Socia l encontró que las personas se comprometen más con las marcas los fines de semana en Facebook. En el caso de Twitter , el público responde mejor de lunes a viernes entre las 9 a.m. y 7 p.m. con un 4% de compromiso, en comparación con las primeras horas del día (-5%) y las noches (-20%). Asimismo, en Facebook el público es más receptivo los domingos con un 15% en comparación con los sábados (-15%).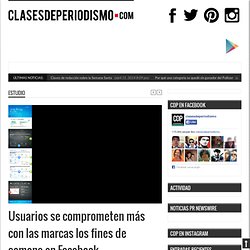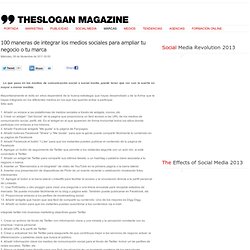 Miércoles, 09 de Noviembre de 2011 00:00 Lo que pasa en los medios de comunicación social o social media, puede tener que ver con la suerte en mayor o menor medida . Mayoritariamente el éxito en ellos dependerá de la buena estrategia que hayas desarrollado y de la forma que te hayas integrado en los diferentes medios en los que has querido entrar a participar. Sitio web 1.
100 maneras de integrar los medios sociales para ampliar tu negocio o tu marca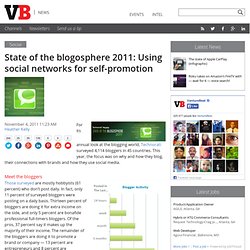 For its annual look at the blogging world, Technorati surveyed 4,114 bloggers in 45 countries. This year, the focus was on why and how they blog, their connections with brands and how they use social media. Meet the bloggers
State of the blogosphere 2011: Using social networks for self-promotion
Author: yinkaolaito Yinka Olaito is happy,excited and passionate Brand Communication, Social Media expert, Trainer and speaker. Yinka Olaito helps brands(Profits and Non-profits)with effective communication and positioning for premium service delivery and returns.Yinka Olaito also has special interest in Development Communication and has consulted for noted UN Agencies. Yinka Olaito is the CCO of Michael Sage consulting and African Child Right Inc.Lagos Nigeria Social Media in Nigeria and in Africa still remains largely at the infancy stage.
Social Media In Nigeria: 5 expert claim checklists | The Branding Gavel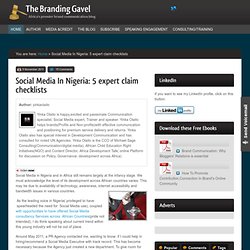 El caparazón, versión light
Walmart is developing a Facebook app called Shopycat , which it plans to roll out this holiday season. With the permission of a Facebook user and their family or friends, Shopycat uses data from activity and profiles on the social network. Based on this information it provides a list of gift suggestions, with different ideas depending on budget, and helps you find them online or in-store. Ravi Raj, vice president of product at @WalMartLabs, said: With your permission, we create a profile of you and your friends, based on what they Like, talk about, call out in their profiles.
Walmart App Suggests Gifts Based On Facebook Activity @PSFK
Qué ocurre durante un minuto en el mundo Social Media
2 Nov 2011 Download this gallery (ZIP, null KB) Download full size (221 KB) Hace tiempo vimos la herramienta Memolane , ahora llega el turno de Time wiki , otra propuesta igualmente interesante para visualizar nuestro Timeline en Redes sociales.
Time wiki, nueva aplicación para ver tu Timeline en Redes Sociales - Anna Genís | Social Media Strategist
The Life Cycle Of A Web Page On StumbleUpon [Infographic] @PSFK
StumbleUpon drives over 50% of social media traffic in the United States, making it the top site for traffic referrals. This infographic displays some stats about the 2.2 million web pages that are added to StumbleUpon every month, which works out at 51 each minute. The average Stumble page view lasts 72 seconds, nearly 25% longer than the average web page view, and the average Stumble session lasts 69 minutes, which is three times longer than the average time someone spends on Facebook. Take a look below to see the life cycle of a page on StumbleUpon: StumbleUpon Photo by Scott Beale
It's easy to understand why Coca-Cola Co. has a popular Facebook page. It's Coke. Everybody knows Coke. But a white paper from search marketing firm Covario reports that the company's Facebook page isn't just popular; it's the biggest company Facebook page in the world, besting other highly recognizable brands such as Walmart, Disney, MTV, HP, and Hyundai. How did the world's largest beverage company end up with the best Facebook page?
What makes Coca-Cola's Facebook page No. 1?
La presión de las redes sociales lleva a Aguirre a retirar un proyecto de ley
Lo que tienen que hacer estos fascistas es perseguir la tenencia caprichosa y el abandono . El mal trato por supuesto..... Y para ello : ILEGALIZAR LA CAZA pues los cazadores son los que más abandonan y los que más maltratan.
Goteo: una red social para financiar proyectos de código abierto
www.territoriocreativo.es/wp-content/uploads/2011/10/informe_oct_2011_resume115.pdf
¿Por qué la gente comparte contenidos?
El 50% de los enlaces publicados en Twitter proceden de tan sólo 20.000 usuarios
Descubre cómo funciona el 'Timeline' de Facebook / PortalTIC.es
Kristian Segerstrale: "Las chicas prefieren jugar en las redes sociales" · ELPAÍS.com
Los jóvenes que beben alcohol pasan más tiempo en Internet
www.tcanalysis.com/uploads/2011/02/Observatorio-RedesSociales2011.pdf
Redes: valor vs utilidad | RocaSalvatella
15 aplicaciones que darán valor añadido a tu página de fans en Facebook
Digital marketing summit: "El Dircom se ha convertido en el Dircon"
tuenti: mapa de la amistad en España
Teambox, una red social en la oficina
Por qué 50 marcas top llegaron a Facebook y desilusionaron a los usuarios
Cómo medir el Social Media Marketing
La cápsula del tiempo de los Social Media para el 2012
Tendencias 2011: Tendencias en Social Media
Uso de las redes sociales en España (actualizado enero 2011)
Que es Quora
Las redes sociales y su influencia en las costumbres tradicionales | Cooking Ideas - Un blog de Vodafone para alimentar tu mente de ideas
Social Media & Public Relations - 5 Reports - Online Marketing Blog
50 definiciones de social media
Nace Bkool.com, una red social española para estar en forma · ELPAÍS.com
Year Of Social Media 2010
Fascinating Social Media Facts & Stats Of 2010 – (Infographics)
Facebook and Twitter 2010 Summary Infographics
Top 10 Twitter Infographics of 2010
LinkedIn desvela la lista de los 10 clichés más utilizados en los perfiles profesionales